Exploring Eastern Europe by train is an incredible way to immerse yourself in the rich history, diverse cultures, and stunning landscapes of the region. Using your Interrail pass in Eastern Europe is incredibly easy as fewer seat reservations are required than in Western Europe. From the vibrant streets of Berlin to the breathtaking coastal views in Split, this Interrail route promises an unforgettable adventure. In this blog post, we'll guide you through a 3 week Eastern Europe Interrail itinerary that allows you to make the most of your time in each city along the way.
Day 1-4: Berlin

Kickstart your Eastern European journey in the vibrant German capital, Berlin. Spend your first day exploring the historic landmarks like the Brandenburg Gate, Checkpoint Charlie, the Reichstag (book before you go) and the Berlin Wall Memorial. Immerse yourself in the city's art and cultural scene by visiting Museum Island or the East Side Gallery. Don't forget to indulge in delicious German cuisine, like the legendary kebabs or currywurst, and experience the buzzing nightlife. With three nights in Berlin, you'll have plenty of time to delve into the city's unique atmosphere. Kreuzberg, Friedrichshain and Neukölln are cool neighbourhoods and definitely worth looking for hostels there if you're wanting to experience the Berlin night scene.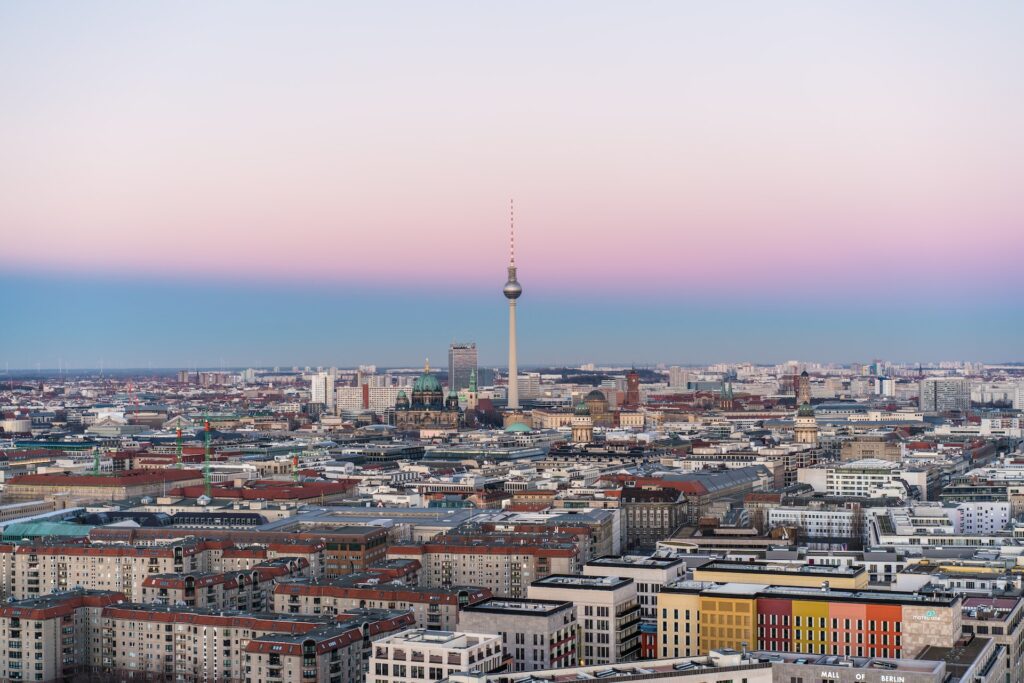 Day 4-7: Prague
Next, head to the enchanting city of Prague, known for its fairytale-like architecture and rich history. The train from Berlin takes around 4 hours 35 minutes. Spend your first day exploring the UNESCO-listed Prague Castle, St. Vitus Cathedral, and the charming Old Town Square. Wander across the iconic Charles Bridge and soak in the breathtaking views of the Vltava River. Take time to visit the famous astronomical clock and delve into Prague's thriving arts scene. Enjoy traditional Czech cuisine and sample some of the world-renowned Czech beers during your stay. Escape the hustle and bustle of the city by heading to Petrin Hill, a peaceful green oasis. Climb up the hill to reach Petrin Tower, a smaller version of the Eiffel Tower, for breathtaking views over Prague. It's also worth checking John Lennon Wall in the Mala Strana district.
For nightlife, the Old Town itself is great but it's also worth checking out Wenceslas Square, Vinohrady, Žižkov, Karlin and Smíchov for some less-touristy bars.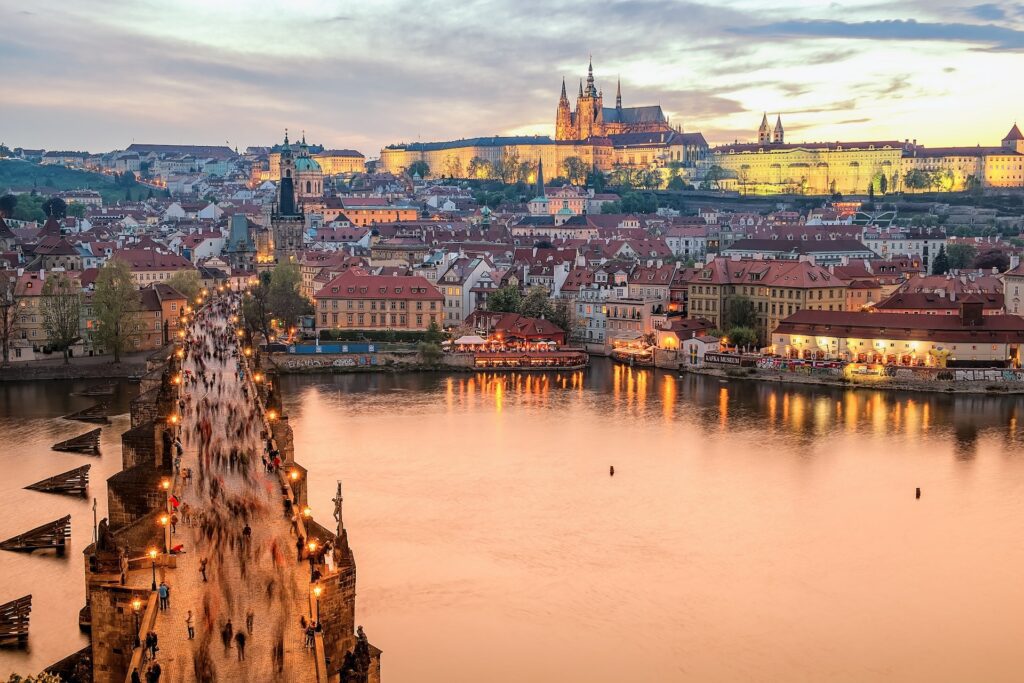 Day 7-9: Krakow
From Prague, take a train to Krakow (around 8 hours), a city in Poland teeming with medieval charm and a tragic history. Start by visiting the historic Wawel Castle, the Royal Cathedral, and the fascinating Wieliczka Salt Mine. Explore the beautifully-preserved Old Town, a UNESCO World Heritage site, and make sure to visit the poignant Auschwitz-Birkenau Memorial and Museum, a somber reminder of World War II. With two nights in Krakow, you'll have ample time to appreciate the city's unique atmosphere and traditional Polish cuisine. Little Havana Party Hostel is a great place to stay as they run bar crawls every night, which allows you to meet lots of fellow travellers. Make sure to sample Poland's national drink; Wodka is a vodka bar in the Old Town and offers over 100 different flavours of vodka, ranging from fruity, to spicy and even a little bizarre!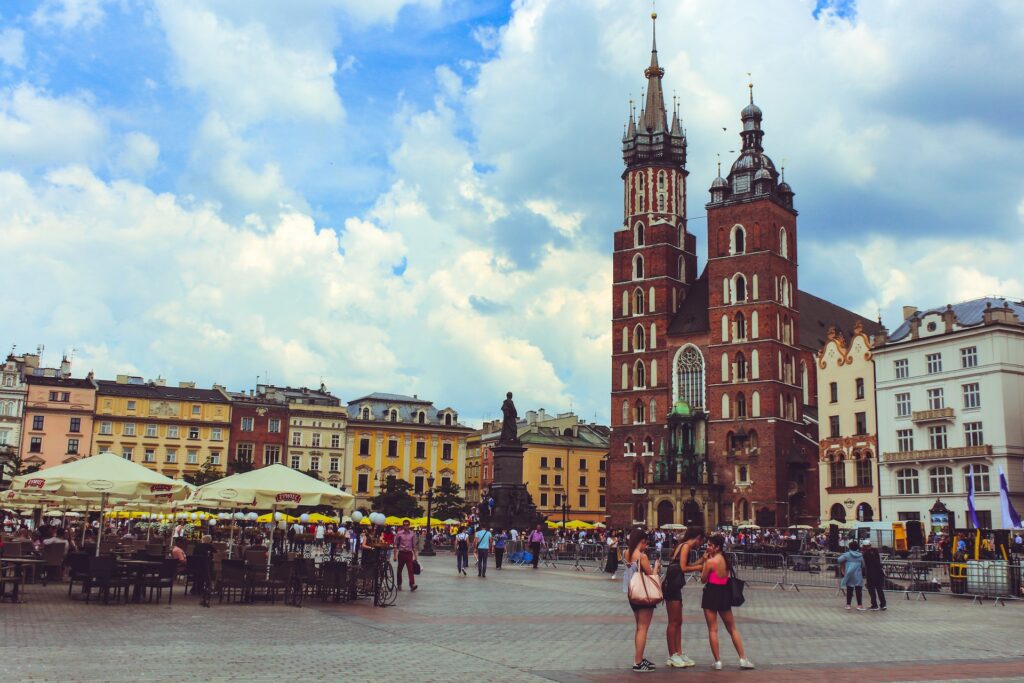 Day 9-12: Vienna
Next, board a train to Vienna (around 7 hours), Austria's elegant capital known for its imperial palaces, classical music heritage, and grand architecture. Begin by exploring the magnificent Schönbrunn Palace and gardens, followed by a visit to the iconic St. Stephen's Cathedral. Discover the artistic treasures of the MuseumsQuartier and indulge in Vienna's coffeehouse culture. Don't miss the opportunity to attend a classical music concert or opera performance in one of the city's renowned venues. Vienna may not have a river flowing directly through the city centre like some other European cities, but it still offers beautiful waterfront areas along the Danube River where you can hang out and enjoy the scenery like Danube Island, Copa Beach and Hermann's Strandbar.
Day 12-14: Bratislava
A short train ride connects the two closest capital cities in Europe, Vienna and Bratislava. Two days in the charming capital of Slovakia is plenty of time. Spend your first day exploring the compact Old Town, wandering through its narrow streets, and admiring the impressive Bratislava Castle. Sample traditional Slovak dishes and immerse yourself in the city's relaxed atmosphere. On your second day, head to the Blue Church then take a stroll along the Danube River and enjoy the panoramic views from the UFO Observation Deck.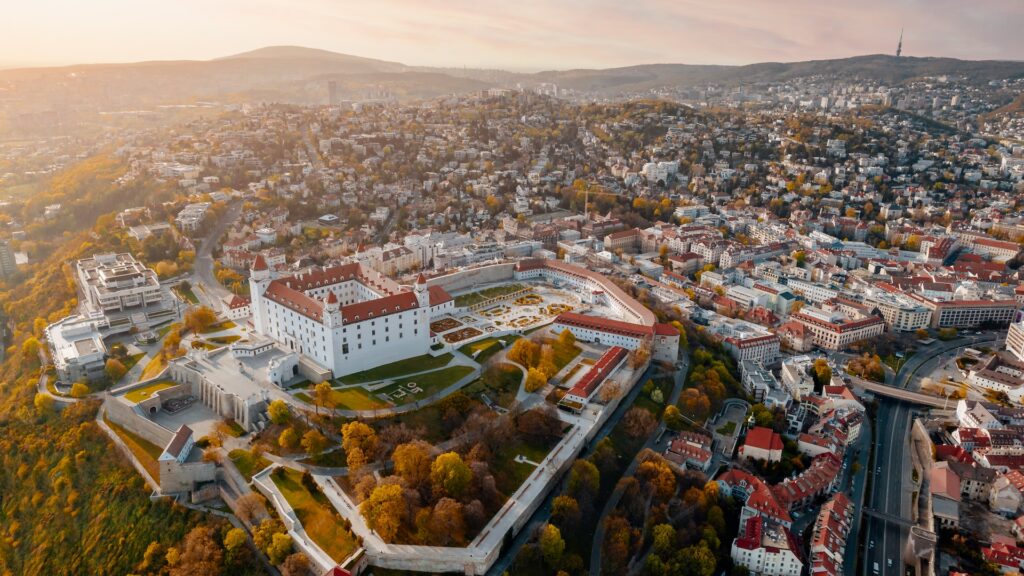 Day 14-17: Budapest
From Bratislava, take a scenic train ride to Budapest (about 2 hours 45 minutes), the so-called "Pearl of the Danube." Budapest is certainly one of the most popular Interrail cities, featuring on most people's Interrail routes. It combines culture with party very well. 3 days in Budapest is a good amount of time to get stuck in. Start your exploration with a visit to Buda Castle and Fisherman's Bastion, where you can enjoy stunning views of the city. Cross the famous Chain Bridge back to Pest and explore the Hungarian Parliament Building and St. Stephen's Basilica. Relax in one of Budapest's thermal baths, such as the Széchenyi or Gellért Baths, and don't forget to cruise along the Danube River to appreciate the city's illuminated beauty at night.
When it comes to the nightlife in Budapest, one of the city's most unique and popular attractions is the concept of ruin bars. These bars are located in abandoned buildings, courtyards, or old factories that have been transformed into eclectic, artistic, and vibrant spaces. Here are some of the top ruin bars to experience in Budapest:
Szimpla Kert: Considered the pioneer of ruin bars in Budapest, Szimpla Kert is a must-visit. This sprawling ruin bar is located in the Jewish Quarter and is known for its quirky decor, graffiti-covered walls, and mismatched furniture. Enjoy live music, DJs, film screenings, and a variety of drinks in a bohemian atmosphere.
Instant: Just a short walk from Szimpla Kert, Instant is another popular ruin bar known for its multiple rooms and three floors, each with its own unique theme. From psychedelic walls to a room filled with neon lights, Instant offers an immersive experience. Dance to a diverse range of music genres and enjoy the lively crowd.
Fogas Ház: Located in the downtown area, Fogas Ház is a multifunctional space that includes a ruin bar, a garden courtyard, a club, and a cultural center. It hosts various events such as concerts, exhibitions, and parties. Explore the different rooms and soak in the artistic and alternative vibe.
Mazel Tov: While not a traditional ruin bar, Mazel Tov is a popular ruin-style restaurant and bar located in a renovated courtyard in the Jewish Quarter. The space features a glass ceiling, brick walls, and a trendy atmosphere. Enjoy a delicious meal inspired by Israeli and Middle Eastern cuisine, and later in the evening, the bar area becomes lively with music and cocktails.
Anker't: Situated in a former office building courtyard, Anker't offers a mix of indoor and outdoor spaces. It hosts a variety of events, including concerts, parties, and exhibitions. With its spacious garden and industrial-style interior, Anker't is a great place to enjoy drinks, dance, and mingle.
Corvintető: Located on the rooftop of an old department store, Corvintető offers panoramic views of Budapest's skyline. This rooftop ruin bar hosts DJs, live music, and themed parties. Dance the night away under the stars and enjoy the vibrant atmosphere.
Ruin bars are known for their laid-back and alternative vibes, with a mix of locals and tourists. They are often open until the early hours of the morning, making them ideal for those seeking a lively and memorable night out in Budapest.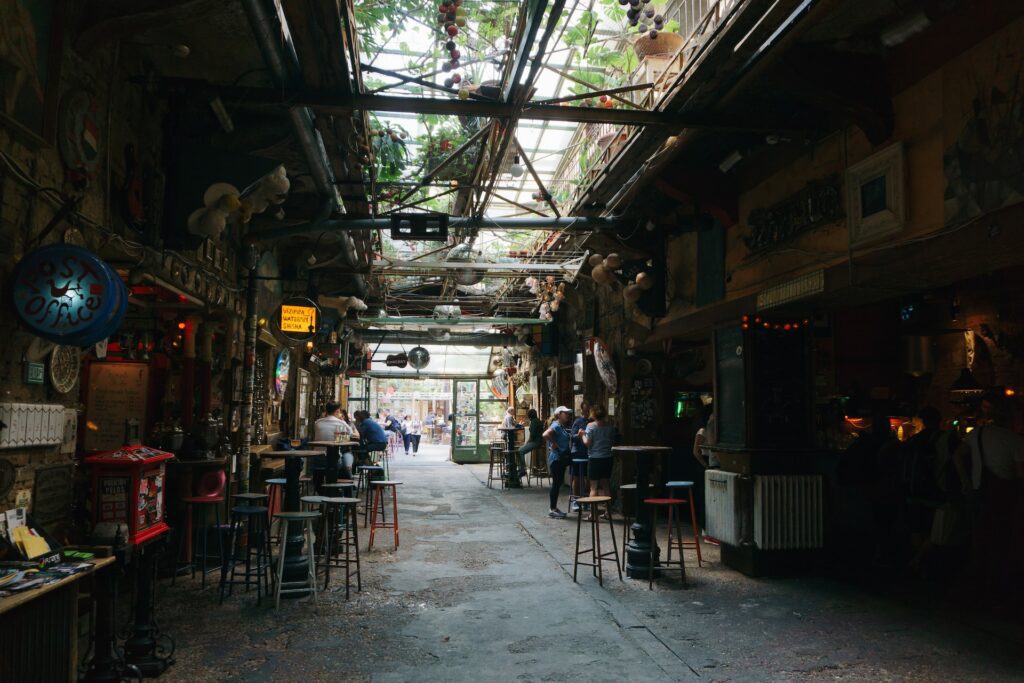 Day 17-19: Ljubljana
Venture further south to Ljubljana, the charming capital of Slovenia. The train takes around 9 hours from Budapest so a night train could be considered here. Spend your first day wandering through the pedestrian-friendly Old Town, with its colourful buildings, picturesque bridges, and outdoor cafes. Climb up to Ljubljana Castle for panoramic views of the city, and visit the Dragon Bridge, a symbol of Ljubljana. Take a boat tour along the Ljubljanica River and explore the beautiful Tivoli Park. Ljubljana's relaxed atmosphere and green spaces will surely captivate you during your two-night stay. If you have enough time, you're only an hour away from Lake Bled – one of the most beautiful lakes in Europe and definitely worth a day trip.
Day 19-22: Split
Travel on a long train down to Split (again, consider a night train or potential stopover in Zagreb) and conclude your Eastern European Interrail adventure in the stunning coastal city of Split, Croatia. Begin by exploring the UNESCO-listed Diocletian's Palace, an ancient Roman palace complex that has transformed into a vibrant neighbourhood filled with shops, restaurants, and historical sites. Take a stroll along the Riva promenade and relax on the beautiful beaches nearby. Don't miss the opportunity to visit the nearby Plitvice Lakes National Park, a natural wonderland of cascading waterfalls and turquoise lakes. We think Split is the ideal place to finish because it ends the Interrail trip in a really relaxing way and there are some many day trips you can do from Split, as well as there being lots of flights back to the UK and other European cities. If you want to keep travelling, hop on the bus to Dubrovnik and then onto Montenegro, Bosnia and Herzegovina, or Serbia!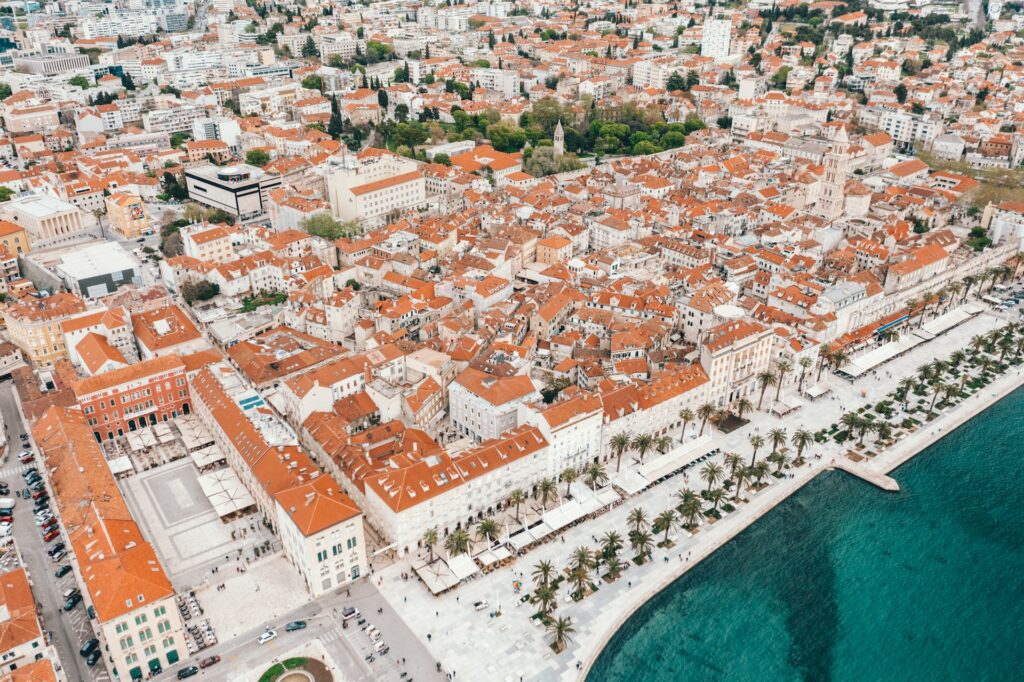 As your Interrail journey comes to an end, you can reflect on the incredible memories you've made during your Interrail adventure through Eastern Europe. This itinerary allows you to delve into the unique character of each city, from Berlin's cosmopolitan vibe to Split's coastal charm. Remember to book your train tickets in advance, as well as secure accommodations along the way, to make your trip smooth and hassle-free. Enjoy your travels and embrace the wonders of Eastern Europe!
Interested in this exact route? Use this route template on our planner now!