Are you looking for an incredible train journey unlike any other? Then why not hop onboard the Glacier Express. A magical journey awaits during this 8-hour journey across Switzerland. Coined as the slowest express train in the world, the awe-inspiring views you see on this trip will take your breath away.
Switzerland has long been a favourite of interrailers due to its sweeping snowy mountains, delicious food and welcoming atmosphere. But if you want to see it in an extraordinary way, then the Glacier Express journey is the ultimate choice.
What's the Route of the Glacier Express?
The Glacier Express makes the following journey:
Zermatt > Brig > Andermatt > Disentis > Chur > Tiefencastel > Filisure > Samedan > St. Moritz
As you travel the 180 miles, you'll pass under an incredible 291 bridges and 91 tunnels throughout the trip. Not only this, but you can take in views of the Swiss Grand Canyon (Rhine Gorge), quaint alpine villages and an abundance of vineyards. Peer out of the glass panoramic carriages as you listen to the commentary, sip a glass of wine and relax.
What's the Train Like?
The Glacier Express is a really comfortable train that offers both 1st and 2nd class carriages surrounded by panoramic glass windows. Although the 1st class is, of course, more expensive the only real difference is that it has more space. So if you're looking to save a bit of money, then 2nd glass is just as wonderful.
Onboard, there is a bar and restaurant for you to take advantage of. Serving snacks, meals and drinks you can have a fabulous time indulging whilst taking in the views around you.

How Much Does the Glacier Express Cost?
One of the most important things that you may be wondering is how much the Glacier Express will set you back. And, due to the length and luxury that comes with this journey, it's not the cheapest.
A basic fare from Zermatt – St Moritz will set you back:
152 CHF (£129) 2nd class for one-way
268 CHF (£228) 1st class for one-way
For Glacier Express Excellence Class, you'll have to budget for around 420 CHF (£357) no matter what the season.
These prices are subject to change and do not include the reservation fee which is:
43 CHF (£36) June – Sept, one-way
33 CHF (£28) Spring and Autumn
23 CHF (£19) Winter
For the Glacier Express Excellence, you can expect to pay a reservation fee of:
With this, you can take advantage of the following:
A guaranteed window seat
A concierge
Luggage transport
Welcome-desk & personal check-in located on the platform
A tablet to use on-board
Exclusive access to the onboard Glacier Bar
Catering is also upgraded, offering:
An aperitif and amuse-bouche
A 5-course meal (seasonal) including accompanying wine
Coffee, juice, champagne and brioche
Coffee and digestif with chocolates
If you want to have lunch on the Glacier Express (not the Excellence), this will also be an extra cost and averages around the following:
30 CHF ( £25 ) for the daily special
43 CHF (£36) for a three-course meal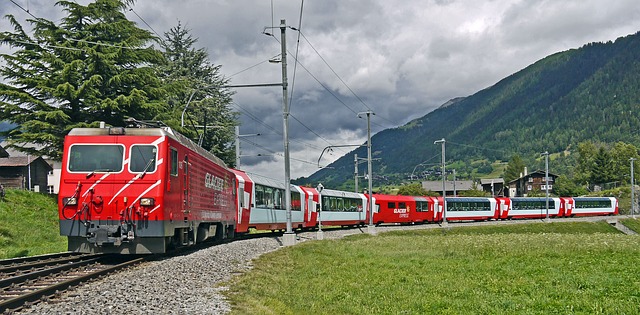 When Should I Take the Glacier Express?
The Glacier Express journey is wonderful no matter when you take it. However, in Winter you can enjoy the beautiful snow-capped mountains – making the trip feel that bit more magical. But for clearer views and almost-guaranteed good views, Spring is your best bet.
Keep in mind that the Glacier Express runs almost year-round – taking a break between late October and mid-December. Therefore, it's important that you check the timetable to make sure that you can travel when you want to.
How to Book Tickets
Booking tickets for the Glacier Express is known to be quite challenging. So it's a good idea before you start the process, to know a bit more about it. When you buy tickets for your journey, you'll have to pay a mandatory reservation fee along with a base ticket price.
The base ticket cost will depend on several factors, including whether you're opting for first or second class and how far you are travelling. For the latter, you don't have to travel all the way from Zermatt to St Moritz if you want to. Instead, you could opt to hop off in one of the destinations along the way.
As you head on to the site, you can go onto the 'day trips' page. From there, you can either choose from the Glacier Express or the Glacier Express Excellence Class. You'll then be asked to put in the dates that you want, along with the route – keep in mind that even though you can pay the reservation fee, you can't book tickets until 2 months before.
Then, you can choose between different times to travel. Once this is selected, you can decide where you want to sit on the train. What's great about the Glacier Express is that it can be made more affordable.
How? Because you'll be able to put in details that reduce your ticket price. These include:
Half-Fare travelcard
Junior or grandchild travelcard
GA travelcard
Children up to 6 years
1-day travel pass for the Half-fare travelcard
1-day travelpass for children
Family Card STS
Railcard
Swiss Half Fare Card and Half Fare Card Combi
Swiss Travel Pass (Flex, Youth, Youth-Flex)
Swiss Transfer Ticket
Swiss Transfer Ticket on Transferdays and Combi
Eurail/ Interrail Pass
Along with taking advantage of the savings through the promotions, you can also save money by travelling in the off-season. As reservation fees change depending on the time of year, you could pick a time (say December) when it's a lot cheaper. This way, you'll be able to save money that you could then spend on a delicious meal en-route or another part of your Switzerland trip.
Tips For Your Glacier Express Trip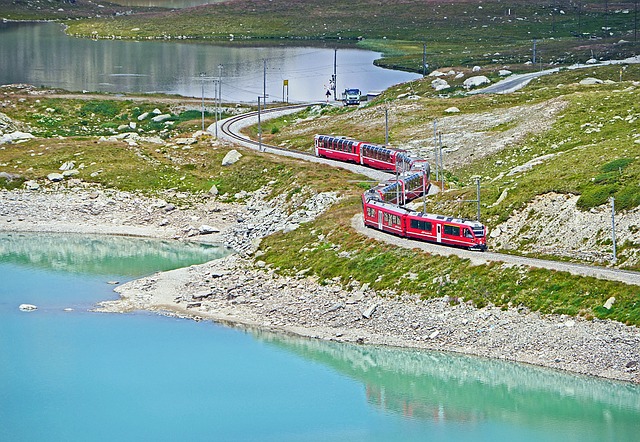 Save money through travelling 2nd class
Although it's nice to say that you travelled in 1st class, the only difference between them is the extra space. So if you want to save money, opt for the more budget-friendly option.
It doesn't really matter which seat you're in
Even though many people will fight for the window seats, you can enjoy fantastic views from all seats due to the panoramic windows on the carriages. So don't stress! Simply find a free seat on the booking site and go from there.
Book as soon as you can
Even though you can't pay the base fare until 2 months before, it's worth booking your reservation as soon as you can. In fact, you can book it up to 93 days in advance if you want to. The Glacier Express is incredibly popular – so don't miss out on your opportunity to enjoy it.