Not every day we have the chance to get to visit a city in a local way. This time, however, we will explore the beautiful and sunny Barcelona with Eli, a local in love with her city and always eager to discover brand new places here. She has put together the top 5 things you should do when in Barcelona – let's get the experience started now!
I moved to Barcelona right after finishing my degree and it has been, so far, the best decision ever made in my life! Barcelona is a cosmopolitan city, you can find tradition at its best but also you will find high-end cafés, restaurants and the most original architecture in the world!
Las Ramblas
This is a well-known street located in the heart of the city. Walking Las Ramblas will take you from Plaça de Catalunya to the seaside, and your walk will be surrounded by many shops, restaurants, old buildings and street vendors and performers. Even if you have to be careful with the pickpockets, you will feel astonished when arriving to the Columbus Monument, a high column surrounded by lions and constructed in 1888 for the Exposición Universal de Barcelona. The monument shows Columbus pointing towards the new world and from here you can see the Port Vell and the beach together with a nice palm avenue.
El Xampanyet
This is literally my favourite place to have some typical Catalonia tapas! Watch out for this particular restaurant, it is highly rated by locals here! As a tradition, it's a quick way to have lunch or dinner. Long lines of locals and well informed tourists are often waiting to be served in here. This bodega is located in El Born, near the Picasso museum. Try the Cantabrian anchovies, the fresh tuna and do not miss their house cava, "vermut". Truly amazing!
Gaudi's architecture
It is impossible to describe the nature-inspired buildings created all around the city by famous architect Antoni Gaudí. Not seen anywhere else on Earth. My favourites would be La Casa Batlló and El Palau Güell. If you just come to the city for a few days, then head to La Casa Batlló, house of modernism. The first thing you will notice is the weird design and beautiful colours on the facade, the roofline represents a dragon's back and there is not one single straight line on the whole building. Casa Batlló is a UNESCO World Heritage Monument and it is truly an experience not to be missed.
Los Bunkers del Carmel
Get a stunning view all over the city in this magic place. Barcelona has a lot of sights. I picked this one as my favourite. The Bunker, located at the top of the Carmel barrio, is the perfect place to enjoy the sunset every day with your friends or your partner. A very local and unknown place become tradition! Its name is given due to the fact that this place remains an old bunker from Spanish Civil War built in 1937. The place has a magical vibe and atmosphere and its sunset view is just stunning and a gift to the senses. You can see the whole city below your feet!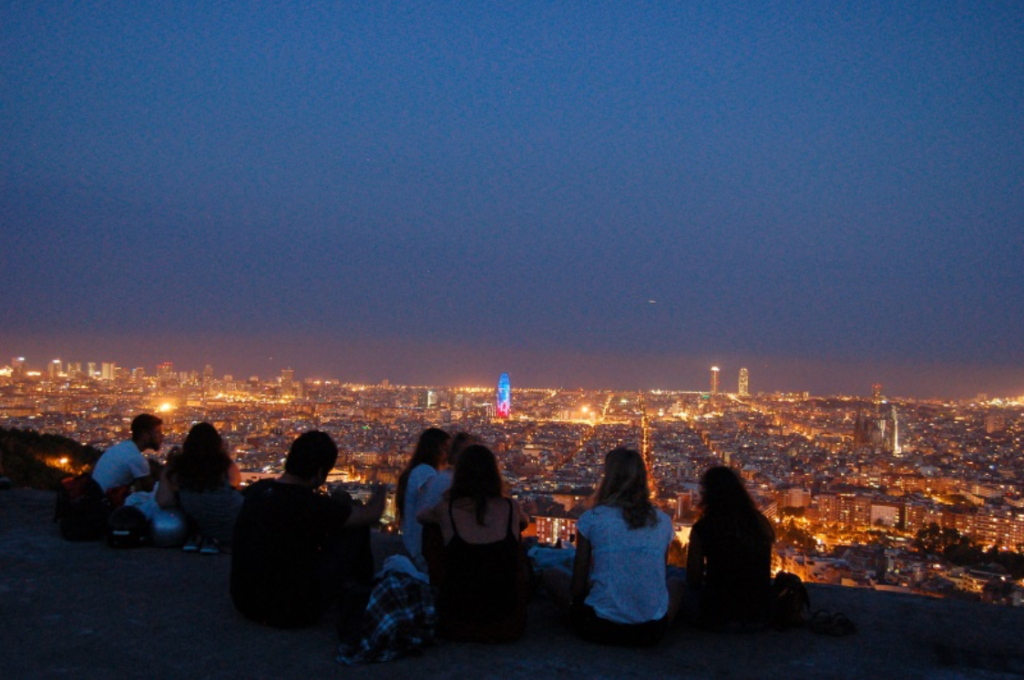 La Barceloneta
Yes, the BEACH! You cannot leave Barcelona without visiting its famous beach, La Barceloneta. Here you will find both locals and tourists admiring the beautiful water colour and having a refreshing mojito in the nice terraces around the beach. I would go to the W Hotel terrace, ElGallito or Salt Restaurant (make sure you book your table in advance!) – you won't regret it!
We hope this has inspired you to visit Barcelona or has given you ideas for when you visit. Include Barcelona when planning your Interrail holiday using our online Interrail planning tool.
Thank you very much to Elisabeth Beteta for sharing her local knowledge of Barcelona.