Portugal is one of Europe's most beautiful countries. Home of the delicious after-dinner drink 'Port', awe-inspiring beaches and tantalising food, there is no denying that it makes for a wonderful trip – no matter how long you stay there for.
But when you're interrailing through Portugal, how do you know which cities you should explore? Throughout this guide, we'll take you through our recommendations of where to stop off on the way through this spectacular nation.
Lisbon
This might not come as a surprise, but it's nonetheless worth a mention! The capital of Portugal, this spellbinding city is situated on the coast. Filled with mesmerising architecture, scrumptious seafood and fascinating landmarks, there's so much to see and do here.
If you're after sweeping views of the city, head up to the Miradouro da Senhoura do Monte. Located next to the Senhora do Monte Chapel, you can take in wonderful views over the Tagus River, Sao Roque hill and more.
Alternatively, you can head to the World Heritage Listed Jeronimos Monastery. A gothic building, it has elegance in abundance. Open from 10am until 6pm in the summer months, the grounds are free to enter, whereas the monastery costs €10 for adults.
Budget-friendly restaurants in Lisbon:
Nova Pombalina – known for its incredible pork sandwiches.
Bom Jardin – famous for its Piri Piri chicken.
Porto
Porto is one of Portugal's hidden treasures. A coastal city that's nestled in the northwest of the country, Porto has so many things to see. From the iconic Luis I Bridge to the opulent Victorian gardens known as the Jardins do Palacio de Cristal, you won't be lost for ways that you can fill up your itinerary.
In comparison to Lisbon, although the capital brings blistering sunshine, Porto brings the culture. And for anyone that loves the beauty of the traditional Portuguese Azulejos tiles, they won't have to look far to uncover an abundance of them throughout the city. In particular, the Sao Bento railway station (which you will come into when you arrive in Porto) has a stunning mosaic formed from them.
If you love to read, then Livraria Lello is well worth a visit. Dating back to the early 20th Century, it's frequently voted as one of the world's most extraordinary bookstores. Adorned with a grand staircase, it makes for a fun day out when you're in the city.
Budget-Friendly Restaurants in Porto:
Boulevard Burger House – known for its delicious mac and cheese, burgers and milkshakes.
Brick Clerigos – loved for the family feel and warm atmosphere.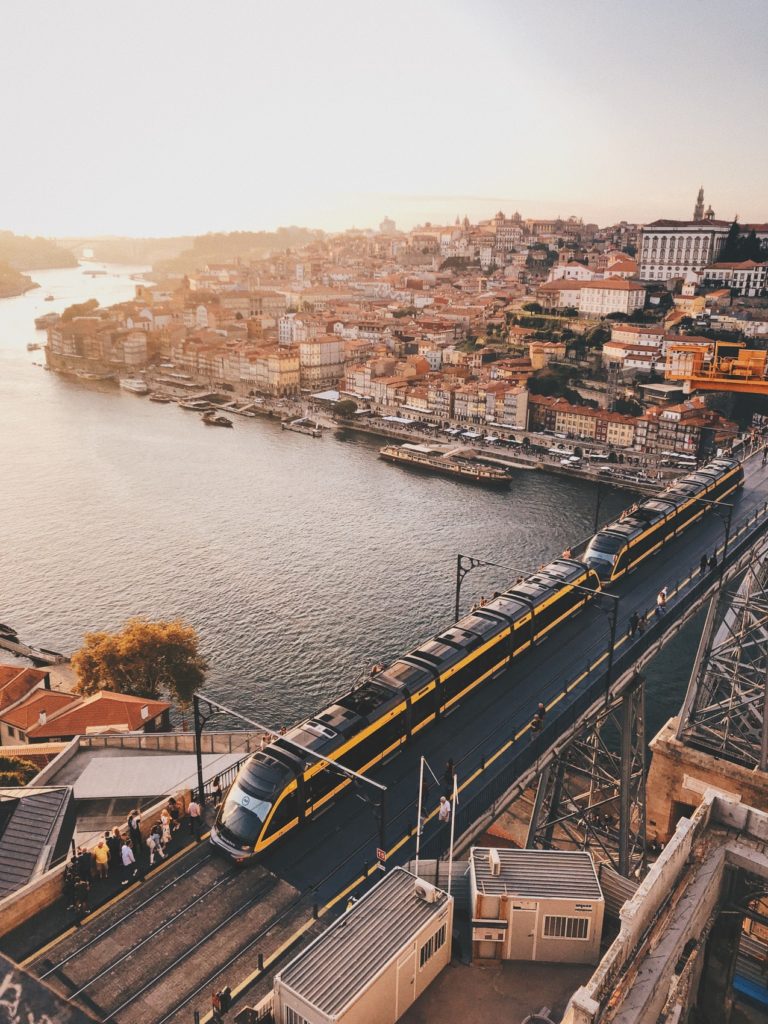 Aveiro
Frequently called the 'Venice of Portugal', Aveiro is famed for its picturesque canals and colourful houses. A city that you can navigate on one of its painted gondolas, it has a rich history and culture that should not be missed.
If you have a limited amount of time here, it may be worth checking out one of the local tours. Accompanied by a knowledgeable guide, you'll discover the highlights of the city, which can include a walk through the breath-taking fishing area of Costa Nova, the 15th Century monastery Mosteiro de Jesus and the art nouveau inspired Rossio.
A mixture of contemporary and antiquated style, it's unique architecture and warm atmosphere makes it a pleasant place to visit throughout the year – no matter what the season or occasion.
Budget-Friendly Restaurants in Aveiro:
Cafe Ramona – great for a quick bite to eat.
Bom Gosto – if you're craving a mouth-watering Japanese meal that's different to the traditional cuisine.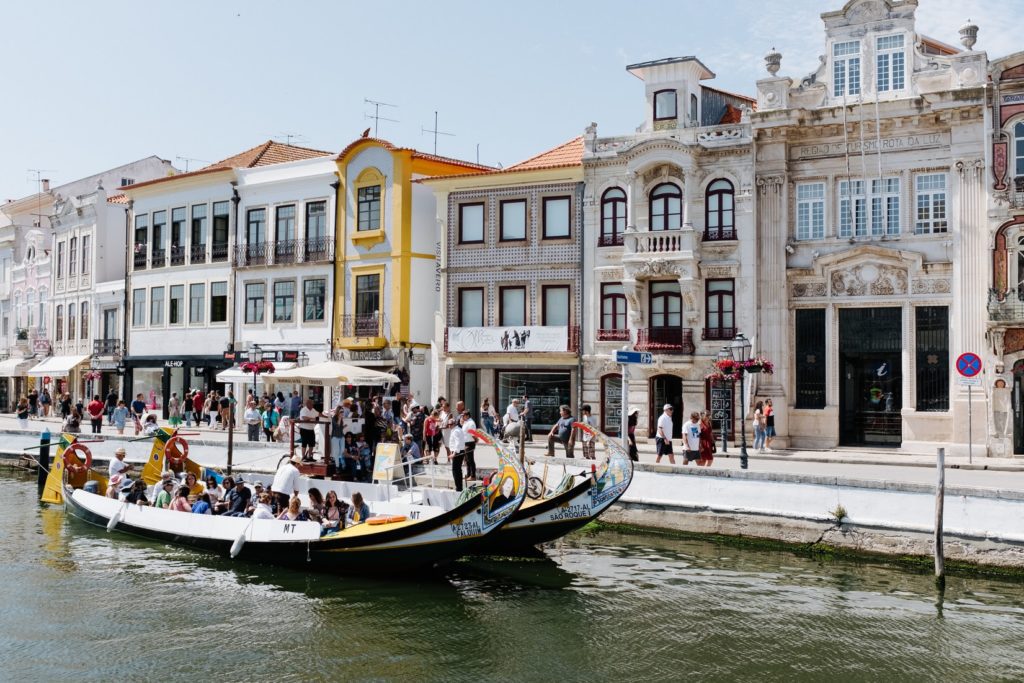 Coimbra
Situated between Porto and Lisbon, Coimbra is a riverfront city that was once considered as Portgual's medieval capital. Known for the prestigious university, the Pedro and Innes Footbridge and the antiquated Joanine Library, it's an ideal stop-off when you are between the two cities.
Other attractions to note are the Machado de Castro National Museum, home to the Roman Cryptoporticus amongst other historical artefacts and the Monastery of Santa Cruze that houses the tomb of the first king of Portugal.
If you happen to visit Coimbra in May, you could also celebrate the end of the academic year with the students during the Queima das Fitas festival. During this week-long event, you can dance the night away at the parade, indulge in delectable food and take in the colourful views of the ribbon-cutting ceremony.
Budget-Friendly Restaurants in Coimbra:
Restaurante O Mimo – known for its wallet-friendly Mediterranean dishes.
Porta Larga – loved for its roast pork sandwiches and seafood dishes.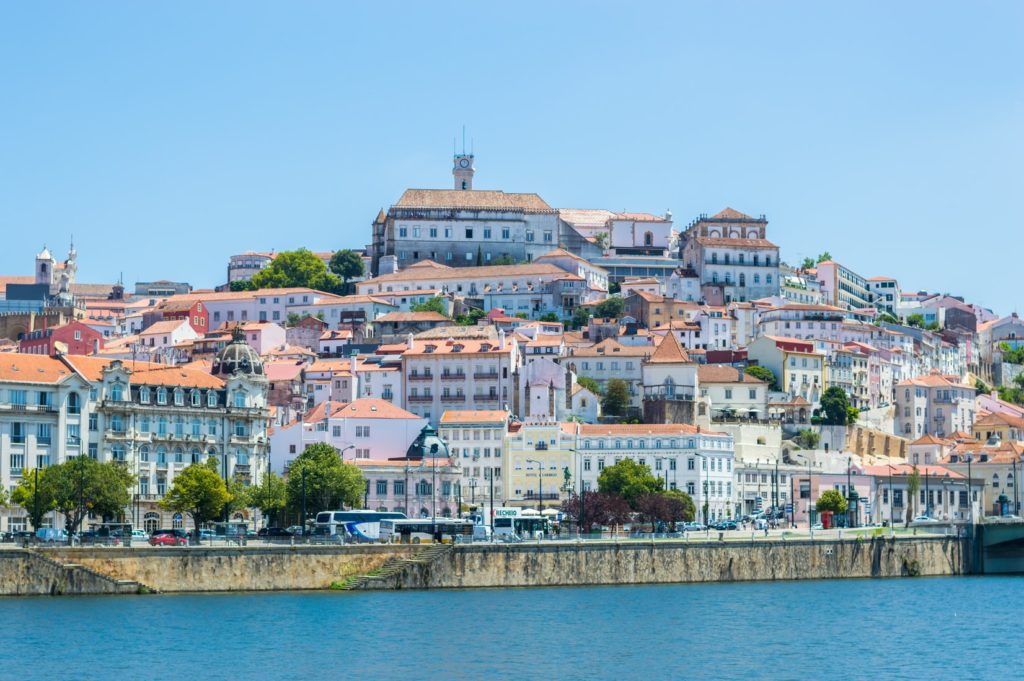 Evora
A delightful city, Evora is the very essence of why tourists love Portugal – from its historic centre to the cobbled streets and scorching sunshine, it's clear to see why so many people visit it every year.
Encapsulated by the Alentejo that's famed for its olive groves and traditional villages, Evora offers a truly extraordinary Portuguese experience that's incomparable. From the moment that you arrive in the city, you'll be greeted with its bustling atmosphere, charming cafes and majestic landmarks.
In particular, for those Horror fans (or those fascinated with history), a trip to the Capela dos Ossos is a must. One of Evora's most well-known attractions, this 16th Century chapel is aligned with 5,000 bones. Giving off a macabre feel, it costs €2 for adults.
Budget-Friendly Restaurants in Evora:
NATA Lisboa – perfect if you're craving the traditional Portuguese pastry of Pasteis de Nata.
Restaurante O Templo – offering mouth-watering, home-cooked Portuguese dishes.