Spain is a country that is full of culture, history and natural beauty. Whether you're interrailing through the country or just spending a couple of days in Madrid, there's plenty to see and do. This article will give you an overview of what to expect in Madrid – from great places to eat and drink to cultural attractions and nightlife hotspots. 48 hours is a short time to see Madrid but with a bit of planning and careful interrail trip organisation; you can make the most of your interrailing adventure.
Kicking Off
To start off your interrail trip to Madrid, check out the stunning Plaza Mayor. This historic square was built in 1619 and is surrounded by beautiful three-storey buildings with ornate balconies and galleries. Its vibrant atmosphere and central location are ideal for people-watching. From here, take a stroll to Puerta del Sol – which is located at the hub of Madrid's major streets. It's home to two iconic statues: one of King Charles III on horseback and another of a bear eating fruit from a strawberry tree.
Getting Around
Madrid has an extensive public transport system which interrailers can take advantage of. The Metro is the fastest way to get around, with lines that cover most parts of the city. Several buses and light rail services are also operating in Madrid, so you're sure to find a convenient way to get from A to B.
Where To Stay
The city is filled with hotels, hostels and Airbnbs catering for interrailers of all budgets. Splashing out on a private hostel room or opting for an Airbnb can help you to get the best from your interrail trip. Additionally, you can get discounts at hostels in Spain through Interrail Planner Premium.
Things To See & Do
One of Madrid's main attractions is its culture – the city is filled with art, history and architecture. The Prado Museum and Royal Palace are must-visit destinations, as is Retiro Park, which is a beautiful place to explore. The oldest neighbourhood in Madrid, La Latina, is another popular spot for interrailers – it's full of tapas, bars and quaint cobblestone streets.
If you have time during your interrail trip, make sure to visit some of Madrid's other attractions too. These include the Reina Sofia museum – home to Picasso's famous Guernica painting – and Atocha station, one of the busiest train stations in Europe.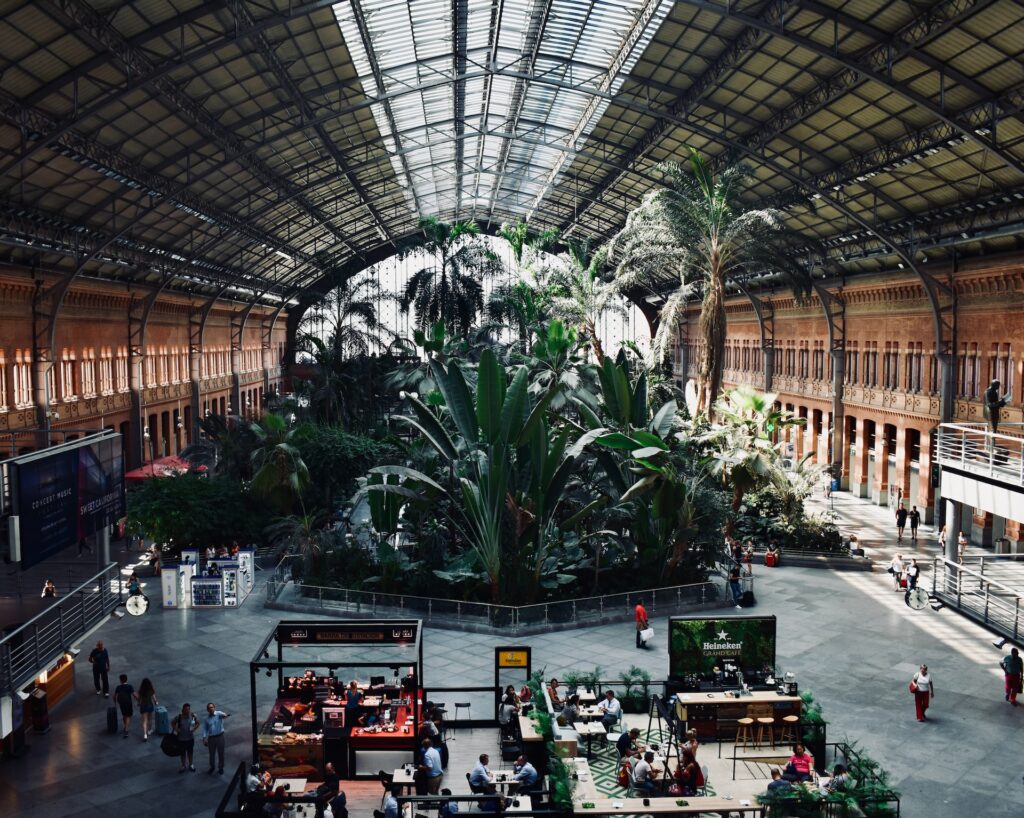 Where To Eat & Drink
Madrid is one of the best places in Spain to sample the country's traditional cuisine. Tapas bars are everywhere, serving up a variety of small plates from cold meats to local cheeses and olives. But if you're after something more hearty, there are plenty of restaurants specialising in Spanish dishes such as paella and patatas bravas.
When it comes to drinks, Madrid has lots to offer interrailers. From refreshing beer at the corner bar to glasses of rich Rioja wine or thick hot chocolate with churros – there's something for everyone in Madrid.
Nightlife & Shopping
Madrid is a vibrant city that never sleeps! There's everything from jazz clubs and nightclubs to late-night flamenco performances. If you're interrailing through Spain, it's worth checking out the city's live music scene – there are plenty of venues to choose from, with everything from intimate bars to huge arenas playing host to some of the world's biggest acts.
For interrailers who want to pick up a souvenir or two during their interrail trip, Madrid is also an excellent place for shopping. From high-end boutiques to vintage markets, there's something for everyone here.
In conclusion, Madrid is a city that offers plenty of cultural attractions, excellent dining and nightlife options – as well as a range of accommodations to suit any budget. So why not set aside 48 hours during your interrail trip and explore this vibrant destination? Interrailing in Spain can be an unforgettable experience – especially when you get to spend 48 hours exploring the incredible city of Madrid. With so much to see and do, interrailers will indeed have a great time here, whether they're looking for culture, food or nightlife. There's something for everyone in Madrid, from tapas bars to art galleries – so plan your interrail trip today and start exploring this fascinating city!