Interrail in Spain: the ultimate country guide 🇪🇸
Spain is a colourful and passionate country of diverse cultures, stunning geography and relaxed people. It is the land of the siesta, local traditions, culture and gastronomy where daily life moves slowly and often runs late. With breathtaking cities, endless cultural festivals, world-class beaches, and renowned nightlife, Spain is impressive all year long. 
Madrid and Barcelona are hip, energetic and lively, the colourful Granada has a typical Moorish touch, while Basque Country up north contrasts itself to Southern living. The Spaniards are hospitable, love good wine, a good meal, laughter and enjoy life. Part of it is sangria, as well as paella and tapas. 
Spain is a very inexpensive country to visit. Interrailers often head to Madrid and are impressed by the capital city, home to the Royal Palace and Prado museum, housing works by European masters. The most popular spot for Interrail travellers is Catalonia's capital, Barcelona, defined by Antoni Gaudí's whimsical modernist architecture – like the Sagrada Família church. Spain has 47 UNESCO World Heritage Sites, which makes Spain the 3rd ranked country in the world for the most UNESCO World Heritage Sites. The Spanish heritage includes pre-historic art, historic cities and buildings, bridges, national parks and landscapes.
The top 5 cities to visit in Spain
In Madrid, life begins at midnight. It's a city that has an amazing fusion of history and modern, urban lifestyle, rooftop bars, great nightlife, fantastic museum exhibitions, and luscious green parks. Even though it is often (unfairly) overshadowed by Barcelona, Madrid is a vibrant city with delicious food, affordable living, and premium shopping. Madrid also has one of the best public transit systems in the world. 
Madrid is home to The Prado, one of the largest museums in the world, which has one of the world's finest collections of European art, dating from the 12th century to the early 20th century, including Titian, Goya, Rubens. Visit the Royal Palace, as well as the main square, Plaza Mayor. 
Top local Spanish foods to try are bacalao (salted and dried cod), olive oil and olives, jamon (ham), cheese, patatas bravas (smoky potatoes fried in oil with aioli), and pimientos de padrón (spicy fried peppers). A beloved location is the famous and historic café at Pasadizo de San Gines, which specialises in thick hot chocolate and deep-fried churros.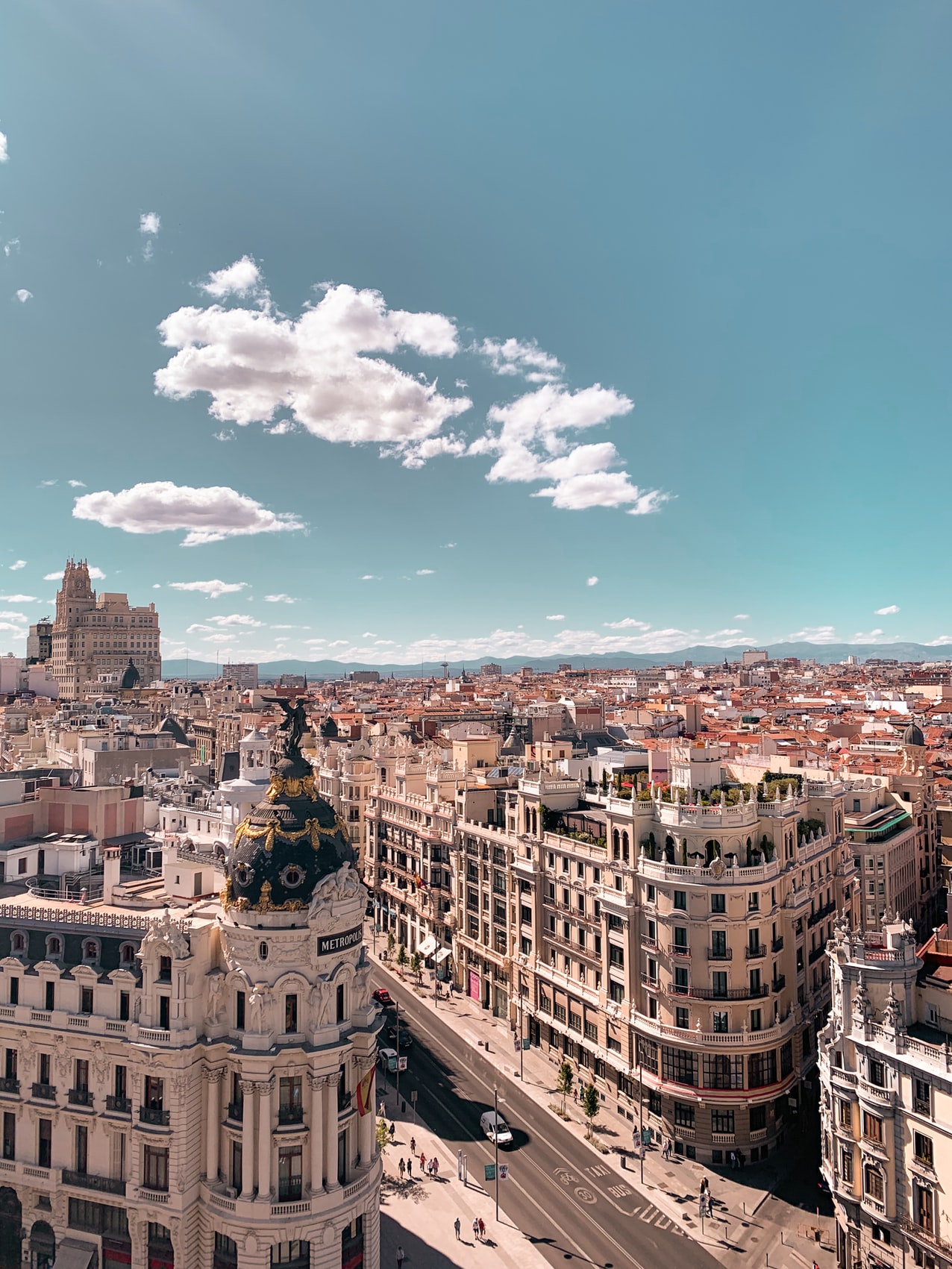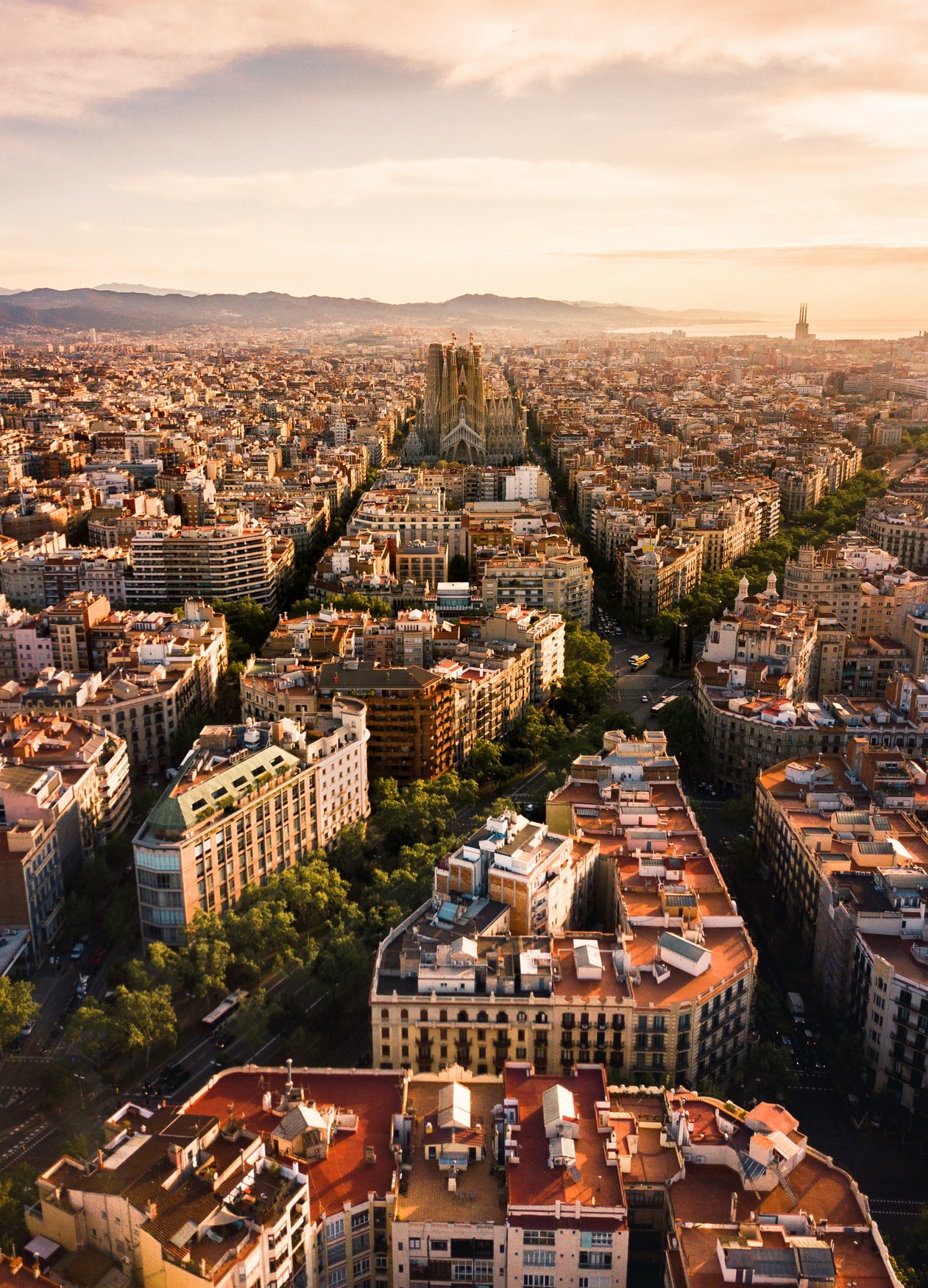 One of the most attractive cities in Europe, Barcelona enjoys its role as the capital of Catalonia. The city's cosmopolitan international vibe makes it a popular destination for many people, and is renowned for its unique architecture and art. Travellers are attracted by the iconic Sagrada Família church, La Rambla boulevard and other modernist sites designed by Antoni Gaudí, such as Parc Guell, Casa Mila and Casa Batilo. Situated on the beach, you can take a break from sightseeing and have a dip in the Mediterranean while you relax with a cold sangria, or cerveza!
Barcelona is famous for its partying, late-night eating and historic streets, so learn to sleep until 10pm and eat dinner at midnight in the streets of Barcelona just like the locals do. 
There is also the wonderful Picasso Museum and the educational and interactive History Museum in Barcelona, which is one of the best in Europe.
If you like football head to the Camp Nou and go on a stadium tour, or catch a game if you're lucky enough to be in town when a game is on!
If you're on an Interrail trip in Spain, you simply have to check out Barcelona.
Seville is the artistic, cultural, and financial capital of southern Spain, a vibrant city full of architecture, history, and life. The cityscape is made up of famous churches, palaces, historic sites and winding streets. 
Casa de Pilatos, built in 1500 AD, is the main sight in Seville. It also houses a collection of 16th and 19th century paintings, and across the palace the sculptures of Greek mythological figures. Fans of Moorish architecture will love Alcazar, a recognised UNESCO site, which also serves as a royal residence when the Spanish royal family visits Seville. 
The Metrosol Parasol has become somewhat of a centerpiece in the city and you won't miss it. It's a wooden landmark, which was completed in 2011, and is a popular meeting spot in the summer months as it offers shade from the intense Sevillanos heat.
The Jewish Quarter, generally regarded as the most charming part of the city, is located around the old Cathedral and consists of small winding streets. 
Seville is also a big university town, so there's lots to be had in the way of nightlife and late night drinking. Eat authentic Spanish tapas and enjoy great flamenco dancers.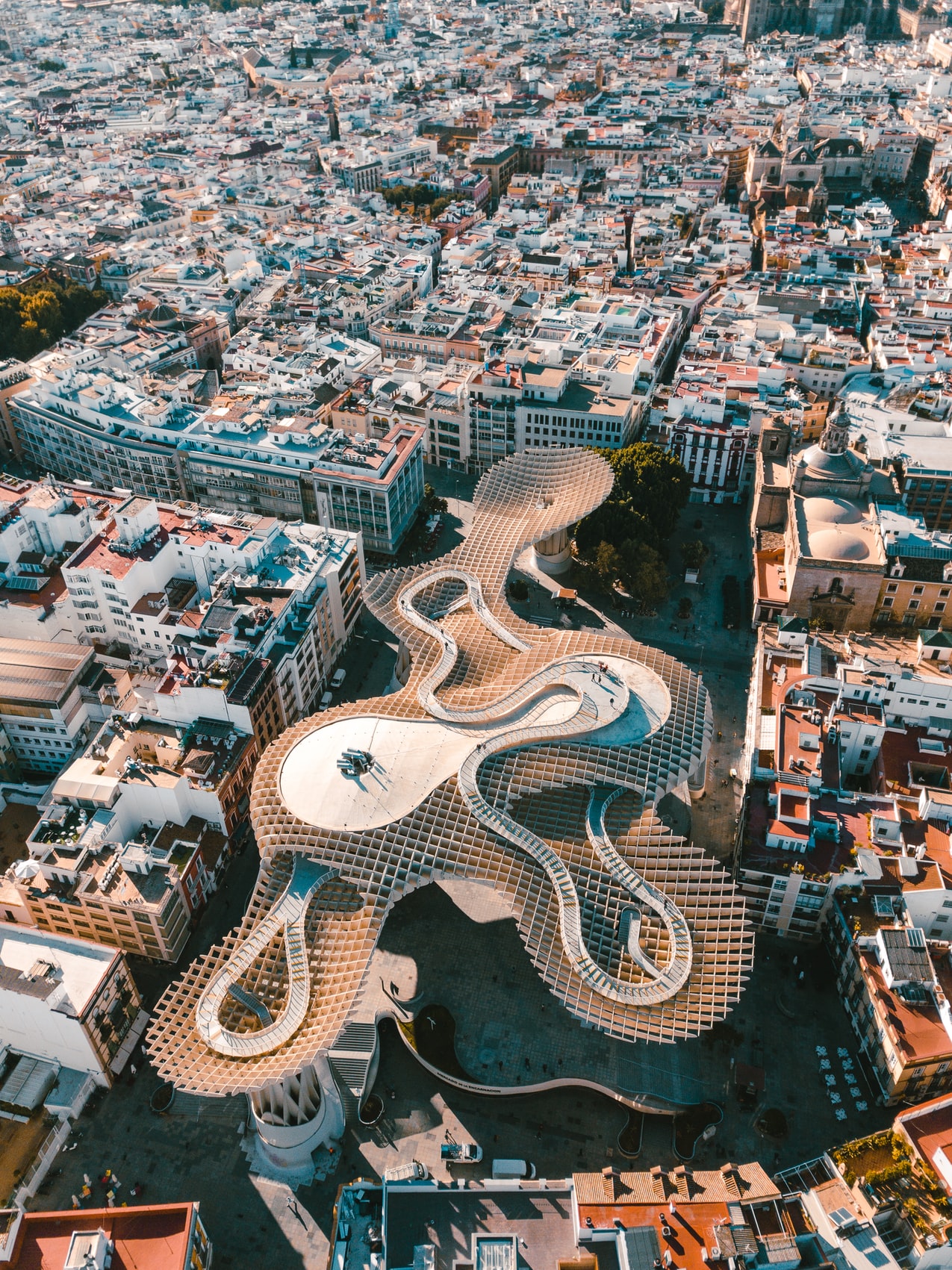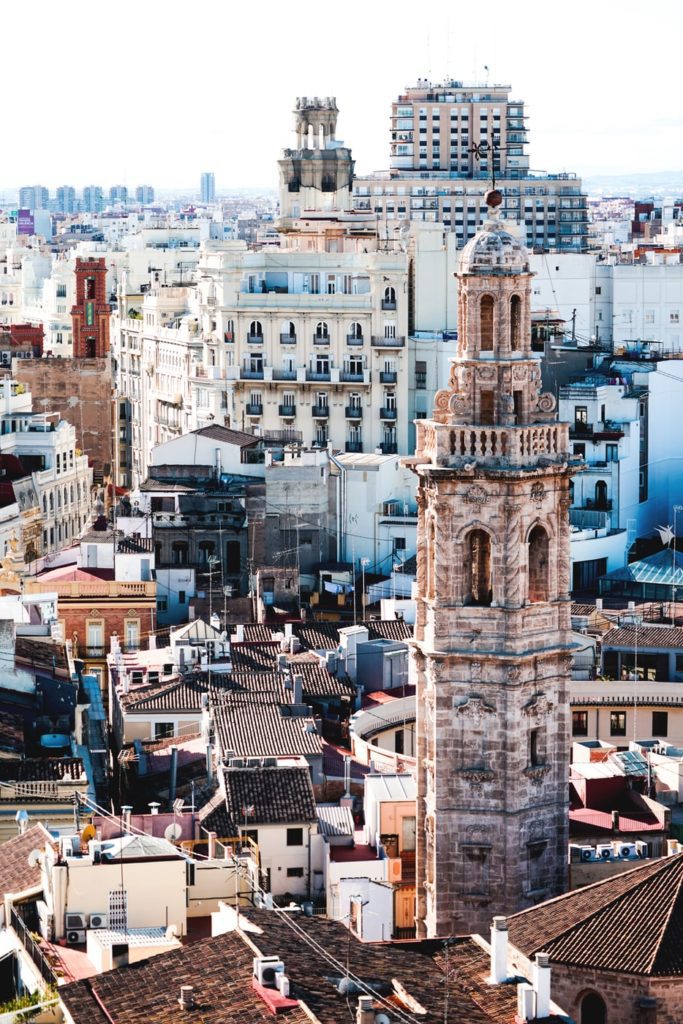 It may be true that Spain's third largest city lacks spectacular monuments like Madrid or Barcelona, but it makes up in countless charming alleyways, a lovely cathedral, a fantastic market, and most importantly, the authentic Spanish flair. The historic old town is the main spot for the major attractions: The Cathedral of Valencia (Catedral de Santa María de Valencia), with its mix of different architectural styles and Mercado Central (Central Market), which is a must when staying in Valencia. 
The city's vibrant neighbourhoods are full of cafes and restaurants and the streets are full of colour and creative street art.
Torre de Serranos is the former medieval city gate, a witness to the long past and importance of this city. However, the city is also proud of Ciutat de les Arts i les Ciències, the building complex "City of Arts and Sciences", which is without a doubt, the most futuristic attraction of Valencia and a modern landmark worth seeing. The individual buildings house different museums, the most famous among them is L'Oceanogràfic.
Like Barcelona, Valencia benefits from being by the sea and you can take a break from the sightseeing at the beach by heading to one of the many bars by the marina.
Perched on the northern shores of Spain, Bilbao is an epic and upcoming city in the Basque Country. Bilbao has a gorgeous historic centre with The Casco Viejo or Old Town that comprises the medieval core of the city, but it is also very youthful, energetic and charming. 
The Guggenheim Museum is not only one of the best things to do in Bilbao, but easily one of the most iconic buildings in Spain. The museum is not only home to one of the best modern art collections in Europe, the museum building itself is an extraordinary piece of art. The Tulips and the huge Puppy by Jeff Koons are some of the most photographed statues. 
Just under an hour away from the centre of Bilbao is the beautiful coastline around San Juan de Gaztelugatxe with the stunning Bay of Biscay, which is definitely worth the trip. Gaztelugatxe was also a location for Dragonstone in Game of Thrones. It's also worth making a trip to San Sebastian, renowned for being Spain's capital of food, serving up some of the best seafood in the whole of Europe.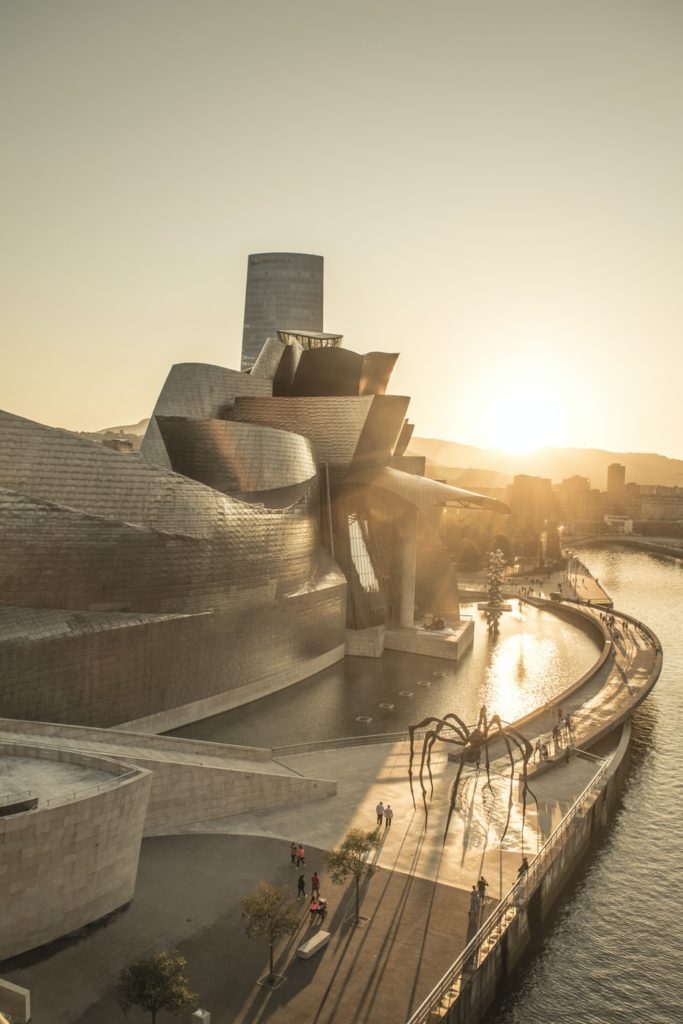 People who visit Spain also visit...
France 🇫🇷
There are high speed connections running on popular routes between Spain and France. Get from Barcelona to Paris in around 6 hours.
Portugal 🇵🇹
There's a daily sleeper train that runs from Madrid to Lisbon. If you want to go from Seville to Faro there's no train line but buses run very regularly.
Which Interrail pass do I need to travel around Spain?
Interrail Global Pass
The only travel pass that lets you ride on trains in 33 different countries and discover over 40,000 destinations. Available in 1st or 2nd class.
Interrail Spain Pass
The easiest way to travel by train in Spain. Get a pass with 3, 4, 5, 6 or 8 travel days in 1 month and explore the length and breadth of Spain.
Do I need to make train seat reservations in Spain?
The train network in Spain is well developed and extensive, mostly operated by RENFE.
There are lots of high speed trains in Spain, for which you will need to book seat reservations. You need to make seat reservations on Avant (AVN), AVE, Alvia (IC), Intercity (IC), and Euromed (EUR) domestic trains. You won't usually require a seat reservation for domestic Media Distancia (RE) and Cercanías (RE) trains.
To travel to both France and Portugal, you will need to make seat reservations on the Renfe (RSC) and Celta (IC) trains respectively.
All night trains also require reservations. It's worth booking the Madrid-Lisbon sleeper train up to 3 months in advance.
Sungate One - Madrid
Located right in the heart of Centro, just around the corner from the main historical sites and from the epic nightlife locations. The Royal Palace of Madrid is a 12-minute walk from the hostel and 7 minutes away you'll find the Plaza Mayor area, which is packed with restaurants and bars.
Itaca Hostel - Barcelona
A 6-minute walk from the old Barri Gòtic (Gothic Quarter), 8 minutes from Las Ramblas shopping street, 2 minutes on foot from Cathedral Square. You'll also find art galleries, clubs and live music bars just around the corner.
Hostel One Catedral - Seville
This hostel is located in the heart of Santa Cruz neighbourhood, known as the Jewish quarter, just one minute walking from the Cathedral, the Giralda tower and the Alcazar. Surrounded by many restaurants and tapas bars, the hostel is the perfect place for you to start exploring the most interesting area of Seville. It's a social hostel with daily events and regular group meals, provided free of charge by the hostel staff!
Cantagua Hostel - Valencia
A cozy, eco-friendly hostel, located a short walk away is the Historical City Centre, Turia - a picturesque sunken park and the futuristic City of Arts and Sciences. A sociable atmosphere and a great guest kitchen to prepare your own food.
Bcool Hostel - Bilbao
Located in Bilbao la Vieja – Bilbi for short – the city's coolest neighbourhood, full of galleries, boutique shops, trendy gastro bars, and international and local artists. It is a hostel with designer décor, cheap tapas, terrace and a communal kitchen, only 10 minutes on foot from Bilbao-Abando station.
Primavera Sound - Barcelona
Primavera Sound takes place in June every year at Barcelona's Parc del Forum on the glorious Spanish coast, where over 100,000 people have listened to the likes of Radiohead, Public Enemy, PJ Harvey, Iggy Pop and Arcade Fire to name just a few.
Festival of San Fermín - Pamplona
A controversial yet popular festival that draws hundreds of foolhardy souls and hundreds more eager spectators, the bull runs are actually part of a larger local festival known as San Fermín, taking place in the northern city of Pamplona for a week in early July.
La Tomatina Tomato Fight - Buñol
The tiny town of Buñol, near Valencia transforms from a sleepy village into party central every year on the fourth Wednesday in August. The tradition started in 1945, when a disruption during a parade resulted in spectators and participants throwing tomatoes from a nearby fruit stand at each other, and the tradition caught on.
Las Fallas - Valencia
Throughout several nights in mid-March, the streets of Valencia come alive with giant paper sculptures, painstakingly handcrafted in ornate detail. Then, on the last night, most of the sculptures, or fallas, are burned in epic bonfires throughout the city.
Feria de Sevilla - Seville
Seville's most iconic celebration, the annual April Fair, is a colourful extravaganza of flamenco, horses, and sherry.
Read more about Spain on our blog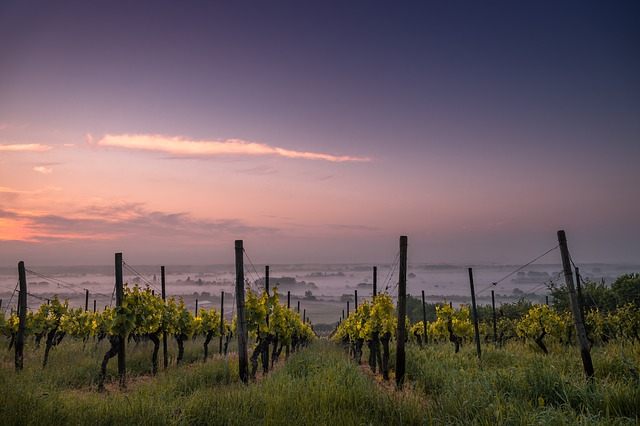 Best of Europe
If you love wine, there's no better place to travel around than Europe. With so many wonderful destinations on your doorstep, you'll never be lost