So, you're on a whirlwind Interrail adventure across Europe, and your next stop is the vibrant capital of Croatia – Zagreb. You've packed your bags, sorted your rail passes, and you're all set for an unforgettable journey through this captivating city. But wait, what should you do once you arrive? Fret not, fellow traveler. This Interrailer's Guide to Zagreb is here to guide you through the cobblestone streets and hidden treasures of this charming destination.
In this guide, we'll delve into the heart of Zagreb, unearthing its historical and cultural gems, indulging in mouthwatering cuisine, and offering tips to make your Interrail experience in Croatia truly memorable. So, without further ado, let's hop off that train and embark on a Zagreb adventure!
How Do I Get to Zagreb?
As an Interrailer, you've got the freedom to explore Europe at your own pace. To reach Zagreb, you can take one of the international trains that connect major European cities. Zagreb's main railway station, Glavni Kolodvor, is well-connected to places like Vienna, Budapest, and Ljubljana. Your Interrail pass is your golden ticket to hassle-free travel.
Where Should I Stay in Zagreb?
Zagreb offers a range of accommodation options, from budget hostels to luxurious hotels. For a cozy and budget-friendly stay, check out the hostels near the main square, Ban Jelačić Square. Our favourite is Whole Wide World Hostel. If you prefer a touch of luxury, consider staying in the Upper Town (Gornji Grad), where boutique hotels and charming guesthouses are abundant.
What Are the Must-See Sights in Zagreb?
Zagreb is teeming with historical and cultural landmarks. Must-visit spots include St. Mark's Church, the Zagreb Cathedral, and the Museum of Broken Relationships. Take a stroll through the picturesque streets of Upper Town and Lower Town, and don't forget to visit the Dolac Market for a taste of authentic Croatian life.
Is Zagreb Safe for Tourists?
Zagreb is generally considered a safe city for tourists. Like in any other city, it's essential to stay vigilant and take basic precautions. Keep an eye on your belongings and avoid poorly lit areas at night. Most of the locals are friendly and helpful, so don't hesitate to ask for assistance if needed.
How's the Food Scene in Zagreb?
Croatian cuisine is a delightful blend of Mediterranean and Central European flavors. Don't miss trying local dishes like ćevapi (grilled minced meat), sarma (cabbage rolls), and štrukli (cheese-filled pastry). Pair your meal with a glass of fine Croatian wine or a refreshing local beer.
Exploring Zagreb: Where to Go and What to See
Upper Town: Timeless Charm
The Upper Town of Zagreb is the historic heart of the city. As you ascend the funicular or climb the steps, you'll feel like you've stepped into a time machine. The Upper Town is a labyrinth of narrow streets, picturesque squares, and colorful buildings.
St. Mark's Church
One of the most iconic landmarks in Zagreb, St. Mark's Church is a masterpiece of medieval architecture. Its colorful roof featuring the coats of arms of Zagreb and Croatia is a true eye-catcher. Make sure to visit during the changing of the guards ceremony.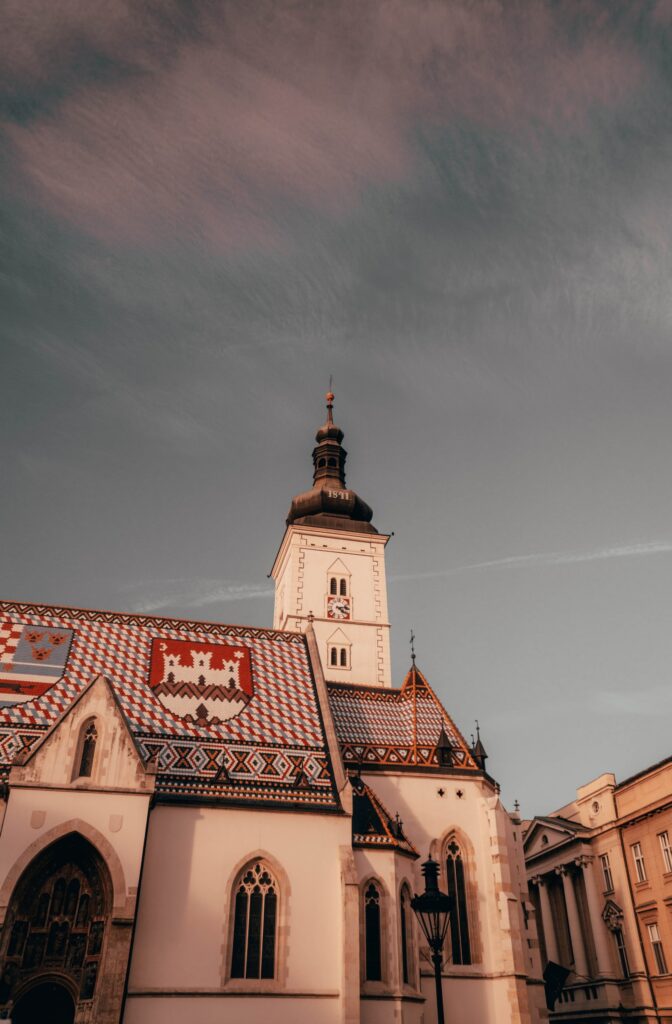 Lotrščak Tower
For panoramic views of Zagreb, head to Lotrščak Tower. The tower houses the famous Grič Cannon, which fires every day at noon. The cannon's shot has been a Zagreb tradition for over a century.
Zagreb Cathedral
The Zagreb Cathedral is an architectural marvel and one of the tallest buildings in Croatia. Its two spires dominate the city skyline. You can explore the cathedral and even climb to the top for breathtaking views.
Lower Town: Modern Elegance
As you descend from the Upper Town, you'll find yourself in the lively Lower Town. This part of the city is a perfect blend of modernity and tradition.
Ban Jelačić Square
The main square of Zagreb, Ban Jelačić Square, is the bustling heart of the city. Here, you can shop for souvenirs, dine in charming cafes, and admire the equestrian statue of Ban Jelačić.
Tkalciceva Street
Tkalciceva Street is a charming, pedestrian-friendly street lined with cafes, restaurants, and boutiques. It's the ideal spot for a leisurely stroll and people-watching.
Museums Galore
Zagreb boasts a rich cultural heritage, and its museums offer a window into its past and present.
Museum of Broken Relationships
An unusual but deeply moving museum, the Museum of Broken Relationships exhibits personal items and stories of heartbreak. It's a unique emotional experience and a must-visit for anyone interested in human connections.
Croatian Museum of Naïve Art
This museum is home to a fantastic collection of naïve art, a style characterized by simplicity and childlike enthusiasm. The vibrant and whimsical paintings will delight art enthusiasts.
Green Oasis: Maksimir Park
Escape the urban hustle and bustle with a visit to Maksimir Park, Zagreb's oldest public park. It's a serene oasis with winding paths, tranquil lakes, and lush vegetation. Take a leisurely stroll, have a picnic, or simply relax and enjoy the natural beauty.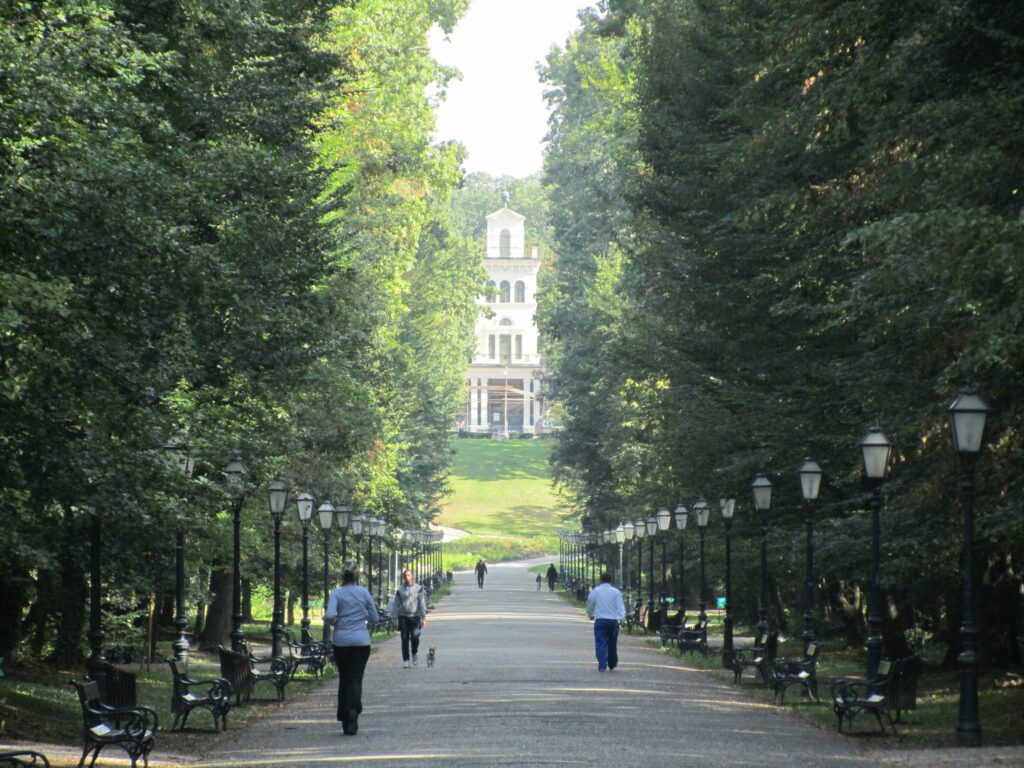 Dining Delights
Zagreb's food scene is a delightful blend of traditional Croatian and international cuisines. Don't miss out on the opportunity to savor some local flavors.
Dolac Market
Located at the heart of the city, Dolac Market is the go-to place for fresh produce and local specialties. It's a fantastic spot to pick up ingredients for a picnic or to try traditional dishes.
Mundoaka Street Food
For a quick, delicious bite, head to Mundoaka Street Food. They offer a mouthwatering selection of sandwiches and street food from around the world.
Vinodol
Vinodol is an elegant restaurant offering a taste of traditional Croatian cuisine. Be sure to try their seafood dishes and locally-sourced meats.
Zagreb, with its unique blend of history, culture, and modernity, is a European gem waiting to be discovered by Interrailers. This Interrailer's Guide to Zagreb has covered the must-see sights, the vibrant dining scene, and even provided some essential travel tips. So, go ahead, embrace the charm of the Upper Town, lose yourself in the lively Lower Town, and immerse yourself in the rich cultural tapestry of this Croatian capital. Your Interrail adventure in Zagreb promises to be an unforgettable chapter in your European journey. Enjoy every moment, and let the cobblestone streets of this enchanting city lead you on an incredible exploration. Safe travels!