Visiting Prague is like stepping into a fairytale. Its historic charm is embodied in Gothic spires, Baroque facades, and stunning landmarks like Prague Castle and Charles Bridge. For young interrailers, the vibrant nightlife, diverse cultural experiences, and affordability create an ideal place to stop on an Interrail trip. The city's bohemian vibe inspires creativity while its international crowd fosters new friendships. With its compact layout, you can explore ancient streets, museums, and scenic riverbanks with ease. From exploring its rich history to indulging in hearty Czech cuisine, Prague offers an enchanting blend of old-world beauty and youthful energy that captivates every traveller. It's no wander that it's one of the most popular Interrail cities.
As an Interrailer, you'll have a fantastic time exploring Czech Republic's enchanting capital city. Here's a guide to help you make the most of your visit.
What to do in Prague
So, what is there to do in Prague? This list isn't exhaustive, but here are the main things you can do when you're in Prague for just a few days.
Old Town Square (Staroměstské náměstí)
Begin your journey at this iconic square, surrounded by architectural marvels like the Astronomical Clock, the Church of Our Lady before Týn, and the Old Town Hall Tower. Witness the hourly show of the Astronomical Clock, and explore the vibrant atmosphere of the square.
Charles Bridge (Karlův most)
A must-visit landmark, this historic bridge offers breathtaking views of the Vltava River and the city's skyline. It's adorned with stunning statues and often hosts street performers and artists.
Prague Castle (Pražský hrad)
Explore the largest ancient castle complex in the world, which includes St. Vitus Cathedral, the Royal Palace, and the Golden Lane. The views of Prague from the castle's hilltop location are simply stunning.
St. Vitus Cathedral
This impressive Gothic cathedral is a masterpiece of architecture and houses the tombs of many Bohemian kings and Holy Roman Emperors. The interior is equally captivating, featuring stained glass windows and intricate details.
Wenceslas Square (Václavské náměstí)
A bustling boulevard lined with shops, restaurants, and cultural attractions. It's a great place to soak up the city's atmosphere and learn about its history.
Jewish Quarter (Josefov)
Explore the rich Jewish history of Prague in this district, home to historic synagogues, the Jewish Museum, and the hauntingly beautiful Old Jewish Cemetery.
Petrin Hill and Observation Tower
For panoramic views of the city, climb up Petrin Hill or take the funicular railway. At the top, you'll find the Petrin Tower, an Eiffel Tower-inspired structure that offers sweeping vistas of Prague.
Vyšehrad
This historic fortification offers a quieter and more local experience compared to Prague Castle. It boasts beautiful gardens, the Vyšehrad Cemetery where many prominent Czechs are buried, and the neo-Gothic Basilica of St. Peter and St. Paul.
National Museum (Národní muzeum)
Located at the top of Wenceslas Square, this museum showcases Czech history, art, and natural sciences. The building itself is an architectural gem.
Enjoy Czech Cuisine
Don't miss the chance to try traditional Czech dishes like goulash, svíčková (marinated beef with creamy sauce), and trdelník (chimney cake) for dessert. Pair your meals with Czech beer, renowned worldwide.
Live Music and Nightlife
Prague has a vibrant nightlife scene. Enjoy live music at jazz clubs, rock bars, or even classical music concerts in historic venues.
Boat Cruise on the Vltava River
Take a relaxing boat cruise to see Prague from a different perspective. Sunset or evening cruises offer particularly picturesque views.
Remember that Prague can get quite crowded, especially during the peak summer season, so try to explore popular attractions early in the morning or later in the afternoon to avoid the crowds. Enjoy your Interrail adventure in this captivating city!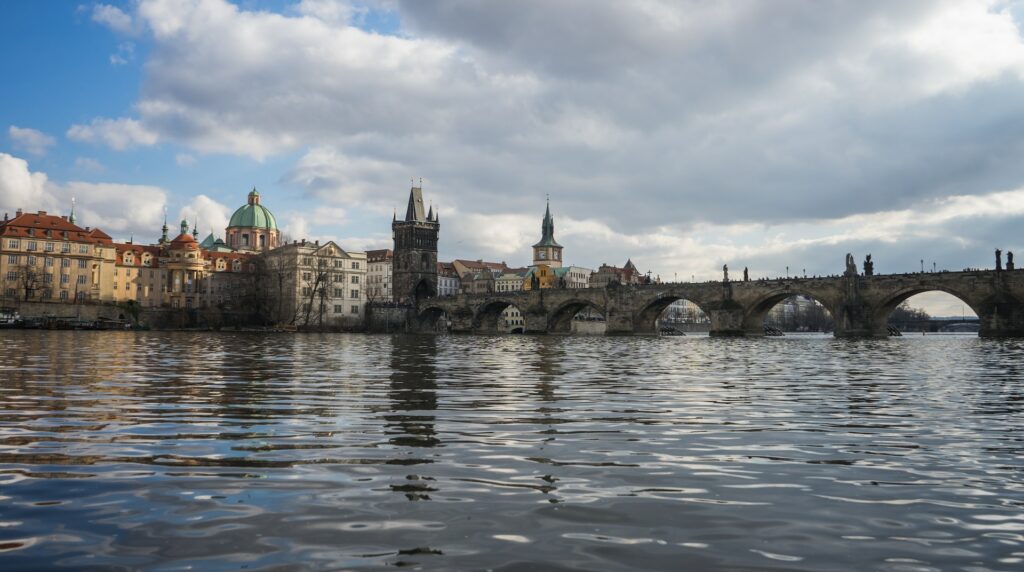 Why is Prague so popular for Interrail?
Prague is a highly popular destination for Interrail travellers due to a few compelling reasons that make it an ideal stop on a European rail journey:
Central Location: Prague's central location within Europe makes it easily accessible from many other major cities, making it a convenient and strategic stop for Interrailers travelling across the continent. Most interrailers head to Prague from Berlin then move on to Budapest via Vienna or Bratislava.
Stunning Architecture: The city's breathtaking architecture, including its Gothic, Baroque, and Renaissance buildings, creates a unique and picturesque atmosphere that captivates travellers. The well-preserved historic centre offers a glimpse into the past.
Affordability: Compared to many Western European cities, Prague offers a more budget-friendly experience. Accommodation, food, and attractions are generally more affordable, making it a great option for budget-conscious travellers. Expect €1 beers!
Cultural Heritage: Prague's rich history and cultural heritage are evident throughout the city. The medieval streets, historic squares, and impressive landmarks like Prague Castle and Charles Bridge provide a sense of timelessness.
Vibrant Nightlife: Prague has a vibrant and diverse nightlife scene. From traditional pubs serving Czech beer to trendy bars and clubs, there's something for everyone, making it an exciting destination for young interrailers.
Ease of Exploration: The compact layout of Prague's historic centre makes it easy to explore on foot. Many of the city's major attractions are within walking distance of each other, allowing travellers to see a lot in a short amount of time.
Cultural Experiences: The city offers a wide range of cultural experiences, from classical music concerts in historic venues to local festivals and events. Visitors can immerse themselves in Czech art, music, and theatre.
Local Cuisine: Czech cuisine is hearty and flavourful, with dishes like goulash, schnitzel, and dumplings. Exploring local food markets and traditional Czech restaurants is a delightful culinary experience, and can still be done on a budget. It's certainly the city to choose if you want to dine out at least a few times on your Interrail trip.
Bohemian Atmosphere: Prague's bohemian vibe, artistic spirit, and historical significance have long attracted creative individuals and intellectuals. The city's creative energy and artistic heritage continue to be appealing to interrail travellers seeking inspiration.
Ease of Transportation: Prague's well-connected train station, Praha hlavní nádraží, serves as a major hub for both international and domestic train travel. This makes it a convenient arrival and departure point for Interrailers.
Variety of Attractions: From the grandeur of Prague Castle to the charm of its old town, from its famous astronomical clock to its scenic riverbanks, Prague offers a diverse range of attractions to suit various interests.
Opportunity for Day Trips: Prague's location within the Czech Republic allows for easy day trips to charming towns like Kutná Hora, Český Krumlov, and Karlovy Vary, offering interrailers a chance to explore beyond the capital.
All these factors combine to make Prague a top destination for Interrail travellers looking for a mix of history, culture, affordability, and memorable experiences in the heart of Europe.
The top 3 bars in Prague for the budget conscious Interrail traveller
Prague offers budget-friendly options for those looking to enjoy its nightlife without breaking the bank. Here are three budget bars worth checking out:
Lennon Wall Pub
Located near the famous Lennon Wall, this pub offers affordable drinks and a laid-back atmosphere. It's a popular spot for both locals and tourists, making it a great place to meet people. The interior is decorated with artwork inspired by John Lennon, creating a unique and artsy vibe.
U Sudu
This underground labyrinth of interconnected rooms is a favourite among budget travellers. With a range of reasonably priced drinks, including local beers, U Sudu offers a relaxed setting to socialise and unwind. Its quirky layout and cozy atmosphere make it an intriguing choice.
The Pub Prague
This interactive bar allows you to pour your own beer from taps built into your table. While the concept might sound pricier, The Pub offers a budget-friendly option where you share a tap with others, making it a fun and economical experience. It's a great way to enjoy Czech beer while engaging with fellow drinkers.
The top 3 cheap restaurants in Prague
As well as cheap drinks, there are lots of cheap eats all over the city. Here are a few to try:
Lokál
With multiple locations in Prague, Lokál is a favourite among locals and visitors alike. This chain of traditional Czech pubs serves authentic dishes at affordable prices. Try classics like svíčková (marinated beef), goulash, and fried cheese. The atmosphere is lively and casual, making it a great place to experience local flavours.
Havelská Koruna
This self-service canteen-style restaurant is a hidden gem for budget travellers. Located near Old Town Square, it offers a variety of Czech dishes at reasonable prices. The buffet-style setup allows you to choose your meal components, making it a convenient and economical option.
U Bulínů
Tucked away from the main tourist areas, this traditional Czech pub offers a cozy and authentic experience. U Bulínů is known for its hearty and affordable meals, including classics like schnitzel, sausages, and dumplings. It's a great spot to enjoy comfort food without straining your budget.
So there you have it, an interrailer's guide to Prague. Will you be including it on your Interrail trip itinerary?