Interrail in Czech Republic: the ultimate country guide
Throughout history, the Czech Republic (or Czechia – the country's official shortened name) has always been a place of political turmoil, which influenced its historical heritage. The Czech Republic includes the historical territories of Bohemia, Moravia, and Czech Silesia. Prague was the imperial seat in periods between the 14th and 17th century.
After 1526, the whole Crown of Bohemia was gradually integrated into the Habsburg Monarchy. In more recent times, the country was partly occupied by Germany, then liberated by the Soviets, and in 1993, as Czechoslovakia peacefully dissolved, the Czech Republic became an independent state.
Nowadays, this well-developed country is one of the most beloved destinations in Central Europe, full of UNESCO World Heritage Sites, National Parks, world-class wineries, storybook villages, and medieval towns and castles. Its gem, Prague, is one of Europe's most popular destinations. However, going outside Prague and exploring the Czech countryside, like Cesky Krumlov, is definitely worth while. When interrailing from place to place, it is idyllic to watch the magical landscape roll past the train window.
Czech traditional cuisine is simple, yet delicious. Goulash, bread dumplings and gravy, roast duck leg (Pecena Kachna) or fruit-filled dumplings (Ovocné kynuté knedlíky), as well as a beer at the local pub are a must-try.
In Czechia, there are also plenty of free hiking trails all around the country if you are interested in spending some time in nature. For winter sport lovers, a trip to the Czech Republic isn't complete without having a go at skiing and snowboarding near the mountains in the Krkonoše Mountain Range.
The top 5 places to visit in the Czech Republic
The iconic Old Town with its square is at the centre of the city and is a truly magical place. It is also a beloved gathering place, home to many street performers and musicians, and lots of restaurants. Fans of live music will love Prague, as there are many talented musicians on the popular streets and bridges.
Nevertheless, make sure to turn the corner and get a glimpse of the Astronomical Clock, located on the south side of the Old Town Hall. Close to the Old Town Square is the Jewish Quarter of Prague. And the ultimate highlight – a stroll across the Charles Bridge across the Vltava River. On the west side of the river – Malá Strana (Lesser Town), you will find cute cafes and the John Lennon Wall, an entire wall filled with graffiti and street art.
In Prague, everywhere you go, old meets new in a beautiful way. Prague has become a city with Old Town charm as well as a growing modern art scene, and modern architecture, traditional cuisine as well as international restaurants. Traditional food is hearty, based on meat, while at street vendors throughout the city, you can find Trdelnik, doughnut-like pastries wrapped around a stick, then covered with cinnamon-sugar mixture, as well as Smažený Sýr, fried cheese, served with fries, salad or a bread roll, a dish that is getting more and more popular throughout the country but particularly in Prague. Like many Czech cities, Prague is also a student city. Thus, there are tons of discounts for university students – at museums, shops, etc, perfect for thrifty interrailers!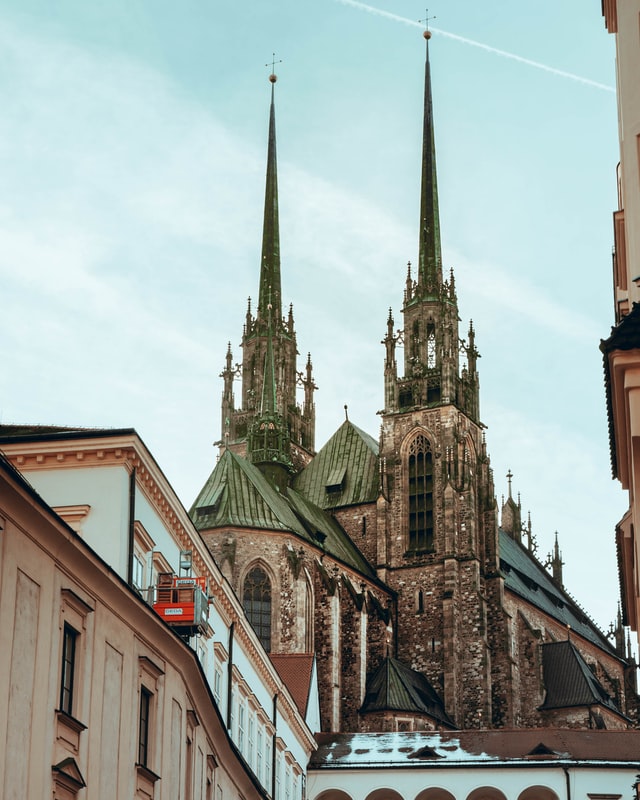 After Prague, the friendly city of Brno is the ideal destination for a short visit on your Interrail trip. Brno's cosy atmosphere and its authentic Czech flair, minus the touristy hype of Prague, is what people find so appealing. The city centre is surprisingly easy to navigate, which makes it very relaxing and enjoyable. 
The main landmark of Brno is Špilberk Fortress, located on Špilberk hill, currently one of the most important Czech cultural centres and host to several museums within it. During the summer, its courtyard becomes an open-air stage for opera performances. The most impressive view over Brno is from the 63m high tower of the Old Town Hall ("Stará radnice"). 
Another popular attraction is the UNESCO certified Villa Tugendhat, built in the late 30s during the last century on behalf of a Jewish couple. It enjoys cult status and has to be booked well in advance. With its modern architecture and huge windows, it is now considered one of the most important villas in the world. 
The number one hipster hangout in Brno is definitely SKØG Urban Hub with excellent coffee specialties and brunch offers in a cozy environment. 
This gem of Moravia is a picturesque small town with a chateau listed among the UNESCO World Heritage Sites. Kroměříž Chateau includes the Archbishop's Château, the Flower Garden and the Château Garden, definitely worth going inside too. It is a mix of French and Italian Baroque gardens. The romantic Chateau Garden with lovely ponds and pavilions as well as over 200 rare trees from different parts of the world can be visited for free. The narrow walking streets and colourful squares centered around Kroměříž Castle are not overcrowded and do not feel touristy at all.
Located in Bohemia, Cesky Krumlov is an exceptional example of a European medieval town classified as a UNESCO World Heritage Site. This small, compact and very, very photogenic city feels like it's been taken straight from a fairytale. The town's twisted and narrow cobbled streets are designed to follow the meanders of the Vltava river. Overlooking the Vltava River, you can find some of the nicest little rustic restaurants. Try some of the traditional Czech food – meat, potato pancakes, potato dumplings, sauerkraut, and pork and drink the Czech beer Pilsner Urquell. As a dessert, treat yourself with Trdelnik, a cinnamon pastry sold by street vendors.
Karlovy Vary is a gorgeous small town and the main city of the spa region of Czech Republic. The natural springs, with healing powers, were discovered in the area in the 14th century, with visitors flocking ever since. Water can be drunk at the Mill Colonnade, after purchasing a spa cup. The Tepla river runs through town so there are lots of small bridges. Just follow this small river and enjoy walking the lovely streets with stunning architecture – a mix of Baroque and Art Nouveau. You'll see the Holy Trinity Column, the Hygeia Statue and the Saint Mary Magdalene Church. If you are tired, try the famous Becherovka liqueur or Karel 1V beer, and of course the hearty goulash. Karlovy Vary also hosts one of the biggest film festivals in the world which attracts some serious Hollywood stars. Karlovy Vary was also used in the filming of the James Bond film Casino Royale.
People who visit Czech Republic also visit...
Germany 🇩🇪
Prague to Berlin is a classic Interrail route, and with regular trains between the two capitals it's easy to see why. Dresden is also just a hop over the border.
Slovakia 🇸🇰
Head to explore the Tatras mountains for some adventure, or check out the delights of Bratislava. Travel from Brno to Bratislava takes around 2 hours.
Poland 🇵🇱
Poland is a huge country so travel across Poland takes time, but it shares a long border with Czechia, and Krakow and Wroclaw are within easy reach.
Austria 🇦🇹
There are regular trains daily between Prague and Vienna, with the journey taking around 4 hours. Brno to Vienna takes just 2 hours by train.
Which Interrail pass do I need to travel around the Czech Republic?
Interrail Global Pass
The only travel pass that lets you ride on trains in 33 different countries and discover over 40,000 destinations. Available in 1st or 2nd class.
Interrail Czech Republic Pass
The easiest way to travel by train in the Czech Republic. Get a pass with 3, 4, 5, 6 or 8 travel days in 1 month.
Do I need to make train seat reservations in the Czech Republic?
Most domestic trains in the Czech Republic do not require seat reservations. 
Exceptions:
Selected Intercity (IC) trains
SC SuperCity high-speed line
Also, if you want to be sure that you'll get a seat and you want to select a seat, e.g. by a window, then you'd better get a seat reservation: at a ticket counter; in the e-shop; or from the conductor on the train.
Where to stay in the Czech Republic?
Dream Hostel Prague
A perfect place for solo travellers and groups of friends, this hostel combines high-quality hotel standards and a cozy, friendly hostel atmosphere, as well as a co-working for freelancers. If you're travelling with your laptop, they're also well set up for a little bit of work with dedicated co-working space.
10-Z Bunker, Brno
Your chance to stay in a Cold War bunker! Located in the very own centre of Brno, the location used to be a nuclear fallout shelter from the Cold War era. Great for history lovers and an amazing experience. Breakfast is included in the price and served daily at a retro bar. There's a museum attached to the hostel, to which hostel guests get free entry.
Pension Tiffany, Cesky Krumlov
Located in an historic house dating back to 1625 in the centre of Cesky Krumlov, Pension Tiffany offers tastefully furnished rooms with views over the Vltava River and castle.
Hotel Maltezsky Kriz, Karlovy Vary
Situated on the banks of the river Tepla in the heart of Karlovy Vary, this hotel provides the perfect base to explore this beautiful town. The building dates back to 1706 and was completely renovated in 2003, with historic wall murals and half-timbered walls being preserved.
Events in the Czech Republic
Prague Spring International Music Festival
Outstanding performing artists, symphony orchestras and chamber music ensembles of the world. Held in May every year, it's the largest and oldest classical music festival in the Czech Republic.
Prague Fringe Festival
Based on the world famous Edinburgh Fringe Festival, this is an annual event held every May and June. Theatre, comedy, music, dance, storytelling and good times at venues across Malá Strana, Prague.
Colours of Ostrava
A multi-genre festival, the biggest international music festival in the Czech Republic and one of the biggest music events in Central Europe. Usually held on the second or third weekend in July and has been running since 2002. The venue itself is striking, taking place within the imperious surrounds of Dolní Vítkovice which is found just outside of Ostrava and itself a UNESCO World Heritage Site.
Read more about the Czech Republic on our blog

Interrail Adventures
After enjoying the sun, the charming South European atmosphere, and a daily temperature of 30-34 degrees Celsius for about two weeks, we needed a climate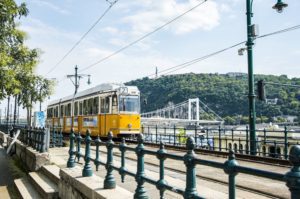 Country/Region Guides
If its recent history is anything to go by, Eastern Europe has had it hard. Fending off unfair stereotypes of it being stark, brutal and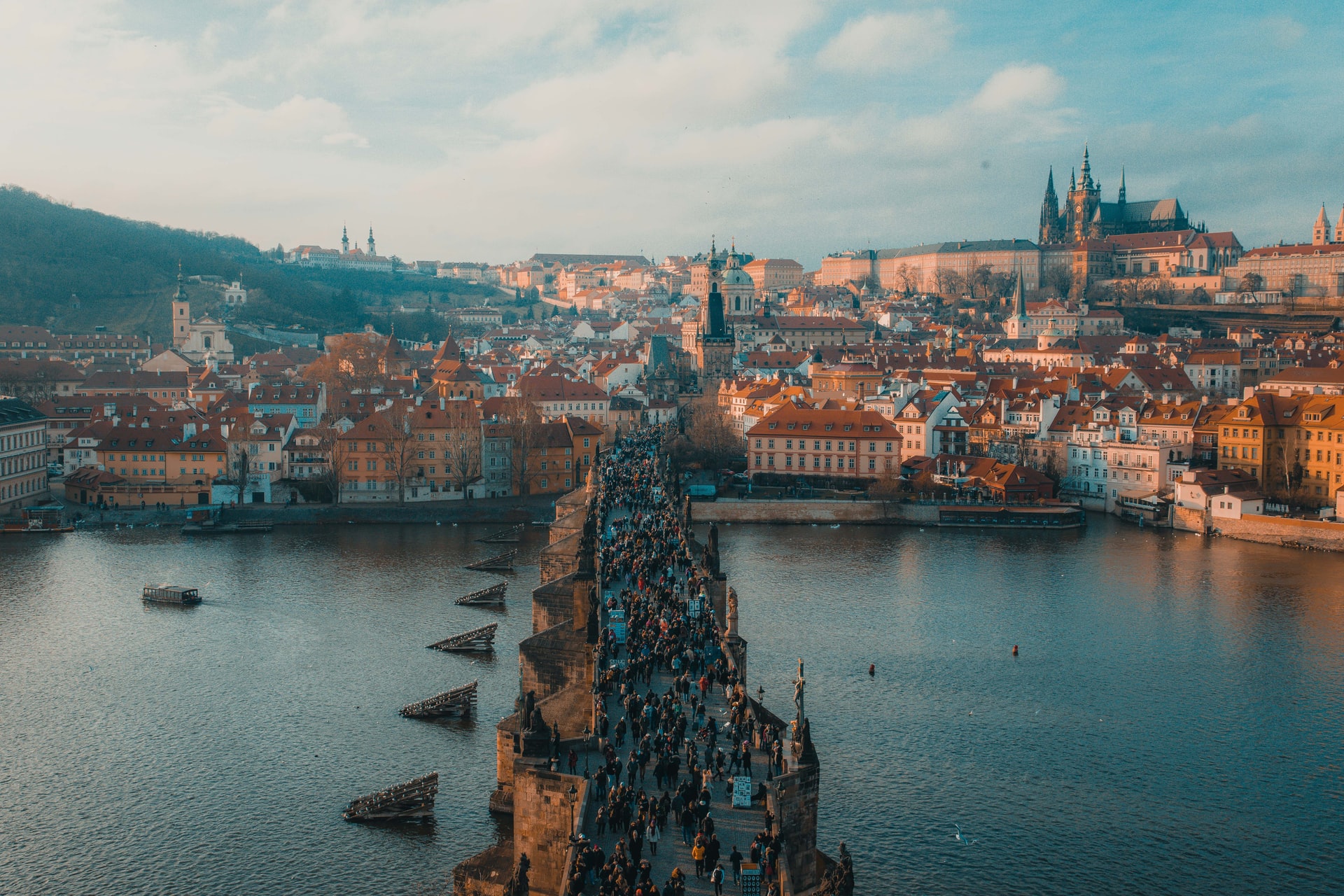 City Guides
Prague is one of the most popular places for interrailers and it's easy to see why. The Czech capital is romantic and beautiful, on par