Interrail in Germany: the ultimate country guide 🇩🇪
Germany might not be on everyone's list for a place to go on holiday but it really should be. It has a beautiful and diverse landscape and rich history, with lots of intriguing cities ready to explore on your Interrail journey through Germany.
The Black Forest, the magical villages of the Spree Forest, magnificent rivers, such as the Rhine, the Elbe and the Danube, the mighty Bavarian Alps, the impressive North Sea beaches, Christmas markets, Bavaria with its beautiful traditional towns, and the hilltop castles scattered across the land are only some of the Germany's delights.
The iconic tourist spots like The Brandenburg Gate, Munich's Oktoberfest and Rügen Island are only some of the must-see places in Germany. Its capital, Berlin, is home to art and nightlife scenes, full of hipster vibes, and at the same time a historical monument itself, telling stories from both recent and distant German history. Explore the skyscrapers of Frankfurt with the HQs of the European Central Bank, as well as Bavaria and its series of magical castles, including the Neuschwanstein Castle.
Germany, as could be predicted, is a practical place to visit, as the transport system is efficient and modern and in addition to it, many of the people speak English, which makes it easy to explore and enjoy the country. Moreover, German cycle routes are unbeatable and its hiking trails well organised, while the Bavarian Alps have unbeatable skiing spots during the winter months.
When it comes to food, the country is synonymous with beer, pretzels and sausages, especially everyone's favourite – the Currywurst.
Germany is huge, diverse and amazing, and one of those countries that makes you keep coming back. And it is worth it. By all means, Germany is always a good idea.
The top 5 cities to visit in Germany
Germany's urban and hip capital has world-class museums, history, funky neighborhoods, and one of the best nightlife scenes in Europe, as well as great bars and relatively cheap, yet delicious food. Berlin is generally one of the cheapest European capitals. 
At the heart of Berlin is The Museum Island. It's a strip of land in the Spree River where many of the most impressive museums in the country are located. The Pergamon Museum is one of the must-see spots in Berlin. Another one is The Reichstag Building, or Germany's parliament building, which is, by the way, completely free to visit. Brandenburg Gate is probably the most recognisable and admirable monument in Berlin. During the Cold War, the gate separated the West from the East and when the Berlin wall finally fell in 1989, the gate became a symbol of a peaceful and German unification. 
As the city itself is a walkable monument, another bucket list destination is The Berlin Wall. Starting at Mauerpark, it is possible to walk along the wall, as well as through the Mitte and Wedding neighbourhoods. You can stop and read the different information plaques along the way to learn what happened in different locations. 
To learn even more about the recent German history, check out the East Side Gallery, Checkpoint Charlie and The Story of Berlin Museum. A stunning monument dedicated to the Jews murdered in WWII is The Holocaust Memorial in Berlin. When it comes to food, Berlin is a street food paradise and one of the foodie capitals of Europe with multicultural offer, being an especially good place for vegans.
The best place to try a little bit of everything is at Street Food Thursdays. This street food market takes place inside Markthalle Neun and has absolutely every type of food imaginable. We also recommend going to Burgermeister Schlesisches Tor, a burger place in a former public toilet under an S-Bahn railway line (as pictured)!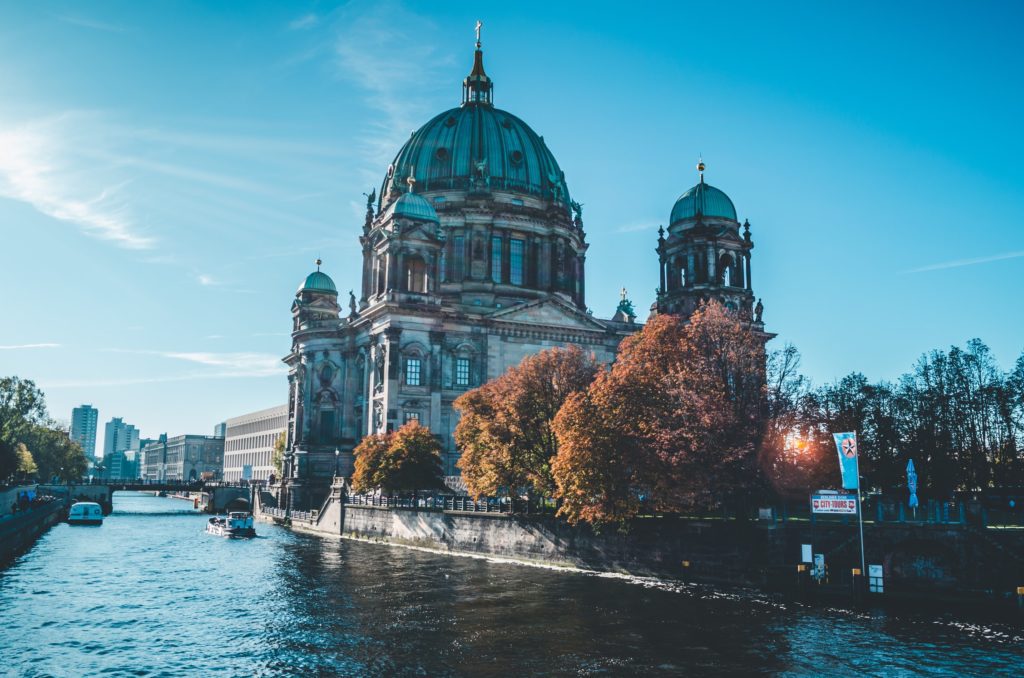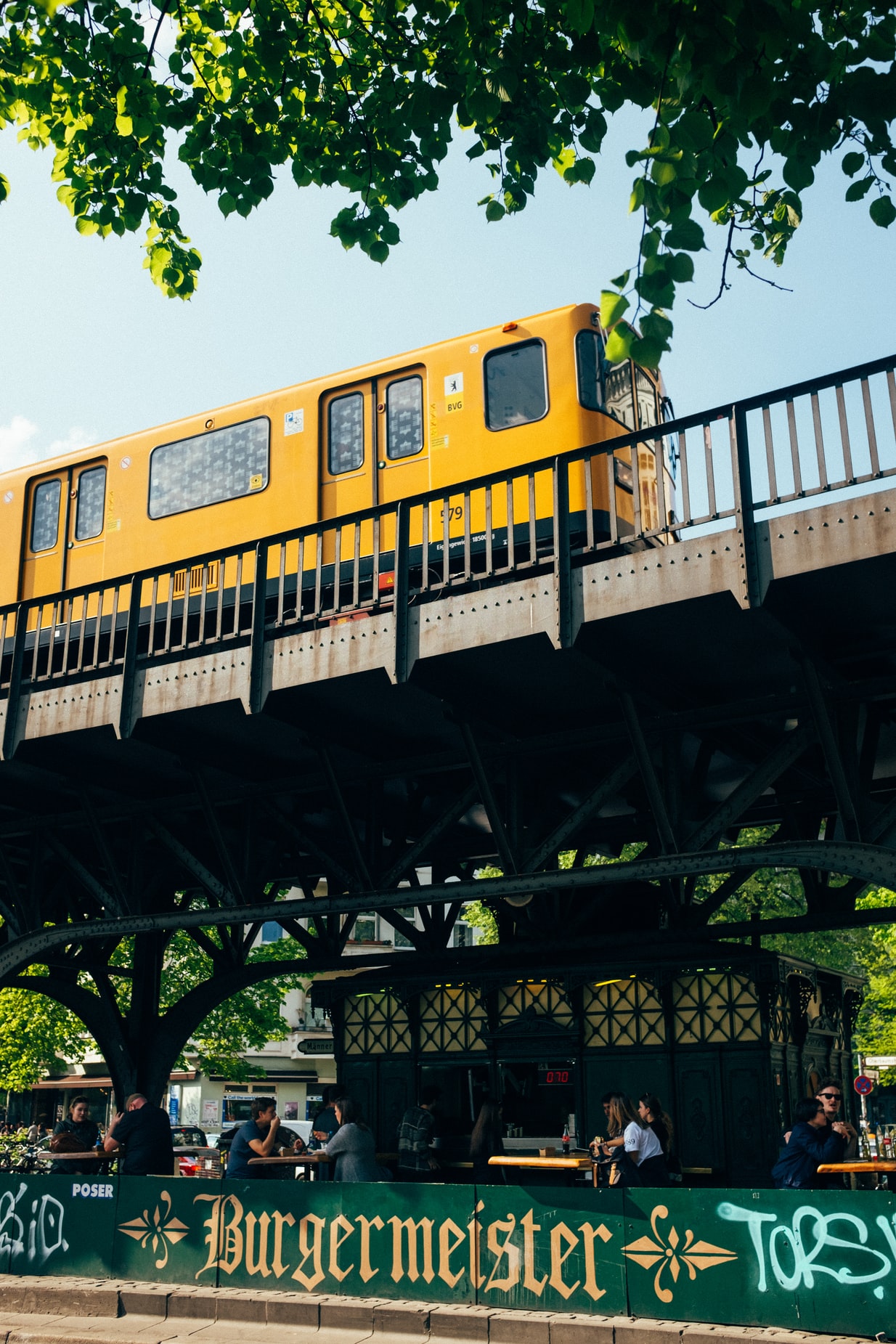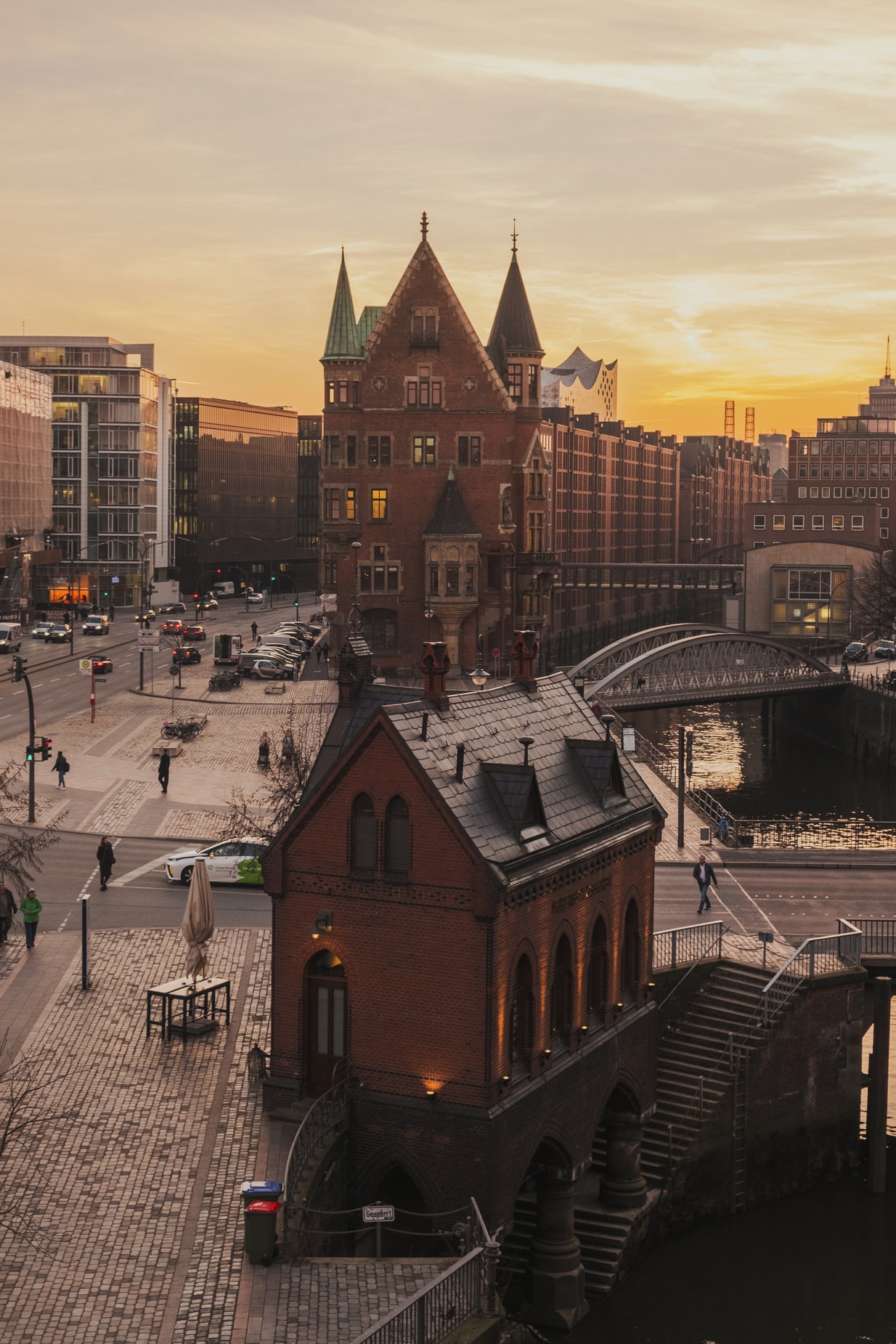 Located in northern Germany, the stunning Hanseatic port of Hamburg is Germany's second-largest city, famous for its parks and canals – with more canals than Venice and Amsterdam combined! It's and home to some of Germany's – and Europe's -best bars, restaurants, and nightlife. Altstadt (Old Town) and Neustadt (New Town) are considered the "city center" and this is where Hamburg's impressive City Hall, one of the few buildings that survived WWII, and impressive churches are located. Neustadt (New Town) is also the main shopping area with popular brands. 
Hamburg's crown jewel – the Elbphilharmonie concert hall can be found in Speicherstadt, Hamburg's warehouse district and the the world's largest warehouse complex with beautiful red-brick buildings that were built on a series of canals from 1883 to 1927. Next to Speicherstadt is HafenCity, Europe's largest inner-city development project with ultra-modern architecture and hip bars, often called "a utopian cityscape built into the Elbe river". 
One of Hamburg's biggest attractions is the St. Pauli neighbourhood with the infamous Reeperbahn street, also home to the city's Red Light District. However, there are also excellent bars and popular nightlife spots, particularly on a street called Hamburger Berg, that have nothing to do with the Red Light District. The area is very safe due to heavy police presence. 
Public transportation is excellent in Hamburg, you can easily experience the diversity of the city. Hamburg also has numerous parks and other green spaces to escape the hustle and bustle of the city.  The cultural offering is huge in Hamburg. Kunsthalle is one of the largest and most important museums in Germany, as well as International Maritime Museum and The Museum of Arts and Crafts. A great way to get a nice overview of Hamburg is to take a free walking tour, which often start from Hamburg's Central Station, located in the heart of the city.
The gorgeous and prosperous Bavarian capital is best known for the Oktoberfest, but there's much more than just beer to it. The historic heart of Munich is home to beautiful architecture, from the Medieval city gates and the Gothic New Town Hall (Neues Rathaus) to the ornate churches, fountains and market squares.
At Marienplatz, the most popular show is the Glockenspiel – the mechanical clock with 43 bells and 32 life-sized figures that puts on a 15-minute show with scenes from Munich's history at 11am and 12pm every day, plus an extra show at 5pm between March and October. 
Munich is also full of beautiful green oases, like English Garden – one of the largest city parks in the world, built in 1789 to look like an English country park, with lawns, lakes and pavilions, but with a German touch – the beer gardens. The most famous is the Chinese pagoda (Chinesischer Turm), one of the many spots in the city where you can enjoy typical Bavarian food – beer, Weißwurst (white sausages) and a Brezel (pretzel). The Eisbach river in the middle of the park is a spot for the city surfers to catch a few waves. 
If you are into food, the Viktualienmarkt is Munich's biggest outdoor food market that has evolved into a real foodie paradise where you can buy gourmet local produce. Just outside the city centre, there is Olympiapark, which was built for the 1972 summer Olympic Games, and still an attractive destination to escape the city and enjoy large grass-covered areas, lakes, concerts, film screenings, etc. 
Deutsches Museum is also worth visiting, as it has everything from historic planes to astronomy, computers to recreated salt and coal mines. Munich is the headquarters of car giant BMW and in the BMW Museum, a strikingly modern building, you can see a giant car showroom with the latest models, concept cars and some classics on display. 
Munich is also a great city for art lovers. It's home to museums covering Greek, Roman and Egyptian art. The best-known are the Alte Pinakothek for Old Masters, the Neue Pinakothek for 18th and 19th century European art, and the Pinakothek der Moderne for contemporary art. Like all German cities, Munich has an efficient metro system that's pretty easy to understand, so exploring the city is a delight.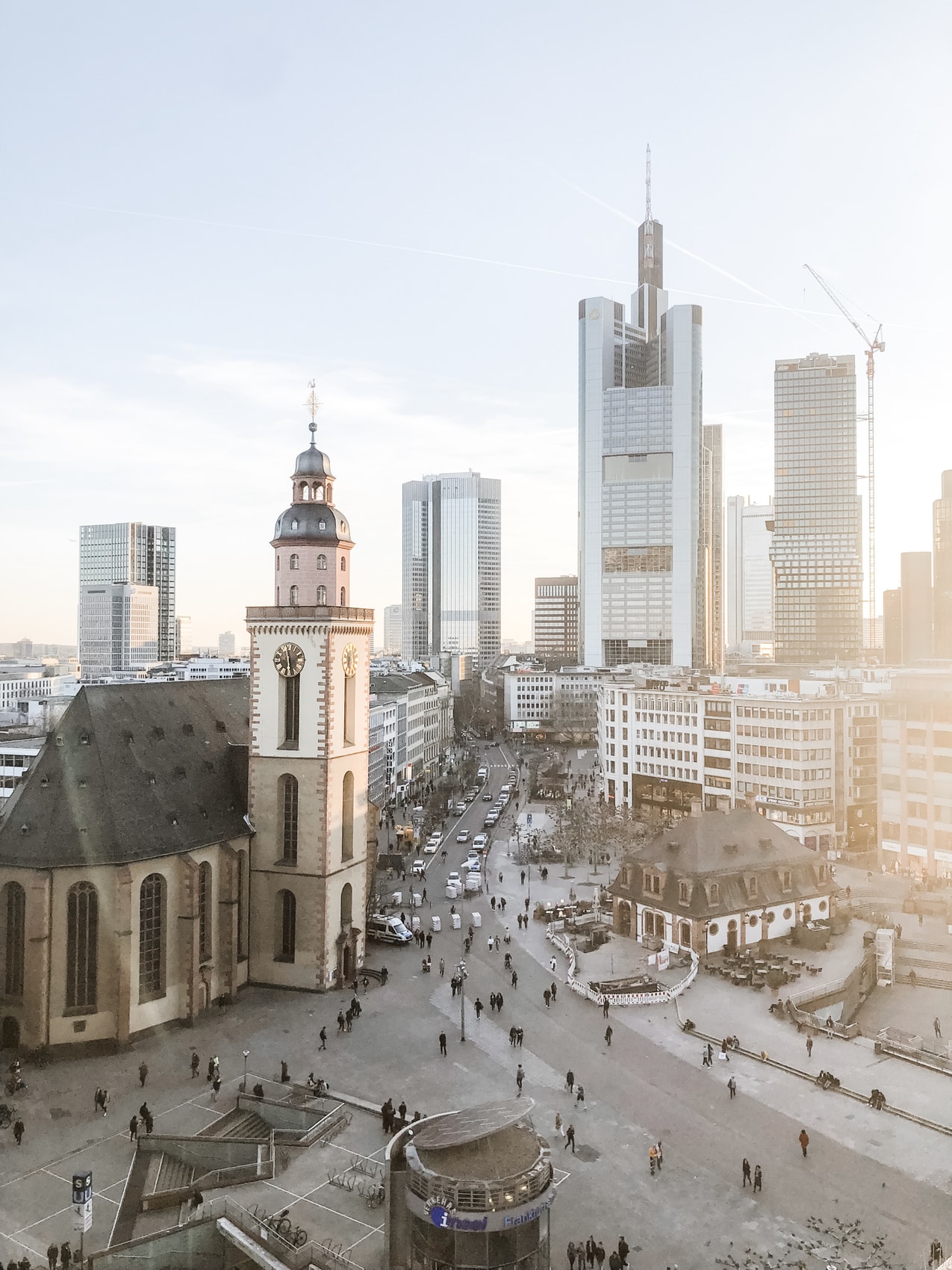 Frankfurt is a city that has some interesting contrasts. It is the financial centre of the country and home to an amazing range of skyscrapers and the European Central Bank, as well as a great range of historic architecture. The Innenstadt, or the Inner City is the home to the beautiful Alte Oper, or opera house. It's the only place in Europe where you will find such beautiful Baroque buildings next to modern skyscrapers. The old City Hall and the Saint Bartholomew's Cathedral are also among the most impressive sights in Frankfurt. 
Try Frankfurt's local dishes, relax at a beer garden or at the free parks. Visit the house of Johann Wolfgang von Goethe, Germany's most important writer, who was born in Frankfurt in 1749. Destroyed during WWII, the Goethe House was restored with its original furniture, paintings, and books that belonged to the family, as well as his writing desk, where he wrote The Sorrows of Young Werther. And if you wish to get closer to nature, just like Werther himself, Palmengarten in Frankfurt is a stunning botanical garden, the largest of its kind in Germany. It is especially worth exploring for its enormous collection of native, tropical, and subtropical plants. The Frankfurt Botanical Garden (a different entity) is located across this garden. 
Walk along the Main river, take in your surroundings and experience life at a gentler pace. Along the river, you can visit plenty of museums – the Museumsufer – a cluster of 12 museums on the banks of the river Main (history, art, film, architecture, communications, Jewish history), or simply have a picnic, bike, jog, visit a beer garden or eat in a lovely restaurant with great views. In Sachsenhausen you can also find the biggest selection of German restaurants. Some of the famous ones are Adolf Wagner, Ebbelwoi Unser, Apfelwein Dax and Gaststätte Atschel.
From unique local delicacies, to hipster bars, quirky art and historic architecture, Dresden is a city where history and modernity meet. 
However, it is impossible to speak about Dresden without mentioning its destiny following World War II when one of Germany's most cultural, fairy-tale cities was demolished in one day of air bombings. A remarkable story of a new beginning is The Church Of Our Lady (Frauenkirche). Most of the building was destroyed, but people managed to salvage some of the stones from the rubble. They figured out where they would have been in the original structure, and then they incorporated them into the new church!
Neustadt is the trendy and arty part of Dresden with a youthful vibe. There you can find Pfunds Molkerei, a spectacular cheese shop and officially the world's most beautiful dairy that made it to the Guinness Book Of Records. Its walls are decorated with hand painted Villeroy & Boch tiles and there are ornate details everywhere, including the milk fountain where people would fill up their bottles and glasses with milk from Gebrüder Pfund dairy. Kunsthofpassage is an arty, cobbled area with outdoor seatings and cool murals where you can grab a drink. 
Also, make sure not to miss The Zwinger – a spectacular Baroque-style palace with gardens, art exhibitions and fountains, home to some of the city's most famous galleries – Gemäldegalerie Alte Meister (Old Masters Picture Gallery) and the Dresdner Porzellansammlung (Dresden Porcelain Collection). The Bastei bridge and the stunning nature around Dresden, a perfect location to nature walk or hike. 
Dresden also has a great nightlife, but at a cheaper price and with less crowds than Berlin or Hamburg. Check out Mondfisch Kneipe & Bar or Madness Bar & Pub. For relaxation, take a nostalgic stroll alongside river Elbe.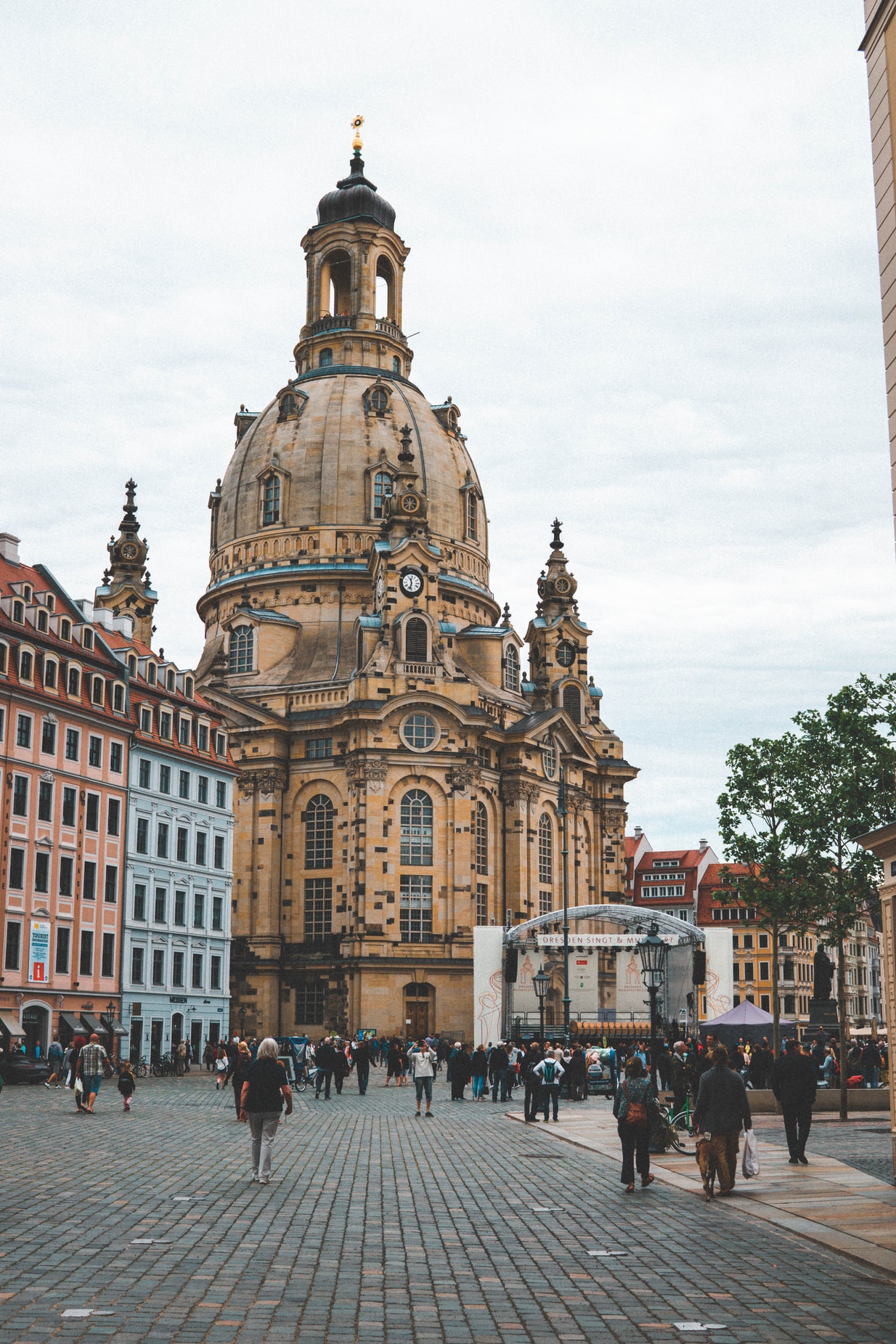 People who visit Germany also visit...
Denmark 🇩🇰
Hamburg and Copenhagen are well connected with trains running at least 3 times per day and taking 4 hours and 40 minutes.
France 🇫🇷
High speed trains run between Frankfurt and Paris so you can have breakfast in Frankfurt and be enjoying a Croque Monsieur in Paris by lunch.
Poland 🇵🇱
A popular sleeper route runs daily between Berlin and Krakow, a city well worth seeing for its history alone.
Netherlands 🇳🇱
Berlin to Amsterdam is a long journey, taking around 9 hours, but is a popular Interrail route and a good choice for a night train.
Italy 🇮🇹
Munich to Venice or Milan is a popular choice for night train journeys. Equally, by day it's a stunning train journey, cutting through the heart of the Alps.
Czechia 🇨🇿
Taking around 4 hours, trains between Dresden and Prague run regularly. It'd be rude not to visit when you're so close!
Which Interrail pass do I need to travel around Germany?
Interrail Global Pass
The only travel pass that lets you ride on trains in 33 different countries and discover over 40,000 destinations. Available in 1st or 2nd class.
Interrail Germany Pass
The easiest way to travel by train in Germany. Get a pass with 3, 4, 5, 6 or 8 travel days in 1 month.
Do I need to make train seat reservations in Germany?
It's possible to make reservations for German high-speed and night trains on the Deutsche Bahn website and then print them out. You can make reservations up to 3 months in advance.
Please bear in mind that it's not possible to make online reservations for international day trains to and from Germany. For those reservations we advise you to contact the Deutsche Bahn call centre (+49 180 699 6633) or go to an international ticket office at larger German train stations.
Make reservations for German night trains on the Deutsche Bahn website.
(Only for some EuroNight trains departing from or arriving in Germany)
For domestic trains, a reservation costs €4 (2nd class) or €5 (1st class) per person.
Circus Hostel - Berlin
As a member of Europe's Famous Hostels, the Circus Hostel Berlin offers Interrail Pass holders a 10% discount on advance bookings. Enjoy a friendly hostel atmosphere while saving on your stay in Berlin's Mitte. It also has an on-site microbrewery with a bar serving its very own craft beer, what's not to love!
Meininger Hamburg City Centre - Hamburg
The hostel is located 5 minutes walking from the Altona station in the city centre, between the trendy districts of Ottensen and Sternschanze with their huge variety of shopping and entertainment opportunities. Tourist attractions such as Hamburg's port, the Reeperbahn, St. Pauli and the fish market are all close by and can be easily reached on foot or by public transport.
Wombats City Hostel - Munich
The Hauptbahnhof (main train station) is a five-minute walk away from this cozy and modern-looking hostel. Wombats has won the Best Hostel in Munich award seven times and has been named the Cleanest Hostel Worldwide. Head to their on-site womBAR to get to know people from all over the world!
Five Elements Hostel - Frankfurt
As a member of Europe's Famous Hostels, the Five Elements Hostel in Frankfurt offers Interrail Pass holders a 10% discount on advance bookings. Enjoy a friendly hostel atmosphere as well as the hostel's free pub crawls and pasta nights! It's situated just around the corner from the main train station and a 15 minute walk from Alte Oper.
Hostel Mondpalast - Dresden
Hostel Mondpalast is located in the Dresden Neustadt, the city's youthful bar district. This quarter is the beating heart of Dresden's alternative scene and busy nightlife. It's a great place to meet other travellers, which makes Hostel Mondpalast an excellent option for the solo-interrailer.
Carnival of Cultures in Kreuzberg - Berlin
Berlin's Carnival of Cultures attracts over 1.5 million visitors to the district of Kreuzberg every year. A four day festival in May, is packed with exotic food and drink, colourful costumes and all-night parties, celebrating the multicultural spirit of Germany's cosmopolitan capital. You can attend the famous procession which sees over 4,800 participants, or attend large open-air music concerts with almost every genre of music.
Cherry Blossom Festival - Hamburg
To celebrate the strong ties between Hamburg and Japan, the Cherry Blossom Festival is held annually in May, when Hamburg is transformed into a pink sea of flowers.
Oktoberfest - Munich
The Oktoberfest is an important part of Bavarian culture, having been held since the year 1810. It takes place from late September to early October. Drink assorted brands of beer in beer tents and eat native Bavarian food such as pretzels, Bratwurst and Weisswurst.
Frankfurt Book Fair - Frankfurt
Held in the middle of October for the last 500 years, this fair is considered the largest event in the publishing industry. Publishers, writers ,and creative professionals from all over the world come here to hold discussions, network, and celebrate the written word. It's a week-long affair, but it's only open to the public during the last two days. A day ticket is €22.
Read more about Germany on our blog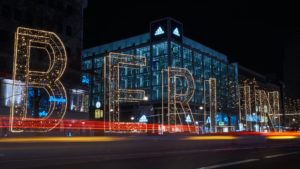 City Guides
Berlin is one of the cheapest capital cities in Western Europe so is the perfect place for the interrailer on a shoestring. You can eat