Germany is a big country, brimming with history, culture and nature. You can Interrail from its big metropolitan centres, to the Alps in Bavaria, passing through some wonderful landscapes on the train. Don't know where to go interrailing in Germany other than its lively capital? Here's where we recommend.
Berlin
No list of top places to go interrailing in Germany would be complete without mentioning Berlin. If you're considering putting this on your Interrail route, definitely do it.
Summer is the best time to visit, as people spill out onto the streets of the local bars in the evenings and relax in one of the many beach bars – by the river – during the day time.
There's no end of famous sights to see in Berlin. From Checkpoint Charlie to the East Side Gallery, and from the Stasi Prison to Brandenburg Gate, you'll have plenty of things to fill your days, so spend a good amount of time here. We'd recommend going on a free walking tour, as it's the perfect way to see the city.
And, of course, the nightlife in Berlin is incredible. With world-famous nightclubs dotted all around the city, you're spoilt for choice. Stay around the Warschauer area if you want to stick to bars.
See our city spotlight on Berlin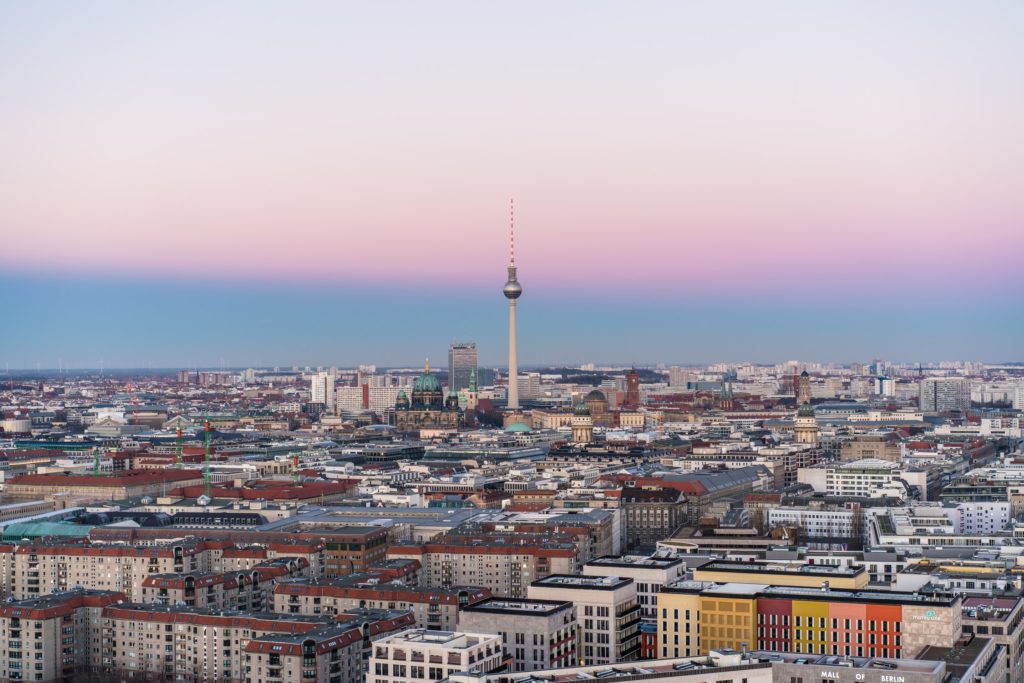 Hamburg
Also famous for its nightlife, with world-renowned DJs a constant and a wild party strip called the Reeperbahn, Hamburg is well worth a stop over on your Interrail trip in between Amsterdam and Berlin. Go to the bars on Hamburger Berg (check out Barbarabar) before heading to a club, and expect a late night! Be sure to grab a Mexicaner shot, the local tipple, which is basically a mini Bloody Mary.
If you want a less crazy night, head to the Sternschanze district and sip some craft beers at Altes Mӓdchen.
It's a very laid back and liberal city, but also the richest city in Germany with over 40,000 millionaires. It's a city built on water: relax by the Alster lake, with a beer in hand – you are allowed to drink on the streets – or grab a Fischbrӧtchen (fish sandwich) by the port. Head to HafenCity and the Speicherstadt to see the largest warehouse district in the world where buildings stand in timber-pile foundations, and to see the new Elbphilharmonie building, a stunning concert building.
Want pizza and free sambuca? Head to Luigi's and get enormous pizzas, then expect a bottle of sambuca to be plonked on your table at the end of your meal for some free shots!
Munich
Munich is one of the most popular cities to go interrailing in Germany. And, Munich and beer go hand in hand. If you're there towards the end of September, hit up Oktoberfest. But, it's likely you'll be interrailing there in the summer so you'll likely miss what is a crazy beer festival. Nevertheless, you can head to one of Munich's array of beer halls.
If you stay at Euro Youth Hostel near the train station, they run a great beer hall crawl which will take you to most of the best beer halls, so check that out! It's also a great place to stay, with a very sociable bar. Munich is a much more conservative city than Berlin or Hamburg so the party scene isn't as wild, so it's a good idea to do any hostel-organised crawls.
Munich is also a great city to do a free walking tour. Start at Marienplatz, home of the second-most overrated tourist attraction in Europe – the Rathaus Glockenspiel – then walk around some of the historic sights and see where the Beer Hall Putsch took place.
Want to wind down? Head to Englischer Garten and chill out by the river, in which you can swim downstream then go to the Chinese Tower beer hall for some drinks in the sunshine.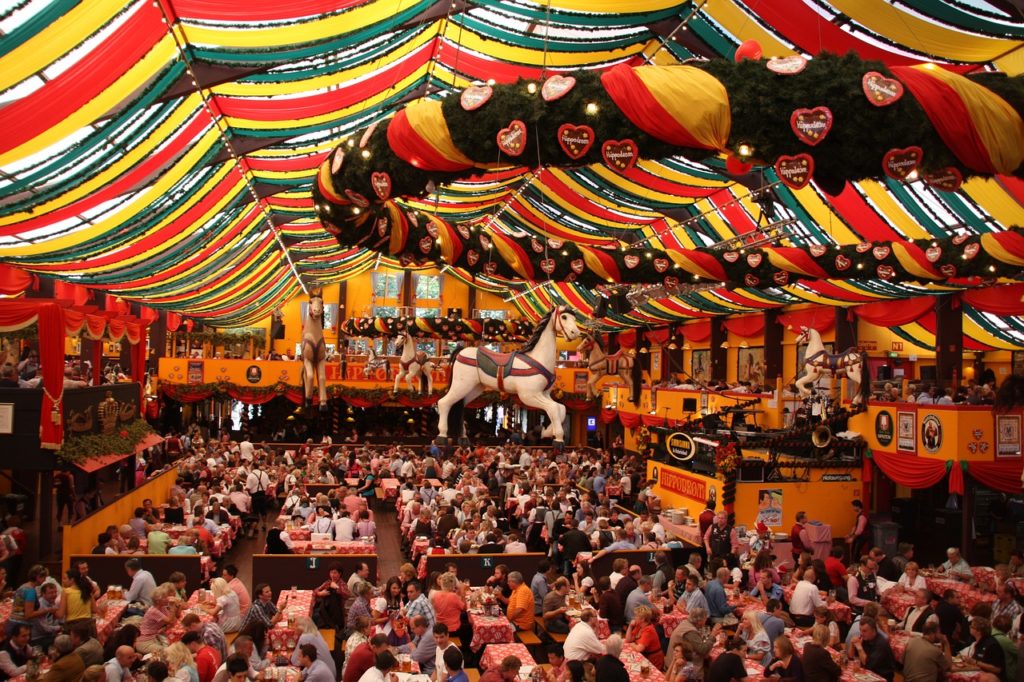 Heidelberg
Just south of Frankfurt, Heidelberg is renowned for its beauty. It's a small university town, and Germany's oldest, and was recently named the most inspiring city to visit in Germany.
It's nestled in a sloping valley and is surrounded by a forest, creating some dramatic scenery, so bring your camera! For the best views, head up to Heidelberg Castle – you can walk up or take a cable car. From here, you'll be able to see right across the Old Town, which you should head straight on down to, as there are lots of streets to explore and squares to relax and have a coffee in.
To escape the crowds of the Castle and Old Town, take a stroll along the river Neckar and admire the scenery and old structures like the Old Bridge from afar. If the sun is out, be sure to go to the riverside park on the northern side of the river for a picnic; it's a favourite sun spot for the locals, and ducks too!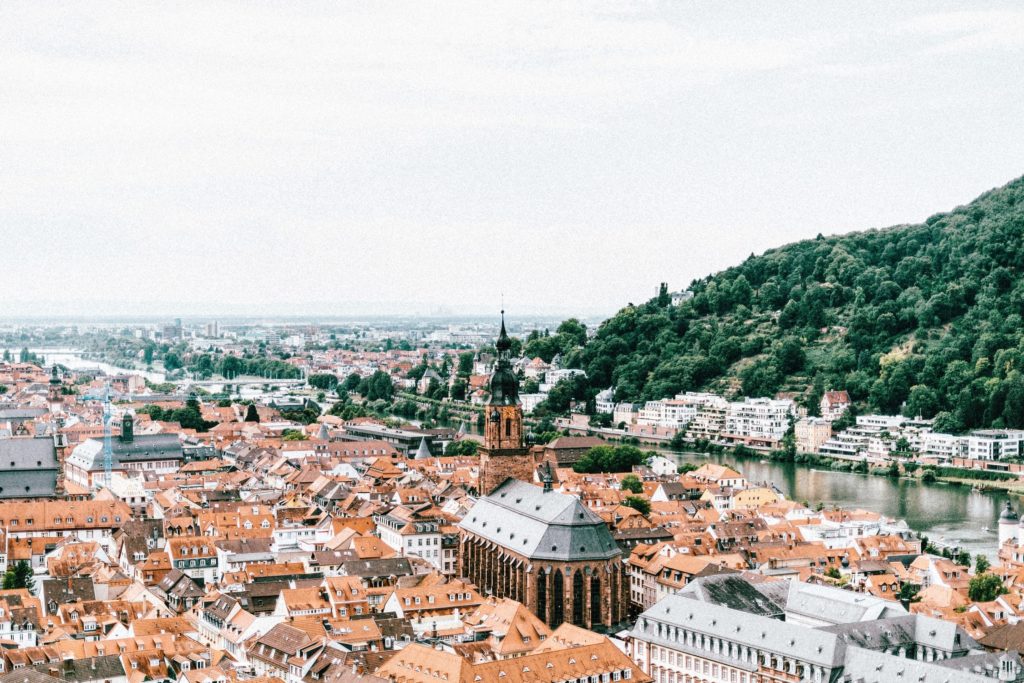 Dresden
Dresden is located about 1 hour 45 minutes by train south of Berlin and shares the same river as the German capital. It's a great stop to add on your Interrail journey between Berlin and Prague or Munich.
Alongside Heidelberg, it's regarded very highly for its beauty. It's almost impossible to tell that the city was all but wiped out by Allied bombings in 1945 as its historic buildings, which mostly date back to the 18th century, have now been restored to their former glory.
Frauenkirkche, located at Neumarkt, was actually totally destroyed in 1945 and the rubble remained as a war memorial until the 1980s before being put into storage and then re-used for its reconstruction, which only began in 1994 before being completed in 2005. It's a majestic building featuring one of Europe's largest church domes and is well worth checking out.
The River Elbe divides the city in two. On the one side, you have the Altstadt which is packed with old Baroque-style buildings and many incredible sites; on the other side, you have the grungy alternative feel of the Neustadt.
Neustadt offers a lively alternative to the crowds of tourists that can be found in Altstadt. Head here for some great cafes and bars. In fact, if you're stopping over for the night, your hostel (find a hostel in Dresden) will probably be located in Neustadt as it's cheaper than the rest of the city.
So there you have it, our pick of the the top 5 places to go interrailing in Germany! Where are you going to go interrailing in Germany? Let us know below where you'd go instead!