Ljubljana, the charming capital city of Slovenia, is a hidden gem nestled between the majestic Alps and the picturesque Ljubljanica River. With its vibrant atmosphere, rich history, and stunning architecture, Ljubljana offers a perfect blend of culture, nature, and adventure for intrepid Interrailers. If you're planning to include Ljubljana on your Interrail trip, this guide will help you navigate the city and discover its hidden treasures.
Explore the Ljubljana Castle
No visit to Ljubljana is complete without a trip to the iconic Ljubljana Castle. Perched on a hill overlooking the city for the past 900 years, the castle – in particular the Outlook Tower – offers panoramic views that will take your breath away. You can either hike up the hill or take the funicular railway for a more leisurely ascent. Once at the top, explore the castle's rich history, visit the museum, and enjoy a cup of coffee with stunning views from the castle café.
Wander through the Old Town
Ljubljana's Old Town, with its narrow cobblestone streets and colorful buildings, is a delight to explore. Start your journey at Prešeren Square, the city's main square, and admire the impressive Triple Bridge. Stroll along the Ljubljanica River embankments, cross the famous Dragon Bridge (pictured above), and discover the charming riverside cafes, boutique shops, and local markets. Don't miss the Central Market, where you can sample local produce and traditional Slovenian delights.
Experience Tivoli Park
For a refreshing break from the urban hustle, head to Tivoli Park, Ljubljana's largest and most beautiful park. This green oasis offers a tranquil escape with its vast lawns, tree-lined pathways, and enchanting flower beds. Take a leisurely walk, rent a bicycle, or have a picnic while enjoying the serene surroundings. The park is also home to several impressive art installations and the iconic Tivoli Castle.
Visit the Ljubljana Cathedral
A visit to Ljubljana wouldn't be complete without seeing the magnificent Ljubljana Cathedral. Located in the heart of the city, this Baroque masterpiece impresses with its ornate interior, stunning frescoes, and intricate sculptures. Take a moment to admire the grand architecture, light a candle, and soak in the peaceful ambiance of this spiritual sanctuary.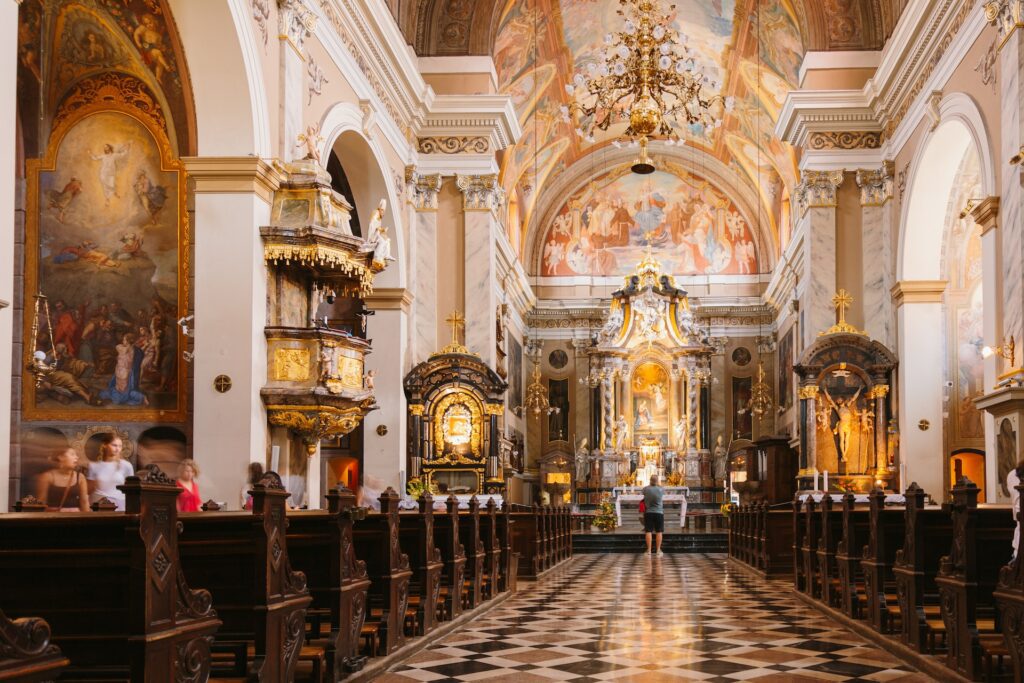 Embrace the Local Cuisine
Slovenian cuisine is a delightful fusion of Central European and Mediterranean flavors. Indulge in traditional dishes like potica (rolled pastry with various fillings), štruklji (rolled dumplings), and kranjska klobasa (Carniolan sausage). Explore the city's vibrant culinary scene by visiting local restaurants, cafes, and street food markets. Be sure to try some locally produced wines and sample the famous Ljubljana honey, a true treat for food enthusiasts.
Immerse Yourself in Alternative Culture in the Metelkova District
For those seeking a vibrant and alternative side of Ljubljana, a visit to the Metelkova District is a must. Located just a short walk from the city centre, this former military barracks has been transformed into an autonomous cultural centre and a hub of creativity. The colourful and graffiti-covered buildings house art galleries, studios, clubs, and performance spaces. It is known for its underground music scene, where you can catch live concerts ranging from punk to electronic music. Take your time to wander through the labyrinthine streets, admire the street art, and soak up the alternative spirit that permeates the area. There's also a cool hostel here called Hostel Celica, which is housed in a former prison.
Venture beyond Ljubljana
Ljubljana's central location makes it an excellent base for exploring other captivating destinations in Slovenia. Take a day trip to the stunning Lake Bled, known for its turquoise waters and the picturesque Bled Castle perched on a cliff. Discover the enchanting Postojna Cave, one of the world's largest cave systems, or explore the fairytale-like Predjama Castle, built into a cliff face. These destinations are easily accessible by train or bus from Ljubljana.
Ljubljana, with its blend of history, culture, and natural beauty, offers a unique experience and is a great addition to any Interrail trip. Ideal as a place to stop off between Austria/Hungary and Italy/Croatia! Start planning your Interrail trip using our Interrail planning tool now.