Romania, with its stunning landscapes, rich history, and warm-hearted people, is an absolute delight for intrepid explorers. If you're planning on interrailing around Europe, don't overlook the enchanting beauty of Romania. This underrated gem is a treasure trove of experiences waiting to be uncovered.
In this guide, we'll take you on a picturesque journey through five of Romania's most captivating cities and towns, each with its unique charm and plenty of activities to keep your wanderlust satisfied. So, grab your backpack, get your Interrail pass ready, and let's dive into the mesmerising world of interrailing in Romania.
Bucharest – The Vibrant Capital
Bucharest, Romania's capital, is where your interrail adventure is likely to begin in the country (of course, you may have travelled already from neighbouring countries). This bustling metropolis is a fascinating blend of history, culture, and modernity, often earning it the moniker "Paris of the East."
Must-Visit Landmark: Palace of the Parliament Start your exploration at the jaw-dropping Palace of the Parliament, an architectural masterpiece that's among the largest buildings in the world. Guided tours will lead you through opulent rooms and offer insights into the country's history. Afterward, head to the Linea/Closer to the Moon bar. This rooftop bar offers stunning views of the city, and it's a great place to enjoy cocktails and live music.
Unmissable Activity: Old Town Stroll Take a leisurely walk through the charming streets of the Old Town. This area is alive with cafes, restaurants, and vibrant street art. Don't forget to try "mici" (Romanian sausages) at a local eatery. For an evening drink, the Caru' cu Bere is a historic beerhouse with a wide selection of local brews.
Bucharest's vibrant nightlife, with its chic cafes and lively clubs, will make you feel like you've stepped into the nightlife of the French capital. The city's tree-lined boulevards and Belle Époque architecture further evoke the spirit of Paris.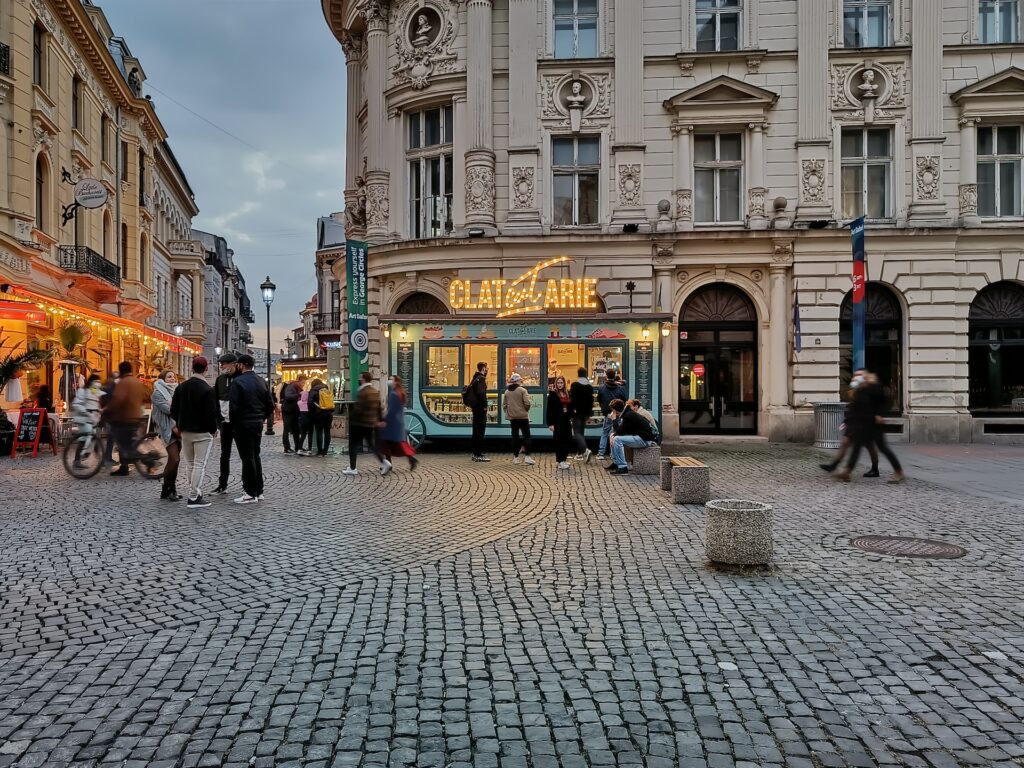 Brasov – Fairy Tale in the Carpathians
From Bucharest, hop on a train and make your way to Brasov, a city nestled in the Carpathian Mountains, where history and nature harmoniously coexist.
Must-Visit Landmark: Bran Castle No visit to Brasov is complete without a trip to Bran Castle, often associated with Bram Stoker's Dracula. Its history is just as captivating as the legends surrounding it. After your castle visit, head to Bistro Albert. This cozy bar offers a selection of craft beers and a welcoming ambiance.
Unmissable Activity: Hike in the Carpathians Explore the breathtaking Carpathian Mountains with a hike or take the cable car for a less strenuous but equally mesmerizing experience. The view from the top is a memory you'll treasure. For an après-hike drink, Kruhnen Hirschen offers a wide selection of beers.
Sibiu – A Walk Through Time
Sibiu, a small town in Transylvania, will transport you back in time with its well-preserved medieval charm.
Must-Visit Landmark: Council Tower Climb the Council Tower for panoramic views of Sibiu's historic center. The red-roofed houses and cobbled streets create a fairytale setting.
Unmissable Activity: Brukenthal National Museum Visit the Brukenthal National Museum, Romania's oldest museum, to admire its impressive art collection, which spans several centuries. For an evening drink and bite to eat, head to Ribs and Beer which does exactly what it says on the tin!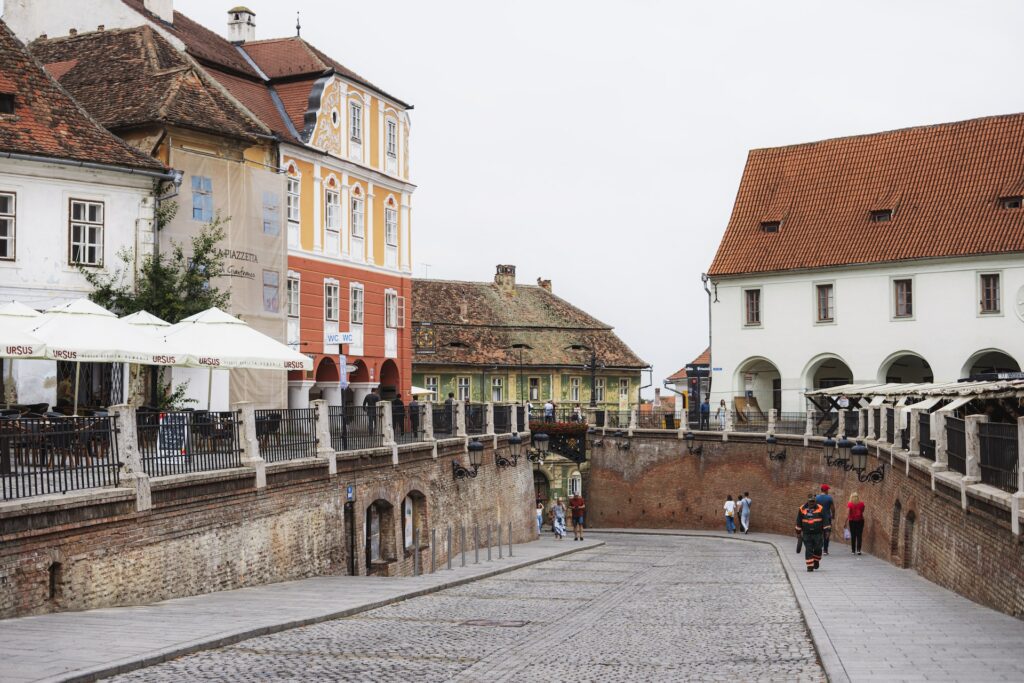 Cluj-Napoca – The Heart of Transylvania
Cluj-Napoca, another Transylvanian gem, is known for its vibrant cultural scene and lively atmosphere.
Must-Visit Landmark: St. Michael's Church Admire the Gothic architecture of St. Michael's Church, a symbol of the city. The interior is equally breathtaking with its stunning frescoes. After your visit, Flying Circus is a popular bar with a broad cocktail menu and a lively atmosphere.
Unmissable Activity: Street Food Tour Take a street food tour to savor local delicacies like "mămăligă" (polenta) and "mititei" (grilled sausages). Don't forget to try "pălincă," a potent plum brandy. Cluj-Napoca's lively atmosphere and culinary delights will transport you to the streets of a Parisian market. For an evening drink, Joben Bistro is a quirky, steampunk-themed bar with an extensive selection of cocktails.
Timisoara – The City of Revolution
Timisoara, the place where Romania's 1989 revolution began, is an inspiring destination with a lively cultural scene.
Must-Visit Landmark: Memorial Museum of the 1989 Revolution Visit the Memorial Museum of the 1989 Revolution to gain insights into this pivotal period of Romania's history. The museum is a sobering yet essential visit for understanding Romania's recent past. Afterward, head to D'arc for some live music in a welcoming atmosphere. It's an excellent place to unwind and chat with locals.
Unmissable Activity: Unirii Square Spend time in the vibrant Unirii Square, surrounded by colorful baroque buildings. It's the perfect place to people-watch and soak up the city's atmosphere. Timisoara's revolutionary history and vibrant present make it a unique destination.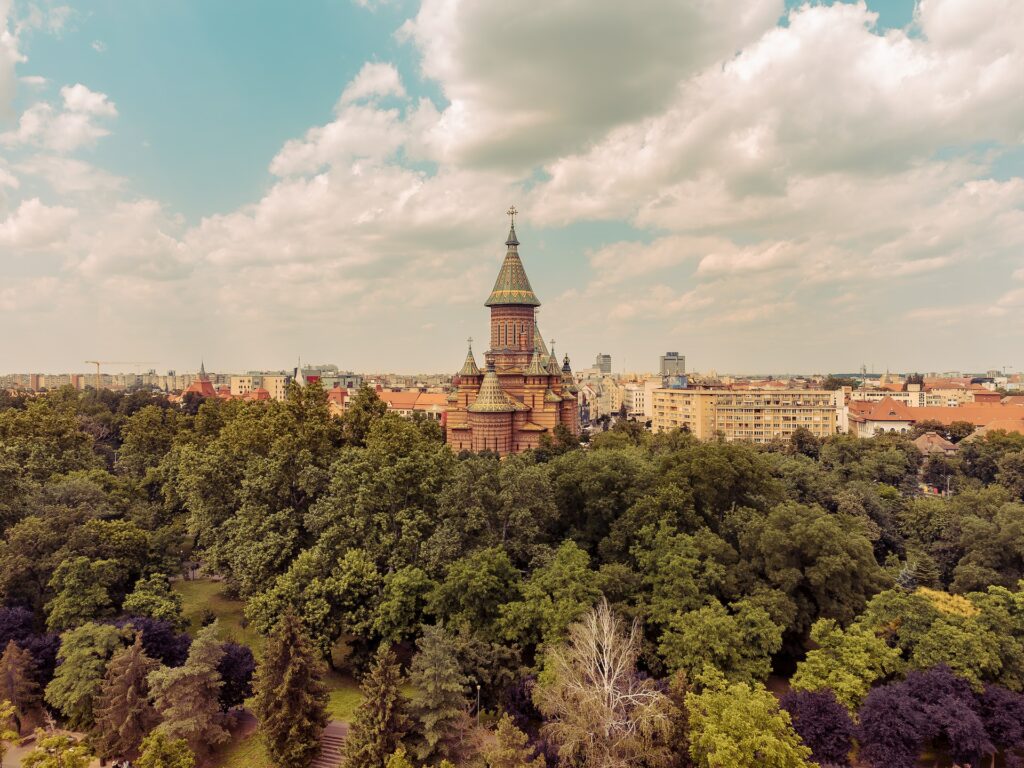 FAQs:
Q: How much does an Interrail pass cost for Romania?
A: The cost of an Interrail pass varies depending on factors like your age and the duration of your trip. For the most accurate and up-to-date pricing, visit the official Interrail website.
Q: Is it easy to navigate the Romanian railway system?
A: Romania's railway system is well-developed and generally easy to navigate. Most major cities and tourist destinations are well-connected by train, making it convenient for interrailers.
Q: What's the best time to interrail in Romania?
A: The best time to interrail in Romania is during the spring (April to June) and the early autumn (September to October) when the weather is pleasant, and tourist crowds are thinner.
Q: Are there any special considerations for solo interrailers in Romania?
A: Romania is generally safe for solo travellers. However, it's a good idea to exercise the usual precautions, such as safeguarding your belongings and being aware of your surroundings, especially in crowded places.
Interrailing in Romania is an adventure that promises unforgettable memories. From the historic streets of Bucharest to the fairytale-like landscapes of Brasov, the charming town of Sibiu, the vibrant city of Cluj-Napoca, and the historical significance of Timisoara, Romania offers a diverse and enriching experience for every traveler.
So, are you ready to explore the hidden gems of Romania? Pack your bags, embrace the spirit of adventure, and let interrailing in Romania transport you to a world of wonder, history, and natural beauty. This European gem is waiting to be uncovered by intrepid travelers like you. All aboard!