The beauty of the Tuscan countryside is renowned the world over. If you're looking to explore some of the most picturesque villages in all of Italy, an Interrail pass is your best friend. You haven't seen beauty until you've seen the rolling hills of Tuscany, and these five towns should be at the top of your interrail itinerary.
Siena
With its narrow cobblestone streets winding past centuries-old churches and mansions adorned with red roof tiles, Siena is a lovely Tuscan town to explore. Its main square, Piazza del Campo, is one of Italy's most fantastic attractions and hosts an exciting horse race called Il Palio every summer. The city's walls date back to mediaeval times and have been well-preserved over the centuries. Furthermore, the city is home to some of the best restaurants in Tuscany, offering a selection of delicious Tuscan dishes. Places that you must visit in Siena:
Siena Cathedral – This beautiful Gothic-style building is the symbol of Siena and was built in the 13th century. It features some remarkable frescoes and sculptures, including Michelangelo's unfinished masterpiece, The Deposition.
Pinacoteca Nazionale – This art gallery has an impressive collection of Tuscan Renaissance paintings, many of which were done by renowned artists such as Duccio di Buoninsegna and Ambrogio Lorenzetti.
San Gimignano
Nestled in the rolling hills of Tuscany, San Gimignano is a walled mediaeval town that stands out among its peers. Its towers, constructed during the Middle Ages, are well-preserved and remind visitors of its centuries-old history. The main square, Piazza Della Cisterna, is surrounded by several eateries where you can sample tasty Tuscan cuisines such as ravioli and fresh bread. The small town also offers a picturesque view of the countryside and is especially popular for wine-tasting tours due to its close proximity to local wineries. Places that you must visit in San Gimignano:
San Gimignano Cathedral – This Romanesque church was built at the end of the 13th century. Its interiors are decorated with frescoes and sculptures, while its bell tower is one of the town's most iconic landmarks.
Museo Civico – This museum has a wonderful collection of art and artefacts from San Gimignano's long history. It includes an impressive selection of Renaissance paintings and sculptures as well as mediaeval ceramics and carvings.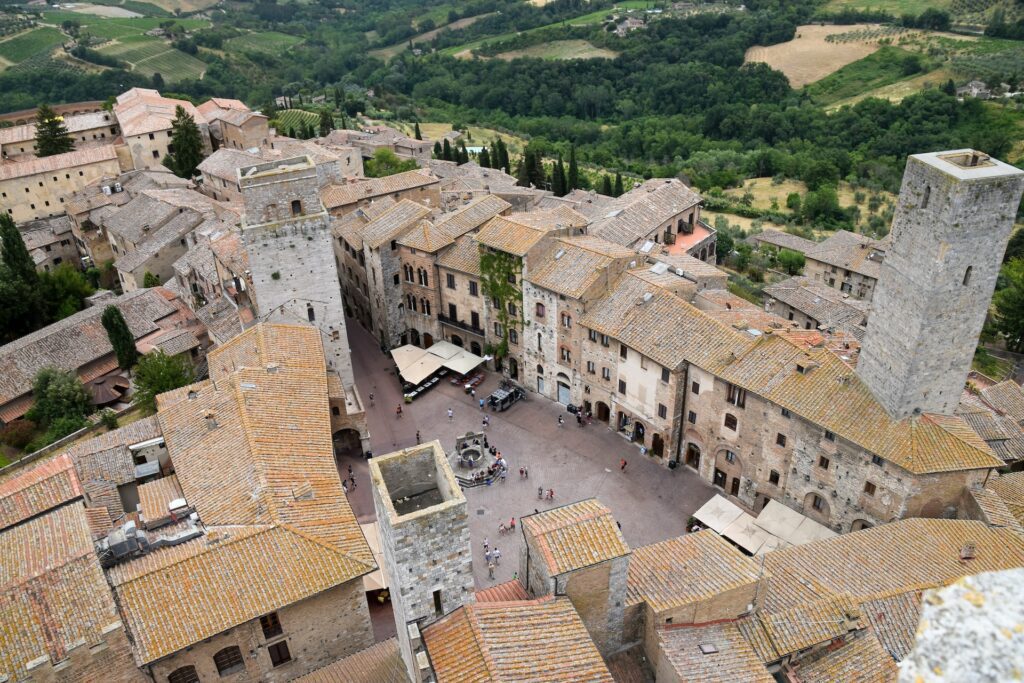 Volterra
Located on top of a hill overlooking Val di Cecina Valley, Volterra is one of Tuscany's oldest towns with a rich Etruscan past. Positioned in the heart of the countryside, it is known for its steep alleyways and impressive city walls dating back to the 4th century BC. Volterra's main attractions include a Roman theatre and an ancient amphitheatre where operas are performed during summertime. It also has two churches, San Francesco and San Michele Arcangelo, which were built in the 13th century. Some of its most famous places to visit are:
Palazzo Priori – The building, constructed in 1208, is an excellent example of Tuscan Gothic architecture and houses several important artworks. Its interiors are decorated with frescoes by Ambrogio Lorenzetti, Francesco Traini and Benozzo Gozzoli.
Pinacoteca e Museo – This museum has an impressive collection of artefacts from the Etruscan period, such as bronze sculptures and funerary urns. It also includes some Roman mosaics, ceramics and coins.
Lucca
Lucca is one of Tuscany's most beautiful towns. Located on the Serchio River, it is renowned for its charming streets lined with grand palaces and majestic churches, such as Lucca Cathedral, which was reconstructed after being destroyed by fire in 1118 AD. The town also has some lovely gardens, including the Villa Garzoni Garden and the Botanical Garden of Lucca. Places to see in Lucca:
Guinigi Tower – This tower is one of the city's most iconic landmarks and was built in the 14th century. It features a tall cypress tree on its roof, which is believed to bring good luck and prosperity.
Museo Nazionale di Palazzo Mansi – This museum has an impressive collection of artworks from the 17th and 18th centuries, including pieces by renowned artists such as Francesco di Giorgio Martini and Alessandro Chiarini.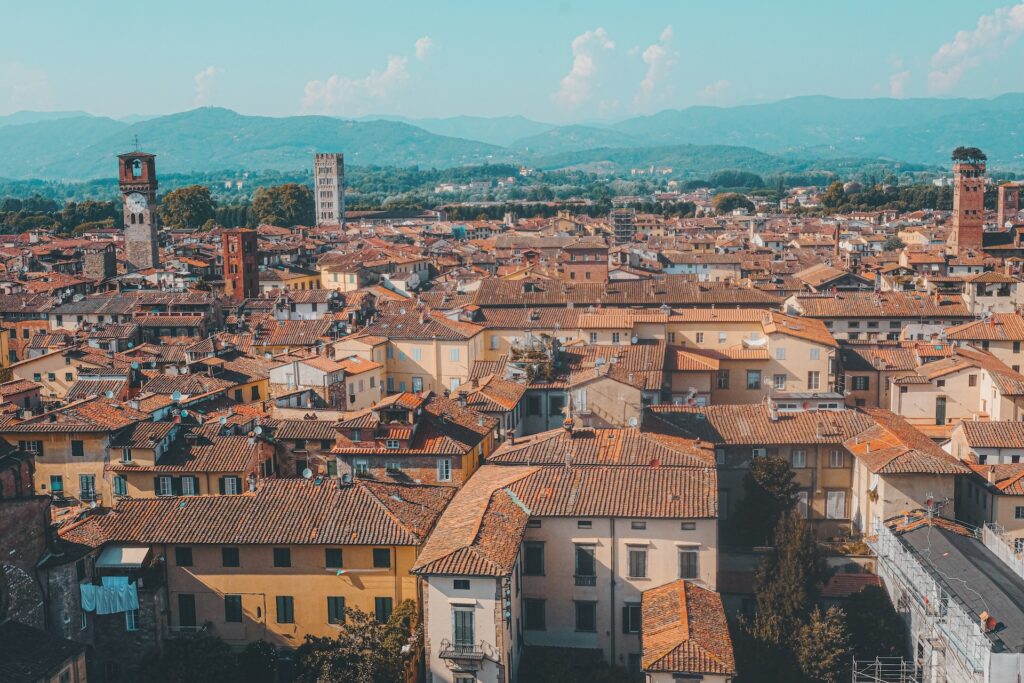 Montepulciano
This small town is perched atop a hill with views stretching all the way to the horizon. It's renowned for its production of Vino Nobile di Montepulciano, one of Italy's best red wines. There are several inviting squares inside old walls where visitors can enjoy their drinks surrounded by picturesque buildings and rolling hills in the background. Famous places in Montepulciano are:
Fortezza di Montepulciano – The Medici family constructed this fortress in the 16th century. It has a grand hall, churches from different eras, and some impressive Renaissance frescoes.
Bottega del Vino – This is one of the most famous wine shops in town, located near Piazza Grande. It offers an extensive selection of wines from all over Tuscany, including Chianti, Brunello and Nobile di Montepulciano.
In conclusion, these five beautiful Tuscan towns offer visitors something unique and special. So whether you're looking for a cultural experience, a romantic getaway, or just some wine tasting, taking the train with an Interrail pass to one of these towns is sure to be an unforgettable trip. With stunning views and plenty of attractions, there's something for everyone in Tuscany. So why not take advantage of your Interrail pass and explore all this region offers?