Do you want to go interrailing in Poland, and if not, why not? It may have had a reputation for being bleak and austere in the past, but if you've ever visited, you'll have already discovered the truth: Poland is a rare beauty, with its medieval cities, rolling hills, dense forests and crystalline lakes and rivers.
True, it has been through the mill over the centuries thanks to devastating invasions and occupations but it has always come back stronger. Trust us, if you plan to stop in one of its major cities on your interrailing adventure, you won't regret it. With Poland still off the beaten track for many travellers, its budget-friendly prices make it ever more of an attractive Interrail destination.
Warsaw
You won't find a city in Poland quite like the capital, Warsaw. Almost wiped off the map during the Second World War, the city is a glorious architectural patchwork of opulent palaces, Gothic buildings, brutalist concrete and ultra-modern glass skyscrapers. Its rebirth as a modern European city in the post-communism era hasn't always been straightforward, but these days you'll find a confident, vibrant metropolis with a boisterous nightlife and colourful cultural scene. The country as a whole suffered some of the worst excesses of violence throughout the 20th century. There are many fine museums in the city dedicated to this painful period of history – including the Warsaw Uprising Museum and the Museum of the History of Polish Jews – which, if you want to understand modern Poland, you should definitely pay a visit to.
Kraków
If the contest for Poland's best city was decided solely on looks, Kraków would be the runaway winner. Retaining the charms of its jaw-dropping Old Town which centres around Rynek Gƚówny, Europe's largest medieval market square, graceful Kraków is a true wonder to behold. Its attractive streets and squares aside, the city's nightlife – with its mixture of high brow cocktail bars, hipster beer joints and shabby chic basement bars – is not to be passed up, especially in the old Jewish quarter of Kazimierz. As in Warsaw, you're never far away from the haunting spectre of the Holocaust. The city will be forever connected with Oskar Schindler, the German industrialist who saved 1,200 Jews through his Kraków factory which is now a museum. Many people who visit the city also make the short journey to Auschwitz-Birkenau, a gut-wrenching but necessary experience.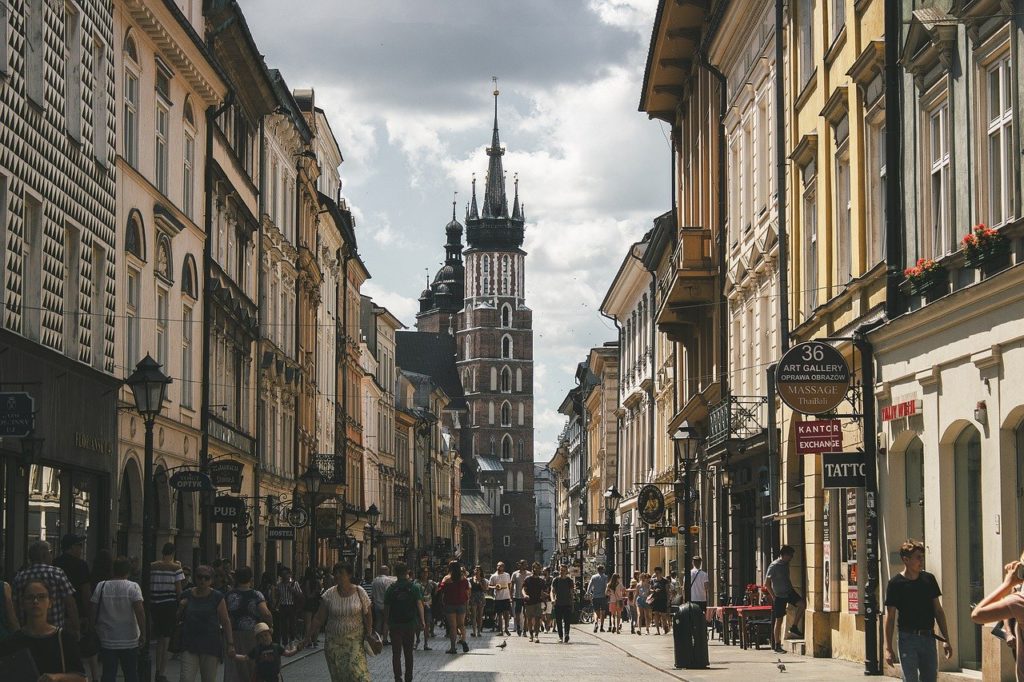 Wrocƚaw
So, if Warsaw is the cool sibling and Kraków the good-looking one in the family, Wrocƚaw (pronounced Vrots-wahf) must be the easy-going, likeable cousin. As with Kraków, it too is able to get by on its charm. Like much of Poland, it was decimated towards the end of the war but thanks to a painstaking programme of restoration, its beautiful central market square forms the heart of an idyllic city built on 12 islands and connected by 130 bridges. If its known for anything, Wrocƚaw is Poland's entertainment capital thanks to its energetic nightlife (its huge student population helps see to that). It's also home to some of Poland's major festivals as well as several renowned theatres.
Poznań
Often overlooked for the bright lights of the capital, as a gateway to the rest of Poland, Poznań should realistically be the first city on everyone's list of places to go interrailing in Poland. The chequered patchwork of coloured merchant houses in the Stary Rynek – the Old Town's market square – is worth the stop alone. At any time of the day, the Old Town is a hive of activity, particularly at night when the streets are thronged with people heading to the city's best bars and restaurants to unwind. Definitely put the Stary Browar on your lists of things to check out in the city. The site of a giant former brewery built in 1844, it is packed with shops, cafes, restaurants and bars, not to mention enough original design features and artwork to make you feel like you're in the Willy Wonka's chocolate factory.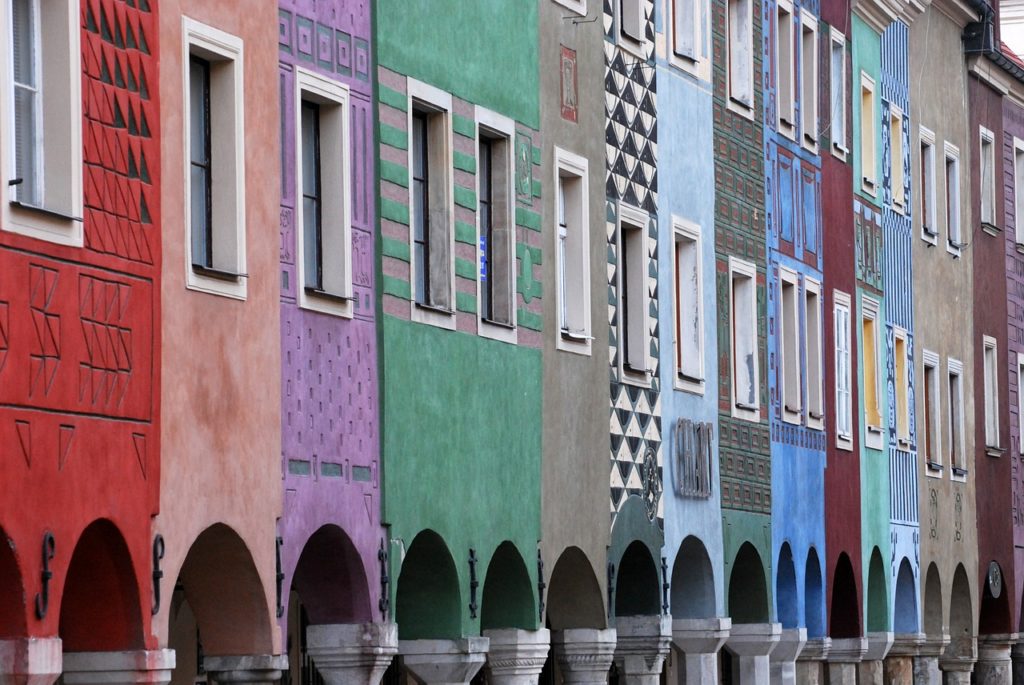 Gdánsk
Arguably the epicentre of the social earthquake that ended communism in Poland, the Baltic seaport of Gdánsk has had a major hand in shaping the present day country. At first glance, the city is distinctly different to others in Poland and actually looks like it should maybe be in the Netherlands or Germany. Of course, this could be because of its past as one of the trading cities that made up the Hanseatic League, alongside the likes of Hamburg, Cologne, Groningen, Stockholm and Tallinn. Its slender townhouses, narrow cobbled laneways, ornate gable ends and tall red-brick church steeples certainly put it in a league of its own when it comes to other Polish cities. While this in itself is a major draw, most visitors who make it this far tend to bask in the pleasures the waters of the Baltic have to offer, namely dockside beer gardens and harbour cruises.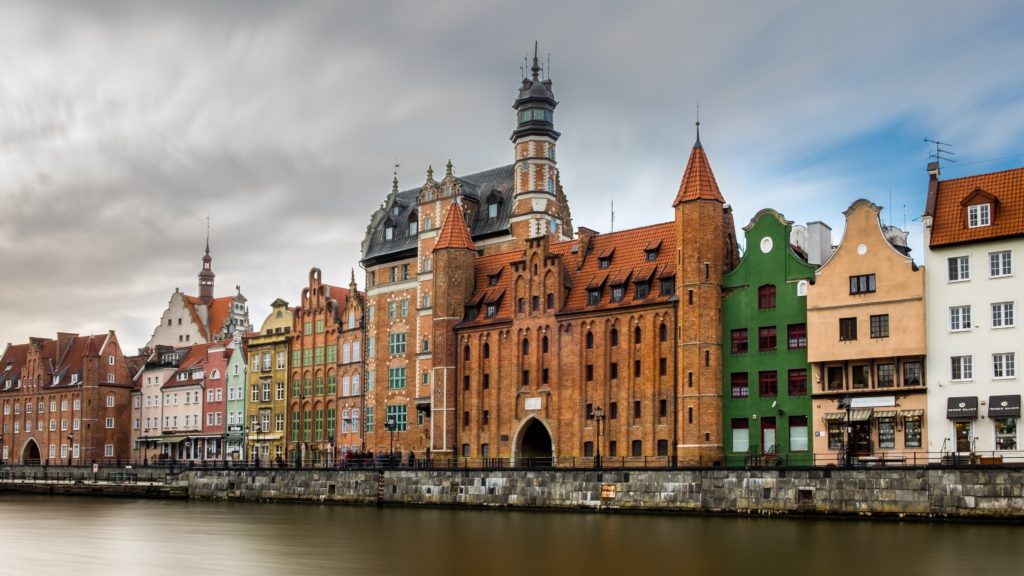 So, there you have it! A great selection of destinations for you to choose from to go interrailing in Poland. Let us know in the comments below if you end up going!