So you're thinking about interrailing in Croatia? Great choice, Croatia is a stunning country. Its Adriatic coastline is mesmerising and with over 1,000 islands it is one of Europe's jewels. It's easy to see why Croatia has become so popular in recent years, attracting festival-goers, yachters, families, and interrailers alike.
But, there are so many potential places to check into a hostel and soak up the Croatian sun. So, here are our top 5 places to visit while interrailing in Croatia.
Split, Croatia
Split is Croatia's second largest city in the Dalmatia region of the country. It's a 1,700 year old city with the UNESCO World Heritage Site Diocletian's Palace forming the basis of the old town. It's one of the most spectacular Roman monuments, originally built as a retirement home for Emperor Diocletian. The old town has become a vibrant centre with lots of bustling pavement cafés, bars, restaurants and shops. The nightlife isn't bad either, and the clubbing scene is fun and unpretentious.
But, there's more to Split than inside the palace walls. Rent a bike from your hostel and take a trip up some of the hills or discover a secluded beach.
It's accessible by train directly from Zagreb but it's a long journey. Night trains also run on the route. Consider Split as a starting or finishing point of your interrail, as its airport is very well connected.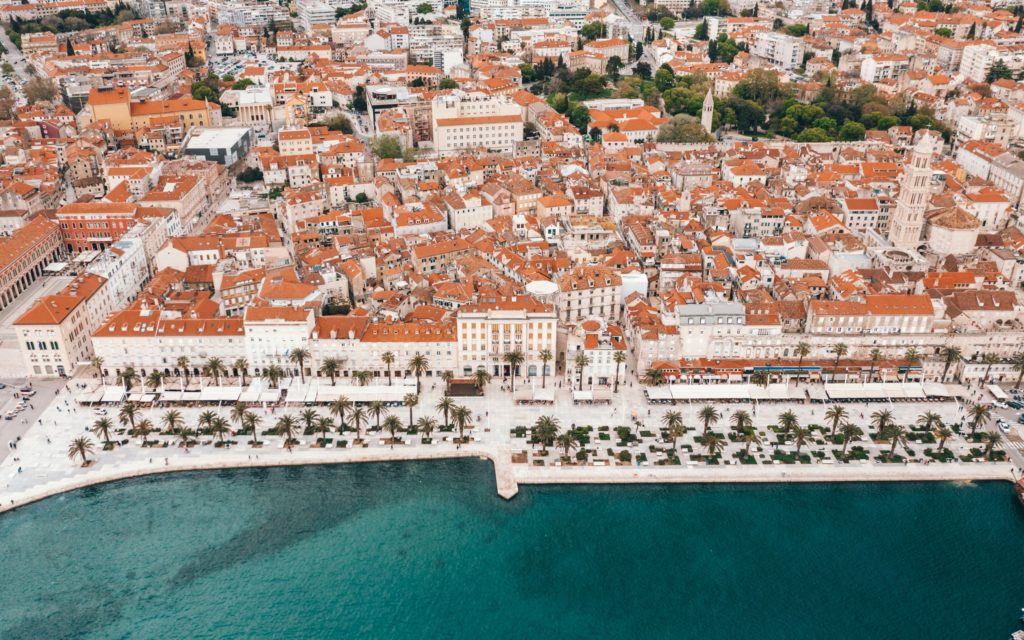 Pula, Croatia
There's no mistaking that the Romans were here. You'll see Roman architecture everywhere. This is what makes Pula stand out from some of the other bigger cities in Croatia. A remarkably well-preserved Roman amphitheatre, which doubles up as a venue for festivals and events in the summer months, in the heart of the city is the star of the show.
It's set beneath 7 hills on the southern tip of the Istrian Peninsula and is fundamentally a commercial city on the sea but has managed to retain a certain small-town charm. Beaches are just a mile away, on the Veridula Peninsula, where you'll be spoilt for choice.
Dubrovnik, Croatia
If you've never been you may already know what Dubrovnik looks like. It's the setting for the King's Landing in the Game of Thrones. Dubrovnik is so beautiful that it's as if it's a fantasy city. Inside the walkable ancient city walls are beautiful baroque buildings and stunning marble streets full of busy bars, ice cream parlours and cafés.
While a place of battle during the Yugoslav Wars, Dubrovnik's old buildings are in great shape and whether you're visiting for the first of five hundredth time you will be taken aback and marvel at its sheer beauty.
Hvar, Croatia
Hvar has become one of the European glamourous party hotspots. You can reach the island by ferry from Split, which takes around about an hour. Hvar Town has a very well-preserved 16th-century old town, as well as Fortress Fortica Španjola. Go up to the fortress to get stunning views over the old town and Hvar's bay. Or, for the modern sights, go yacht-spotting in the harbour.
For a quieter experience, head to the north of the island to see Stari Grad. It's the oldest town in Croatia and one of the oldest in Europe, dating back to 384 BC. It's perfect for a few hours of exploring and is a fair bit cheaper than Hvar Town, too.
Zagreb, Croatia
Zagreb is the capital city. It's set away from the coast in the north of the country, near to the Slovenien border. It is characterised by its 18th and 19th-century Austro-Hungarian architecture and is truly a city worthy of exploring, rather than just passing through. A quality capital city with culture, arts, music, and gastronomy – it's split into the Upper Town and Lower Town.
The Upper Town is the historic core, making for a very walkable metropolis and a year-round outdoor city. Sip coffee in the streets and pop in and out of the plethora of museums and art galleries.
Zagreb is just a short hop away from Slovenian capital Ljubljana. You can also reach Vienna and Budapest with direct trains.