The South of France is famed for its glistening, golden beaches and upmarket bars and hotels. For intrepid travellers and backpackers, the French Riviera might not seem like the obvious base for an interrail adventure, but this region has something to offer everyone. If you're keen to enjoy the high life without breaking the bank, here are five fabulous places to visit in the South of France.
Nice
No guide to the thrills and spills of life on the French Riviera is complete without a jaunt to Nice, the enigmatic capital of the Alpes-Maritimes area. Bathed in sunlight throughout the spring, summer and autumn months, Nice is an exuberant, energetic city, which combines exclusivity and opulence with inimitable charm. Nice is a great place for young tourists, and you don't have to be a movie star or a supermodel to enjoy life on this particular stretch of the Riviera. A day at the beach is always a treat in Nice, but there are plenty of other attractions to keep you busy. Highlights include the bustling Promenade des Anglais, the Musée Matisse and Marc Chagall National Museum. The ravishingly rustic Old Town is a must for those who love to meander at leisure. For travellers looking for a comfy bed on a budget, book into La Maioun Guesthouse or Hotel Ozz by Happyculture.
Cannes
Most of us associate Cannes with the glittering film festival, but you don't need to be an Oscar winner to enjoy a stop off in this cultural gem. Away from the glamour and glitz of the luxury hotels and star-studded premieres, there's a host of attractions to discover. Cannes is an unbeatable spot for people watching, but it also boasts some of the most incredible viewpoints in the region. For a thrill that won't cost the earth, head to the pastel wonderland that is the old quarter, Le Suquet. Here, you can look out over the marina and indulge your inner culture vulture at Musée de la Castre. To escape the crowds and catch rays in peace, hop on a short ferry ride to the Lérins Islands. For an affordable meal that will tantalise the taste buds, make like the locals and scurry down side streets to reach hidden gems such as Bar du Marin.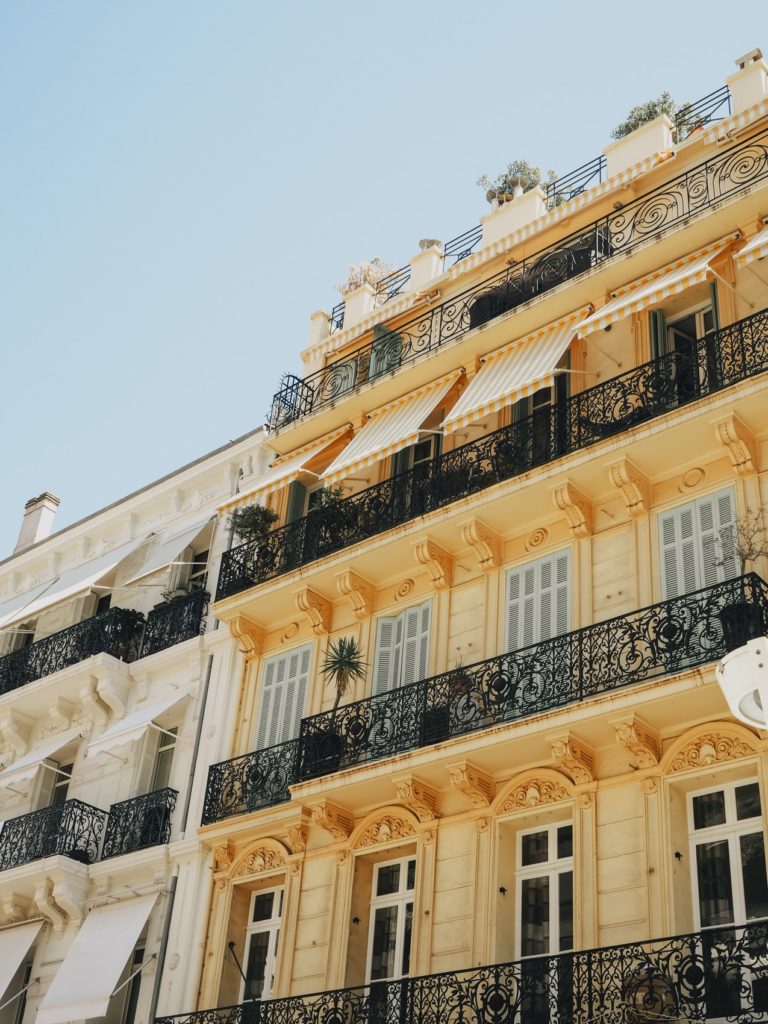 Monaco
You might not think of Monaco as the most obvious choice for interrailing itineraries, but if you're in the area, it's a shame not to take a trip to the playground of the rich and famous. It doesn't cost anything to wander around and marvel at the views. If you avoid the tourist hot spots and the restaurants and bars that attract waiting lists, you should be able to swerve ludicrous bills and have a jolly good time to boot. You can visit for a day to check out the promenades and tour budget-friendly attractions, including the cathedral, Prince's Palace and Fort Antione before hopping back over to France to continue your journey.
Antibes
Most people hear the word Antibes and conjure up images of yachts, beach clubs and exorbitant hotels, but Antibes doesn't have to be inaccessible for the traveller with a more humble and modest budget. Believe it or not, there are free attractions on offer, and there are even hostels to enjoy a good night's sleep without the premium price tag. A stone's throw from the sun-drenched beaches and boat-scattered waters, you'll find a treasure trove of cultural delights, including the Picasso Trail, the Picasso Museum and the bustling, historic food market, Cours Masséna. For those who love a night on the tiles, Safrinier is famed for hosting a lively soirée. Hostels to add to your short-list include Debbie's Crew House and Glamorgan.
St. Tropez
We know what you're thinking. St. Tropez is a little out of the price range for interrailing. That may be true if you're booking into 5-star hotels and dining like a king or queen, but the scenery is free and there are plenty of spots to enjoy al fresco dining and drinking on the cheap. St. Tropez is blessed with beaches and a glorious smattering of green zones, which make for idyllic picnics. Embrace the culture, soak up the atmosphere and raise a glass of cava with a cheese board and a baguette from the local deli or supermarché. It is possible to live an A-list lifestyle on a shoestring if you swerve the hottest places in town and swap luxury hotels for hostels like Hotel Soleil de Saint Tropez. For cheaper eats and drinks that will go down a little easier when you see the bill, look for set menus like those available at Table du Marché before grabbing a pint at Kelly's Pub. After all, no interrailing trip is complete without at least one fun-packed night at an Irish bar.
The South of France is renowned for its lavish hotels, ludicrously expensive restaurants and chic bars, but it's not all Champagne and Michelin stars. There are plenty of places you can visit where you don't need to splash the cash to have a memorable day. Take these budget-friendly tips on board to plan the ultimate interrailing itinerary.
Want to explore the rest of France? Check out our guide on the best Interrail cities in France.