Diogo Lança of Road Delta shares his tips on how to budget and pack for an Interrail trip.
When you start thinking about going Interrailing, it's quite easy to get carried away. All of a sudden you realise that Europe is full of potential for a fantastic experience. You go online and spend hours researching the most beautiful cities, imagining your ideal route, and discovering how diverse Europe is. But after a while, your adventurous side starts to die down and your financial and more rational side starts to ask some questions:
How much money do I need to do all this cool stuff?
Can I afford accommodation and food AND still enjoy myself?
How can I plan all of this?
Your previous adventurous state was trumped by a certain distress. Money and planning become a concern. This blog post seeks to relieve some of this concern by sharing some hacks that allow you to save time, money and headaches, so you can enjoy your Interrail trip.
The point of Interrailing is to get you out of your comfort zone, to do a leap of faith and give yourself to Europe – up to a certain point. Smart planning of both what you bring and how much you spend can make or break your trip. Smart planning will drastically reduce your concerns about your Interrail journey and allow you to enjoy all the wonderful places you spent so long researching.
Tools like Interrail Planner can help you define the first steps in planning an Interrail trip. However, while planning, there are two recurring thoughts:
How much money you have to do cool stuff

How much stuff you pack
Getting these two things right before the journey starts must be a priority. This blog post covers those next steps: coming up with a budget and knowing how much you should carry in your backpack. (It also covers how Interrail Planner Premium can help you with your budgeting.)
Budget
Let's talk money first – the one that pops into everyone's minds first.
How much money is needed to do an Interrail?
This depends and will vary from person to person: it depends on how well you want to sleep, how well you want to eat, what you want to do in each city, and how many days you want to travel…
But, because you're reading this, I can assume that you're trying to find ways to go Interrailing on a budget, which means that you might be willing to sleep in night trains and eat supermarket food and drink funny coffee (a story for another day).
Every time someone asks me the 'money question', I'm reluctant to answer. I know that the person will get attached to the amount without knowing what I actually did during my Interrail.
So, my answer to "How much was your Interrail?" is "Priceless…"
Priceless? But really, how much did you actually spend? €1,700 over 25 days. This included my Interrail pass, flights from Lisbon to Paris and from Venice to Lisbon, food, accommodation, train fees, and a lot of fun… the whole thing!
Does this mean that if you travel for 25 days you will spend the same amount? No. Can you spend more? Oh yes.
But after my Interrail experience, I feel that it is possible to roughly estimate an amount for each individual case.
Estimating your Interrail budget
Enter mathematics… *cue dramatic music*
For each day during my Interrail, I noted my expenses in my travel diary. By averaging all basic daily expenses (hostels, transportation, food) during the 25 days, I calculated the Average Basic Daily Budget (ABDB). My Interrail had an ABDB of 50 Euros per day. Note that I didn't spend 50 Euros every single day of the trip. The number indicates a rough estimate for you to know more or less how much you need. And it works pretty well.
In my case: 25 days x €50/day + €340 (Interrail pass) + €207 (flights) = €1,800
An important thing to note is the €50/day is based on my Interrail holiday, which means you need to know how well I treated myself in order to know if you can expect around the same ABDB for your Interrail:
I always slept in hostels, booking them online a few days before (no hunting for low prices months in advance), and slept two nights on a night-train.

I ate at hostels, supermarket food and occasionally sampled the local cuisine (I feel that I tried enough in each country).

I always used public transportation.
That's a typical budget experience. Cost per day will vary from country to country and it's a lot cheaper in Eastern Europe so try and incorporate a mix of Western and Eastern Europe in your trip – or just only go Interrailing in Eastern Europe!
How Interrail Planner Premium helps with budgeting
Interrail Planner Premium offers a Trip Cost Estimate feature, which works in a similar way to the method described above. You enter your budget for various expenses (like accommodation and daily spending money) and it then provides an estimated cost for your trip. This total is kept up to date as you edit your route so you can always keep on top of the estimated costs. You can learn more about Interrail Planner Premium here.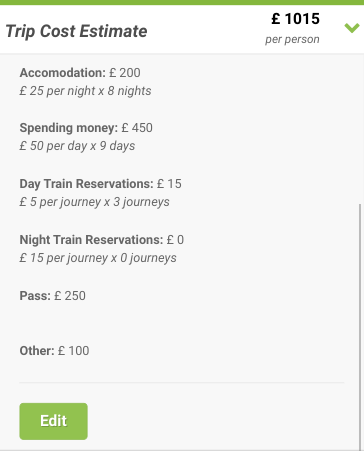 Now that the financial aspect is more or less figured out, it's time to discuss the next big thing.
Backpacks
A big part of any Interrail trip revolves around the backpack. Carrying it from the train station to the hostel, storing it on trains and in hostels, constantly pulling stuff out and stuffing things in it. In other words, you want your backpack to be as small a burden as possible by making it light and functional. That makes total sense, right?
So why do I see so many travellers complaining about their backpacks? There's two reasons:
If it is the first time they are backpacking, they don't understand the value that a light backpack holds. They are accustomed to stuffing a bunch of things in a suitcase and lugging it around an airport until eventually dropping it in a taxi or hotel. This doesn't really work for Interrailing.

It can be difficult to plan for something you can't predict. To compensate for the unknowns of an Interrail, many backpackers stuff their bags with extra clothes.
These mistakes can be easily avoided by defining what is lightweight and by demystifying some of these unknowns. You can also make sure you get one of the best backpacks for Interrailing.
How much should you take?
It is obvious that your luggage should be in keeping with how many days you are travelling for. But only up to a certain point. For example, if you were travelling for over a year, you would not take clothes for that whole year. You would just carry the necessary clothes and wash them on your travels.
The same approach can be used for an Interrail trip. Many hostels provide washing and drying machines for a very reasonable price. Plan the trip so that around the midpoint, you stay in hostel with such facilities.
Pack clothes for only half of the trip and just like that, you saved a bunch of space in your backpack!
A 60 litre backpack is more than enough to carry everything you need. Start by packing the basics like underwear and socks. Then keep packing in order of importance. If you keep in mind the previous advice, your backpack should weigh around 10kg. Try not to go above this weight. Trust me.
Learn more about what to pack from our comprehensive Interrail trip packing list.
Finally, packed and ready to go! Wait wait….
Did you do The Walk of Truth?
Strap your backpack to your back, go outside, and walk. Seriously, pretend that the Interrail trip has started and you need to go from A to B with your backpack. If you feel comfortable wearing the backpack, then great – you are ready! If not, you might need to remove a few items or even change the backpack. Remember, you will be carrying this thing a lot.
Final Thoughts
Budgeting doesn't mean poor planning. With the power of the Internet, travellers have access to tools and know-how from other travelers that can make their trip more enjoyable.
Use Interrail Planner to plan your route, estimate your budget using the method above (or get Interrail Planner Premium to estimate costs as you plan), and carefully choose what to take in your backpack. Planning means that you won't have to worry about it while travelling. Still not convinced? Learn more about why you should plan your Interrail trip in advance.
Want more tips on how to save money? Here are 5 more tips to help you save money while travelling:
Diogo Lança is the owner of Road Delta, a blog and YouTube channel dedicated to spreading ideas of self-development to proactive young minds. Visit roaddelta.com to learn more about his content.