Julie Goffredo lived in Milan while on a year abroad from university and travelled extensively around northern Italy. Here, she shares her ultimate places to go interrailing in northern Italy. Read more from Julie on her blog.
Milan
Milan is Italy's fashion capital but there is a lot more to the city than just Gucci and Prada. Firstly, it has an impressive Gothic cathedral in the main square that has access to the roof so if you are feeling energetic, climb the stairs to get closer to the intricate architecture and brilliant views over the city. Time it for sunset and it will be perfect.
Milan also has an impressive collection of art with the Pinoteca di Brera, an impressive collection of religious artworks, or the more well-known painting by Leonardo Da Vinci himself: The Last Supper.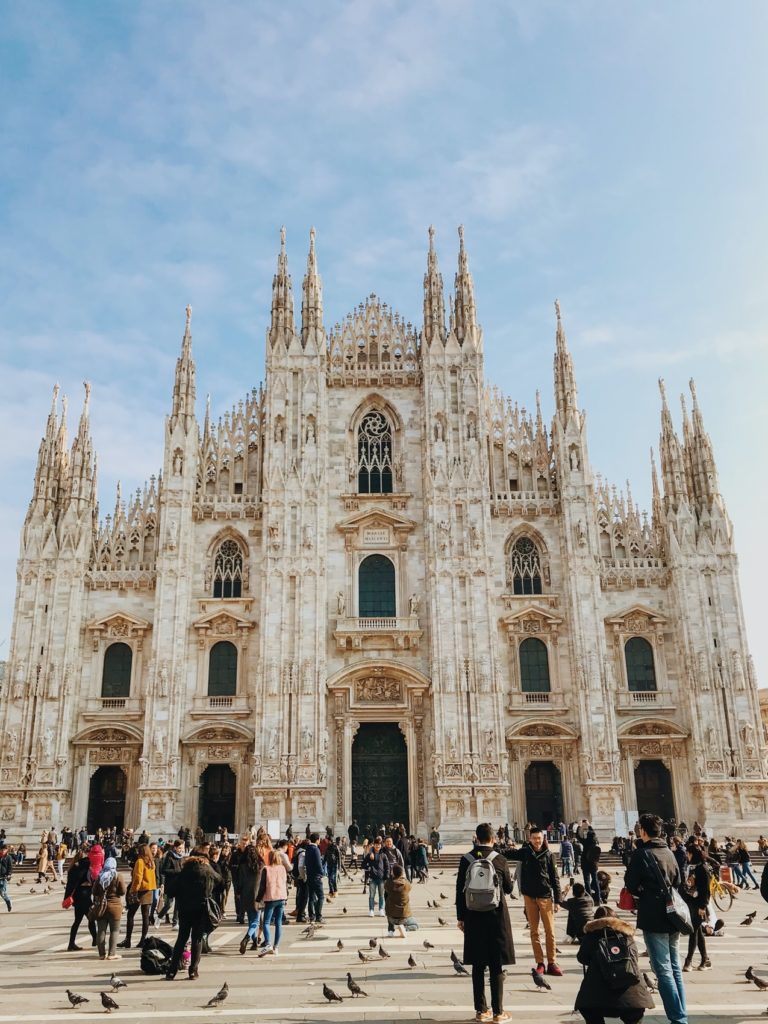 When it's nice weather follow the Milanese to Parco Sempione for some sunbathing on the grass or grab an Aperitivo by the Navigli – Milan's stretch of bars overlooking the canal for some sunset drinks over dinner which will cost you no more than 10 euros (aperitivo is essentially an all-you-can eat buffet with a cocktail).
Milan is also full of those hidden little gems like 10 Corso Como, a high-end fashion store, bookshop and exhibition space (think candid shots of Andy Warhol). It's an interesting place to explore or escape the occasional downpour (yes it does rain in Italy). They even have a leafy roof terrace that makes another perfect little oasis in the middle of the city.
So whilst it may not be as historical as Rome or as "traditional" as some Italian cities but it is a great place to start your exploration of Northern Italy. Read more about what to do in Milan when interrailing.
Venice
Distance from Milan: 2.5 hours (Frecciabianca) – remember to make a seat reservation for your Interrail pass to be valid!
Time needed: 1 full day min, but 2 will be less stressful.
Ah Venice the floating city, whose intricate, winding canals will have you immediately lost, even with Google Maps. Inevitably you'll be sent in frustrating circles trying to navigate the way to Piazza San Marco or the Rialto Bridge. Paths you thought were paths will just stop and end in water – but once you realise it's all part of the fun (and getting somewhere might take double the time) you'll be fine.
When you eventually find it, Piazza San Marco and it's large, grand square will be a relief from the narrow, suffocating streets. Set against the backdrop of the open river, it is a unique palatial square with a beautiful basilica to visit. But whatever you do, DON'T go and enjoy the view at one of the cafes around it. An espresso here can cost an eye watering 7 euros, so take in the view on your feet and save the money for a Pizza or Gelato or Cake or literally anything else that will be a MUCH better use of your money.
Talking of food, the city is notorious for its over-priced tourist traps so it's better if you come prepared with a pre-made panino. However, if you are planning to buy lunch or dinner out then head north to the Cannaregio area where more of the "locals" tend to eat. As long as you don't get lost on the way…
Of course, a trip to Venice wouldn't be complete without a ride on a Gondola but at 80 euros per boat, it's expensive so try and find people to share with (even strangers) to split the cost. It won't be quite as romantic but it will be just as magical as you float peacefully along the canals, getting a glimpse into the "hidden" side of the city.
Bergamo
Distance from Milan: 1 hour (regional train)
Time needed: 1 afternoon
Bergamo is an unusual city where the ancient world of Italy past is perfectly preserved from from the modern, sprawling city. This is the Citta Altà that sits on top of a hill above Bergamo and surrounded by mediaeval fortress walls. Apart from spectacular views, this peculiar little place remains untouched by the hectic pace of modern life which means it's perfect for those days where you are tired of sightseeing and just want an afternoon of enjoying La Dolce Vita.
Start by getting the bus up from Bergamo train station which will drop you off outside the medieval walls and follow the higgeldy piggeldy streets winding up around the hillside , taking in the views as you go.
As far as sights go – the view is the main one here, but the town is full of cute shops to browse and amazing pasticcerias (Italian bakeries) that you'll struggle to drag yourself away from. And really, what is a trip to Italy if it isn't all about the food!
Once you've had your fill of pastries, Gelato and views (in no particular order) ease yourself back into the real world with the cable car that takes you back down the hillside.
Turin
Distance from Milan: 1 hour 20 approx.
Time needed: 1 full day
Turin is one of those cities that always seem to get missed off the tourist trail. But this would be a big mistake because despite its industrial heritage (it was home to the Fiat factory for decades) Turin is surprisingly beautiful in a grand, majestic kind of way.
Huge, elegant squares are Turin's answer to the modest Italian piazza, surrounded by old-worldly cafes that were once the meeting place of intellectuals like Nietzse. The grandeur continues in the baroque architecture and stunning archways that follow you around the refreshingly wide, open streets.
Leave the map at home (or in the rucksack in this case) because this city doesn't need an agenda. Try the museums if you like (there is an impressive Egyptian collection) but the real beauty of Turin is in the streets. That's how you'll stumble upon the greatest food market you will ever see (Porta Palazzo Market)  – a vast expanse of fruit and vegetables and even chocolate or "gianduja" to be precise – Turin's famous squares of hazelnutty chocolate that just melt in your mouth.
Yes, believe it or not Turin is THE city of chocolate, after all they did invent Nutella here! This makes chocolate an important part the trip and the markets will offer the best price when you realise you are going to want to bulk buy the heavenly stuff.
Turin is also home to bustling antique markets where picking up a bargain is easy and random little shoe shops that sell everything for 30 euros (4 years later and my brown leather boots are still going strong). Doing as the locals due is a refreshing break from the usual tourist slog but aside from shopping, Turin is also home to one of the world's most sacred religious artefacts.
The clue is in the name but it's easy to miss the association: The Shroud of Turin. Now, don't be disappointed if you can't actually see the thing. Most of the time it is kept behind a cloth for protection but the accompanying video explanation and eerie atmosphere in the Duomo still warrants a visit. Plus, it sounds cool to say you've been there.
For a deeper dive into the city's history, including how it became the city of chocolate obsessives and invented Vermouth (yes really!), take the city sight-seeing bus which whizzes you past regal palaces, a medieval castle and up into the surrounding hills with spectacular views over the river Po. Don't get me wrong, I'm all for the self-guided walking tour but Turin's intriguing suburbs are too big to manage on your own two feet.
Because it's only then, after ambling around the centre like a local and riding through the outlying hills as a tourist, that you will realise just how special Turin is and how much higher it should have been on that list.
Verona
Distance from Milan: 1 hour 30 approx.
Time needed: 1 afternoon
Verona is a small but pretty, medieval town near Venice, well known for the most famous love story of all time: Shakespeare's Romeo and Juliet. It's where the star-crossed lovers lived (in the fictional world) and you can visit Juliet's balcony, hidden away off the main shopping street in a secluded, ivy-clad courtyard.
In true tourist style, you can have a picture on her balcony but you will need to pay to go inside the house to get there (around 5 euros). Otherwise, make do with touching her statue for good luck and spend some time reading the love notes from passers-by on the wall of the archway as you come in.
But it's not just all about Romeo and Juliet, Verona is full of charm in its' own right. Winding, shutter clad streets lead to pretty Piazzas like the one in "dell'Erba". Amble around the fresh produce market there and take in the bustling, friendly atmosphere of an Italian town square.
Window shop along the swanky Via Mazzini, not forgetting to stop off for a gelato on the way. Verona has a branch of Amorino, the Geleteria that serves ice cream in the shape of a flower – very fitting for a place built on romance.
Make sure you take a wander along the river too and if you time it right you can see the sun setting over the town from one of the bridges. Shakespeare certainly picked the perfect setting for his love story.
Sirmione, Lake Garda
Distance from Milan: 1 hour 30 approx (regional train)
Time needed: 1 full day.
Desenzano is a pretty little town on the edge of Lake Garda with a French Riviera feel. But the real reason to visit lies on the small island of Sirmione, just a short ferry hop away.
This island is a little spot of paradise with azure waters and vibrant buildings that could mistake you into thinking it's the middle of the Mediterranean, not a lake near the alps in Northern Italy.
Don't miss the medieval castle (complete with moat!) for stunning views across the island and when the heat gets too much, find a secluded restaurant away from the main squares for a nice, cold spritz to really soak up La Dolce Vita which this tiny Island thrives on.
Varenna
Distance from Milan: 1 hour 15 approx (regional train)
Time needed: 1 full day
Varenna is also a town set on the edge of a lake but this time to the west of Milan on Lake Como, nestled at the foot of the alps.
Dramatic scenery categorises this part of Northern Italy and Varenna is a great place to experience this, both in the summer as well as the winter months when the mists descend over the lake, bringing with them an air of mystery and an eeriness that is hauntingly beautiful.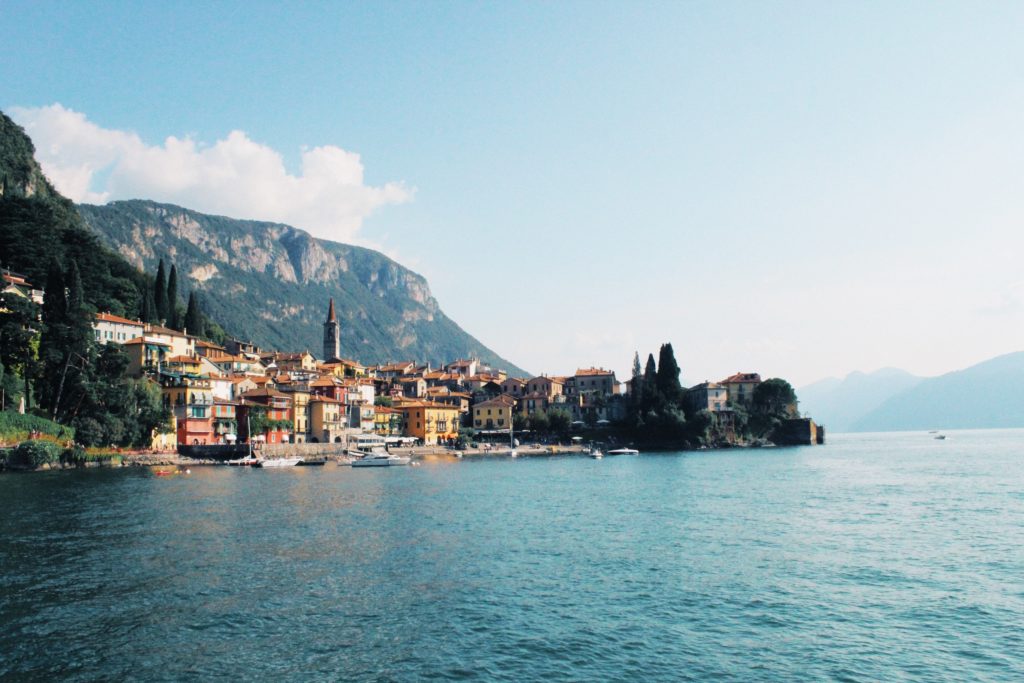 From the station follow La Passarella that takes you on a picturesque walk right alongside the lake as you make your way into the centre. Keep going until the Villa Monastero, a small but grand villa with enchanting views out on to the lake. If you go out of season, most likely you'll have the whole place to yourself and the Island for that matter, getting to enjoy the scenery in peace.
Fewer shops will be open but there is always one brave shopkeeper where you can grab something hot to drink before getting back on the train and escaping the impending darkness.
Feeling inspired by this ultimate Interrail route of northern Italy? Start planning your north Italy Interrail adventure with this Interrail route template.