Lyon, the third-largest city in France, is a vibrant and historic destination with a rich cultural heritage. As an Interrailer, you're in for a treat as Lyon offers a plethora of activities, delicious food, and stunning sights. Here's a guide to help you make the most of your visit to Lyon:
Old Town (Vieux Lyon)
Start your exploration in the historic heart of the city, the Old Town. This UNESCO World Heritage site is known for its narrow, cobblestone streets, Renaissance architecture, and charming atmosphere. Wander through the traboules – which were secret passages originally used by silk workers to transport their products, visit the stunning Saint-Jean Cathedral, and explore the quaint shops and restaurants.
Fourvière Hill
Take a funicular or hike up Fourvière Hill to enjoy panoramic views of Lyon. At the top, you'll find the magnificent Basilica of Notre-Dame de Fourvière, an ornate church with breathtaking interiors. Don't miss the Roman amphitheatre and the Gallo-Roman Museum nearby, offering insights into Lyon's ancient past.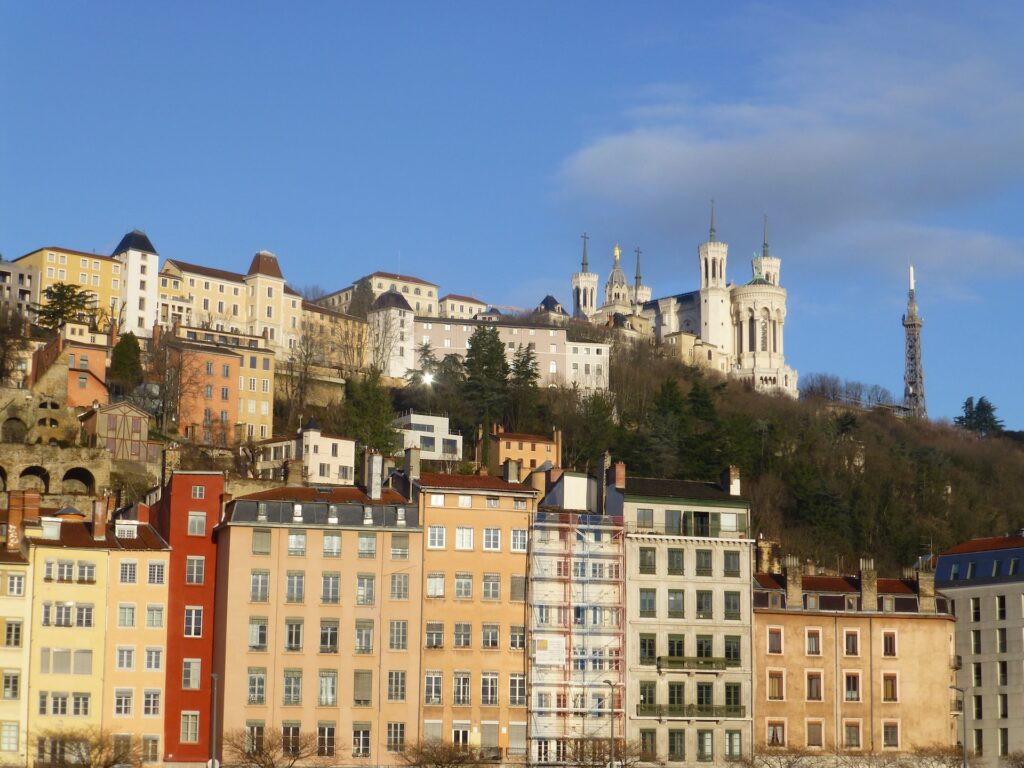 Presqu'île
Situated between the Rhône and Saône rivers, Presqu'île is Lyon's vibrant city center. Stroll along Rue de la République, Lyon's main shopping street, and explore the charming neighborhoods. Place Bellecour, one of Europe's largest squares, is a great spot for people-watching. Visit the stunning Hôtel de Ville (City Hall) and explore the shops, cafes, and boutiques in the area.
Musée des Beaux-Arts
Art enthusiasts should not miss the Musée des Beaux-Arts, one of France's largest fine arts museums. It houses an extensive collection of paintings, sculptures, and decorative arts from ancient to contemporary times. From works by Rembrandt and Monet to ancient Egyptian artifacts, this museum is a treasure trove for art lovers.
Parc de la Tête d'Or
Escape the city bustle and unwind in Parc de la Tête d'Or, Lyon's largest urban park. Rent a paddleboat on the lake, explore the botanical gardens, or visit the free zoo, which is home to various animal species. The park is perfect for a leisurely picnic or a peaceful stroll amidst beautiful greenery.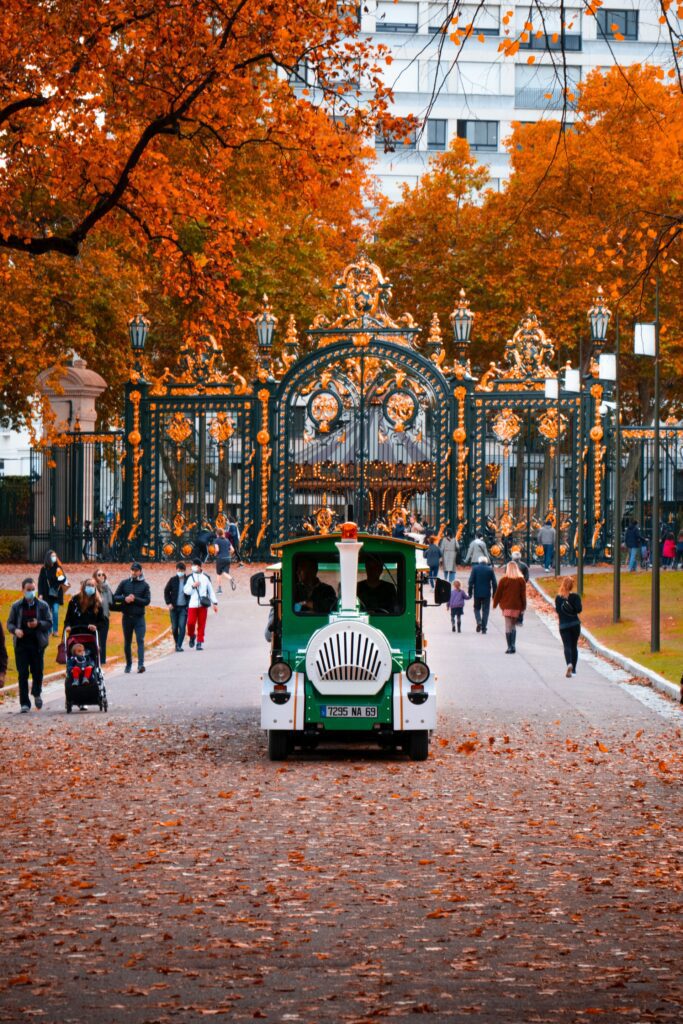 Les Halles de Lyon Paul Bocuse
Lyon is known as the gastronomic capital of France, and a visit to Les Halles de Lyon Paul Bocuse is a must for food lovers. This famous indoor market offers an array of fresh produce, cheese, wine, pastries, and local specialties. Indulge in a culinary adventure, sampling Lyon's renowned sausages, pâtés, and delicious cheeses.
Croix-Rousse
Visit the Croix-Rousse neighbourhood, historically known for its silk industry and vibrant bohemian atmosphere. Explore the winding streets, visit the traboules, and soak up the artistic vibe. Don't miss the panoramic views from the iconic Croix-Rousse Hill.
Quai Saint-Antoine
Located along the banks of the Saône River, Quai Saint-Antoine is a picturesque spot to enjoy a leisurely stroll. Admire the beautiful architecture, stop by the colourful shops, or enjoy a meal at one of the many riverside restaurants. This area also hosts various cultural events and markets.
Institut Lumière
Lyon has a strong connection to the world of cinema, being the birthplace of the Lumière brothers, inventors of the cinematograph. Visit the Institut Lumière, dedicated to preserving the legacy of early cinema. Explore the museum, watch classic films, and learn about the Lumière brothers' contributions to the world of motion pictures.
Enjoy a bottle of wine by the river
You can't come to Lyon without trying some Beaujolais wine. Lyon is blessed with two beautiful rivers, the Rhône and the Saône, which offer idyllic spots to unwind and enjoy the city's scenic beauty. Grab a shop-bought bottle of Beaujolais wine – a red wine produced in the nearby Beaujolais region – and head to one of the riverbanks for a leisurely picnic or evening drinks on a budget!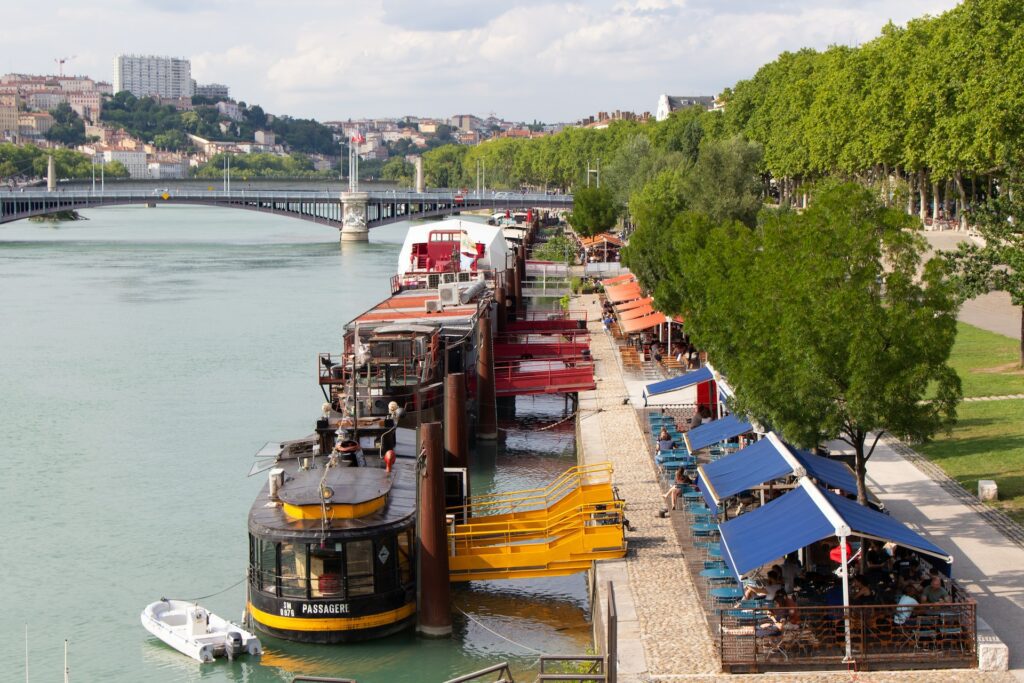 Remember to savor Lyon's culinary delights, including traditional dishes like coq au vin, quenelles, and Lyonnaise potatoes. Lyon is also renowned for its bouchons, traditional restaurants serving hearty local cuisine. Don't forget to try some Beaujolais wine, as the region is known for its vineyards.
Enjoy your Interrail adventure in Lyon, and immerse yourself in the city's history, art, and delicious gastronomy! Explore our France country guide to see where else to explore on your Interrail trip through France.