Interrail in Estonia: the ultimate country guide 🇪🇪
When organising an Interrail trip, most people initially plan to go to Italy, Germany and other popular European destinations. But Estonia is often forgotten. However, it's an extraordinary country that has picturesque scenery, beautiful architecture and a welcoming atmosphere that will make for an unforgettable holiday.

An underrated northern European gem, it's one of the most breathtaking Baltic countries and one that should be on your list. Bordering the Gulf of Finland, it has more than 1,500 islands and is dotted with grand castles, medieval churches and lush forests. It also has fantastic cuisine that's beloved due to its wholesome, seasonal flavours; in particular the Verivorst, Estonia's national dish that's filled with barley, allspice and onions.

Estonia is also very easy to get to, whether you opt to fly (less than 3 hours from London) or get the train. For the latter, there are several routes you can do from the UK, including going on the Eurostar to Brussels, taking a train to Stockholm and then a ferry to Tallinn. 

When you're in Estonia, you can then take advantage of the modern local trains that link the capital to a variety of different towns from Parnu to Tartu. You could choose to either get an Interrail Estonia Pass or an Interrail Global Pass, giving you a flexible, fuss-free and budget-friendly way of travelling across it.
But what are the best places to visit when you're in Estonia? We've created a handy guide that you can use to help decide what should be on your to-do list. Starting with Estonia's incredible capital, Tallinn.
The top 3 cities to visit in Estonia
Even though Tallinn is one of Europe's best-preserved medieval cities, it also offers contemporary attractions, making it a great place to visit for those of all ages. A vibrant cultural hub, it has several prominent galleries, independent businesses and modern landmarks that are well worth a visit. 
An example of the latter is the Tallinn Tv Tower. A free-standing structure, it has an observation deck granting awe-inspiring views out towards the city. Located near Pirita, it's 313m tall and was opened in 1980. If you love art, the Telliskivi Creative City should be at the top of your list. This art-focused venue has several studios, galleries and 200 independent businesses set within an abandoned factory. 
However, if you are looking to explore the real heart of Estonia, then head over to its old town. A UNESCO World Heritage Site, the old town looks like something out of a fairytale. A valuable treasure, it's got a vibrant atmosphere and has numerous exciting events that take place there across the year; including the Old Town Days which is dedicated to the local culture and showcases theatre, art and music across several days. Every Christmas there is also a huge tree erected in the town square and a beautiful market to enjoy. 
There is also the Alexander Nevsky Cathedral. An orthodox cathedral, this stunning building is situated on Toompea hill in the centre of Tallinn. Designed in a Russian Revival style in the late 19th century, it is dedicated to the 13th-century Grand Prince of Kyiv. Or if you want to explore Tallinn's natural beauty, then Kadriorg Park should be on the itinerary. Spanning 70 hectares and including a Japanese garden and swan pond, it has a history that dates back to 1718.
Restaurant-wise, there's plenty to choose from in Tallinn. But two that are particularly worth a visit are the Parrot Mini Bar and Salt. The Parrot Mini Bar is a stylish, wallet-friendly option that's perfect for a quick bite. Salt is a centrally located option that offers delicious street food in a chic setting. 
Next up is Tartu. Situated in the east of Estonia, it's a popular town that's filled with modern attractions and beautiful architecture. Mostly known for its prestigious university that dates to the 17th century, the leafy town is easy to navigate making it the perfect stopover during your Interrail trip. In fact, most of the popular attractions, nightlife and restaurants are situated within a set of parallel streets; so you won't have to worry about travelling too far to reach its top sights. 

One of its most beloved attractions is the botanical garden set within the University of Tartu. Established in 1803, it is the oldest botanical garden in the Baltics and was designed by the world-renowned botanists Professors Bunge and Ledebour. Free to walk around, this picturesque garden is open every day throughout the year. 

Another located within the university grounds is the Tartu Tahetorn, an observatory that was used by scientists throughout the 19th and 20th centuries. Now serving as a museum, this incredible building is the ultimate attraction for astronomy enthusiasts. Of that ilk, AHHAA Science Centre is another sight that's worth a visit. The largest in the Baltic States, it has several interactive exhibits that promote both science and technology.

After a day of exploring, you'll be pleased to know that Tartu has dozens of places to eat or enjoy a quick drink. One of which being Pepe's Bistro and Social Club. At this vibrant diner, there is a new chef every week offering various dishes, from sharing platters to seafood and pasta. Another, is the Trikster Tihane, which offers decadent vegan food in a welcoming atmosphere. 
And finally, Parnu. A resort city that's within southwestern Estonia it overlooks the enchanting Parnu Bay and has romantic medieval architecture. A hidden gem, Parnu is only visited by just over 700,000 tourists every year (mostly in the summer), making it the perfect destination for those looking for a more relaxed getaway. Bisected by the pretty Parnu River, it's known for its timber villas that date back to the 19th century and the stunning Parnu Beach; in which you can enjoy a yacht trip, paddle boarding or water skiing.

As well as the sandy beach, Parnu is also home to the Soomaa National Park. Containing 5 large wetlands, it has a beautiful walking trail within it (the Riisa Study Trail), opportunities to take part in regular canoe hikes and a beaver trail!

Alternatively, if you're looking for a more unique attraction, you can spend a day exploring the Lotte Village Theme Park. The biggest theme park within the Baltics, it's set within a beautiful forest and is easy to reach – only ten minutes from the city. Within the theme park, you'll find over 100 different attractions, as well as themed houses, live actors and an adventure park. Or maybe you love animals? Then the Alpaca Farm should be on your list. One of the largest camel and alpaca breeding farms in the country, it's home to nearly 150 different animals from alpacas to llamas, goats and guinea pigs.

For lunch or dinner, Parnu has dozens of different eateries and chic cocktail bars. Oregano Restaurant is always a good option, offering tasty Greek cuisine, including the likes of tiger prawns, grilled octopus and grilled cheese dishes. Or if you're craving something a little more hearty, then Restaurant Edelweiss is ideal. Offering generous German dishes and beer, you'll feel like you've gone back in time at this cosy venue.
People who visit Estonia also visit...
Latvia 🇱🇻
Latvia borders Estonia to the south. Travel easily between Tallinn and Riga by train, with a platform change on the border.
Finland 🇫🇮
Perhaps the quickest country to get to from Tallinn, travel between Tallinn and Helsinki by ferry in just 2 hours.
Which Interrail pass do I need to travel around Estonia?
Interrail Global Pass
The only travel pass that lets you ride on trains in 33 different countries and discover over 40,000 destinations. Available in 1st or 2nd class.
Interrail Estonia Pass
The easiest way to travel by train to Estonia's top destinations. Get a pass with 3, 4, 5, 6 or 8 travel days in 1 month.
Do I need to make train seat reservations in Estonia?
It isn't possible to make reservations for 2nd class when traveling with an Interrail Pass.
On some routes there are 1st class carriages where it's possible to book a seat. If you want to book a seat you have to e-mail the national rail provider Elron ([email protected]) 3 working days in advance. Specify the date and on what time and which route you want to travel.
It is also possible to travel in 1st class with a 2nd class Interrail pass in Estonia. You have to pay a fee to sit in 1st class, which you can pay on board the train. 
Good to know:
When on the train your Interrail pass will be inspected by the ticket inspector. You will be issued a ticket, but don't worry, you won't have to pay anything. This ticket will have a value of €0 and is for Elron's administration only. 
Capsule Hostels - Tallinn
The only capsule hostel in Tallinn! Enjoy your own private space. Each capsule features a locker for your luggage, a memory foam mattress and pillow, towel, air purifier, private ventilation, flat-screen TV, safe, day and night light modes, headphones for private listening to music, earplugs for a restful sleep, USB charger, and a mirror. Centrally located for exploring the city!
Looming Hostel - Tartu
Looming Hostel is one of the first and only environmentally friendly hostels in Estonia. They are dedicated to green and eco-living, bohemian style, and reducing their carbon footprint.
Hostel Louna - Parnu
Located close to the bus station, this hostel is a great base for exploring Parnu. Guests have access to a shared kitchen and there is free wifi throughout the hostel. Private and dorm rooms are available.
Tallinn Coffee Festival
Tallinn Coffee Festival is an occasion where you can become familiar with various extraordinary and speciality coffees, as well as processes and equipment for making it.
Tartu Ski Marathon
The Tartu Ski Marathon is a long-distance cross-country skiing competition, held annually in Estonia, on the third Sunday of February. It debuted in 1960 and has been a part of Worldloppet since 1994.
Weekend Festival Baltic - Parnu
Weekend Festival Baltic is the Estonian edition of the Weekend Festival, the largest dance music festival in Scandinavia. The electronic music festival attracts big names and takes place each year on Parnu Beach.
Read more about Estonia on our blog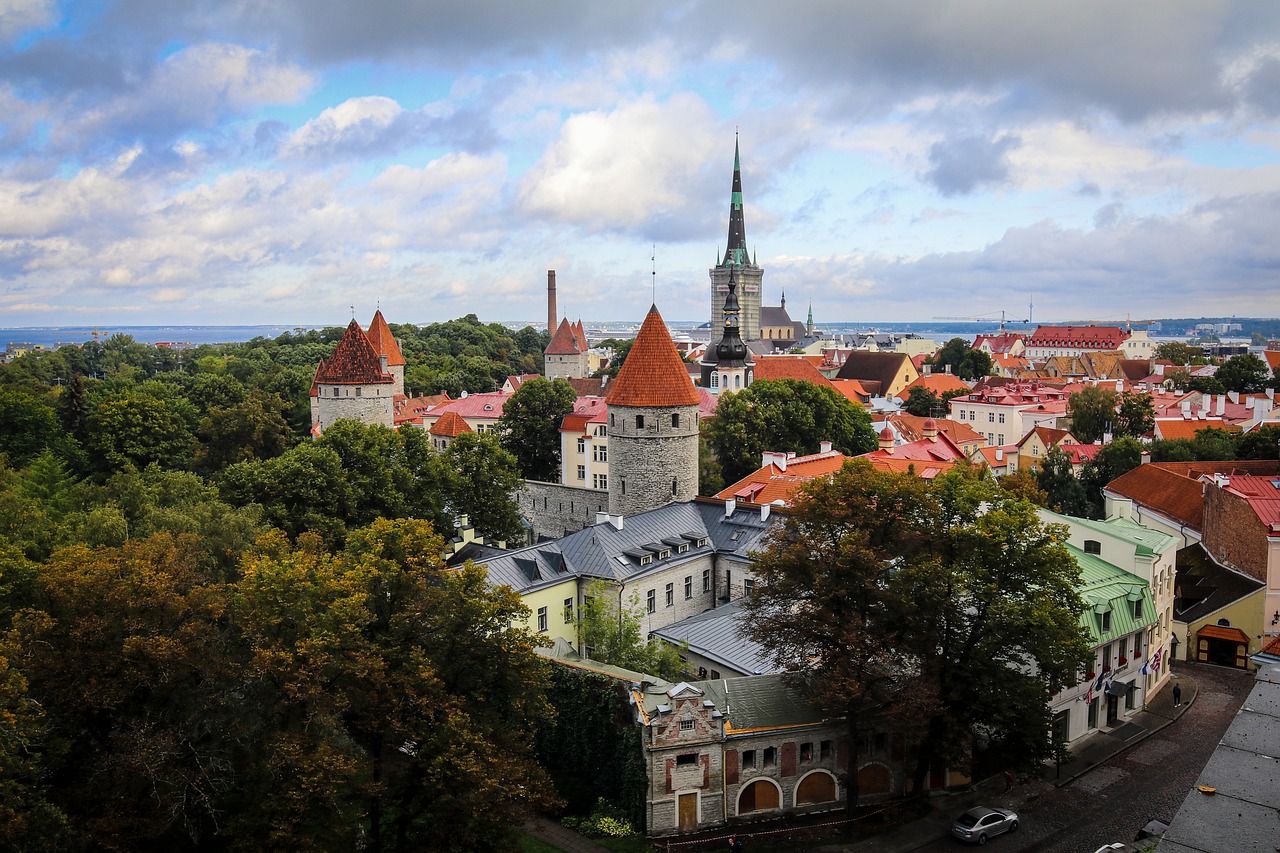 Country/Region Guides
The Baltics are amazing. Filled with awe-inspiring natural landscapes, UNESCO World Heritage Sites, bustling cityscapes and more, there is so much to see and do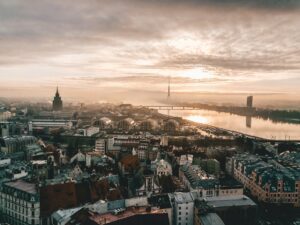 Country/Region Guides
The Baltic states of Lithuania, Latvia, and Estonia have their own unique landscapes and cultures rich in history. While many films continue to depict the

Interrail Advice
My first encounter with solo travelling is the movie Before Sunset where a handsome Ethan Hawke convinces a stranger, the beautiful Julie Delphi, to jump