Interrail in Belgium: the ultimate country guide 🇧🇪
Despite its small size, Belgium is of great relevance to the world history and for today's Europe, as it is the home to the European Union itself, as well as headquarters of NATO. This prosperous country is known for medieval towns and Renaissance architecture. It has over 3,000 castles to explore, battlegrounds from the World Wars, historical sites, parks and every museum imaginable. 
Belgium is also full of gastronomic pleasures – from the renowned Belgium chocolate and waffles to 1,000 breweries where you can enjoy cold beer and frites. Belgium brewers were some of the pioneers of the perfect beer-brewing process, and they certainly know how to make a strong beer.
As Belgium has more castles per square mile than any other country in the world, they are definitely not to be missed. Castle of Bouillon in the Ardennes is one of the most interesting as it was built in the 11th century. Beersel from the 14th century and Gravensteen from the 12th century are only some of the must-see castles. 
The Battle of Waterloo took place in 1815 and at the site of the famous battle, there is a memorial in the form of a statue of a lion looking towards France – La Butte du Lion. The 83-meter-tall Cathedral of Our Lady in Tournai from the 12th century is a UNESCO World Heritage site. A 'must see' in Brussels are the quirky statues Manneken Pis & Jeanneken Pis. Southeast side of Brussels, you can find Wander Parc du Cinquantenaire, home to the Army Museum, the Auto World Museum, an art museum, gardens, and much more. When in Bruges, take the magical canal tour that will let you discover the secret gardens, picturesque bridges, and medieval buildings. Antwerp is an excellent shopping and gourmet location and home to Ruben's works at the Royal Fine Arts Museum. 
The top 5 cities to visit in Belgium
Brussels is the beautiful capital city of Belgium, which, due to its size, can be explored very well in a day.
The Grand-Place is the stunning centre of the city and a UNESCO World Heritage site that has been host to countless historical events.
While walking around this bustling city, make sure you don't miss the iconic little statues: Mannekin Pis, Zinneke Pis, and Jeanneke-Pis. The cobbled streets and their historic charm will immediately capture you.
Galeries Royales Saint-Hubert is a stunning hall of luxury shops but also a few of the best chocolate shops. Chocolate, waffles, and fries are the most famous food delights you can find all over Brussels and you can even go on a Chocolate Tour to design your own chocolate.
Brussels is also the birthplace of iconic comics like the Smurfs and Tintin. In their honor, you'll find comic strip murals all over the city. Head to the Comic Book Centre and take the comic book route if you're interested in this. Car lovers should go to AutoWorld – a car museum that has over 300 vintage European and American automobiles from the late 19th century to the seventies.
Another landmark building in Brussels is the Atomium, an optimistic vision of the future, designed as an expression of the democratic will to maintain peace among all nations, with faith in both technical and scientific progress that should enable mankind to live better lives.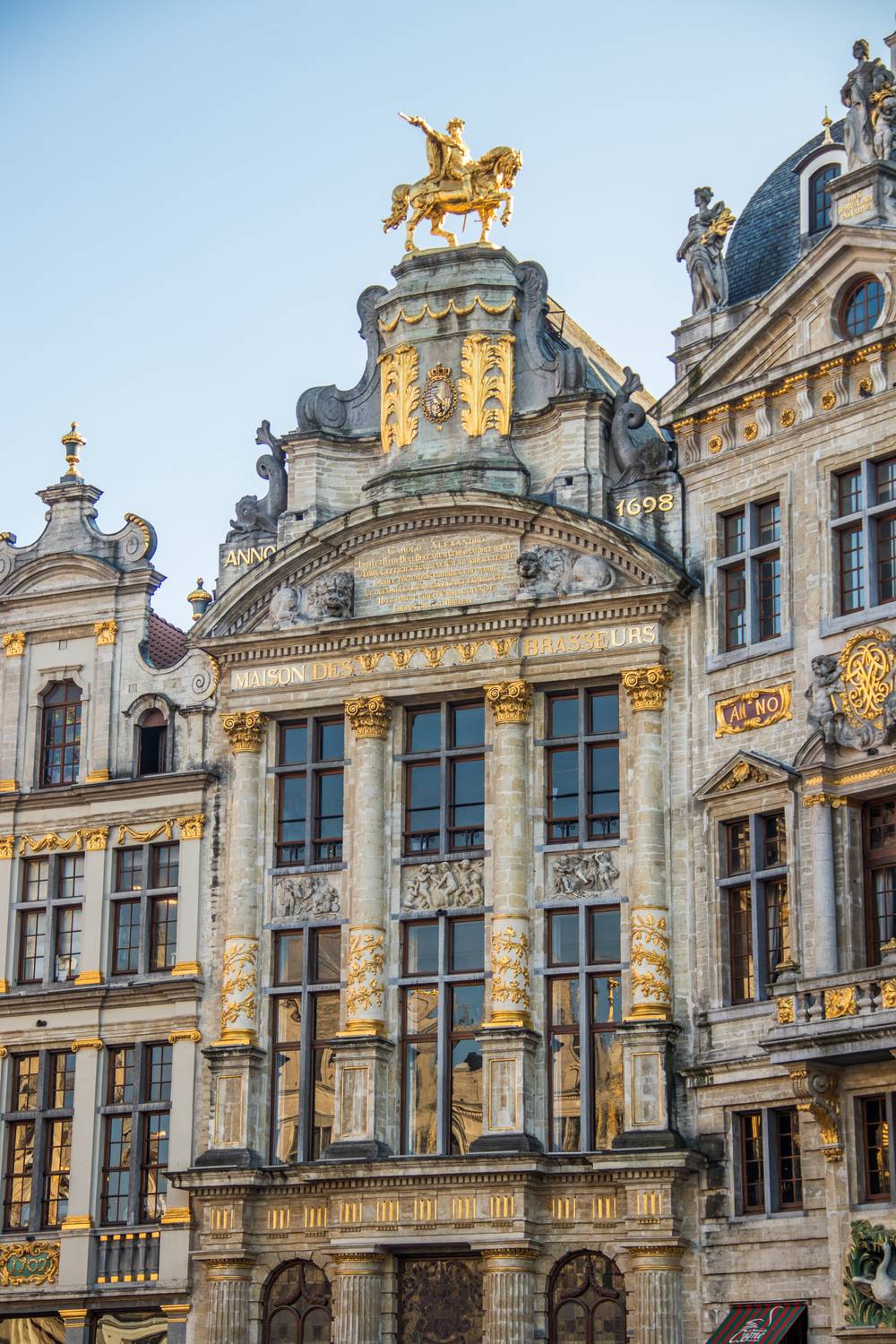 This small rush and stress-free city is one of those places where even a rainy day feels enjoyable, and even romantic. It's no wonder why Bruges is often called the Venice of the North, as canals run through the whole city.
On your way from the train station you cannot miss the Minnewater Park with The Lake Of Love in the heart of the park. According to legend, if you walk over the bridge and kiss your loved one, it will become eternal love.
In Bruges, anywhere you stay is walking distance from the city centre. What is more, many hotels are converted from seventeenth- and eighteenth-century medieval buildings, which makes it so easy to discover the history, charm, and elegance of Bruges.
The largest of Bruges' two central squares, Grote Markt, is a splendid historic spot, with colourful buildings and horse drawn carriages.
Another spot definitely worth visiting is the Old Chocolate House. There are more than twenty types of hot chocolate to choose from and you get a small bowl of the chocolate chips alongside a soup-bowl-size mug of steaming milk and then it's up to you to mix it up according to your own personal taste.
Beyond chocolate, try Trappist beers and other traditional Belgian delicacies. Bruges is also full of museums dedicated to food. Learn how chocolate is made at Choco-Story, taste and find out about Belgian beer at the beer museum, or indulge in traditional frites at the museum of fries.
While walking the lovely cobbled streets, make sure to take a photo from Rozenhoedkaai bridge – one of the most photographed spots in the world.
This Belgian gem, located only half an hour away from Brussels, is the perfect place to enjoy a quiet day wandering around cobbled streets and enjoying its medieval old town and history. The canals wind through the giant Gravensteen Castle, from the 10th century with an actual moat, and the beautiful Saint Bavo Cathedral make Ghent a picturesque getaway. Saint Michael's Bridge, Graffiti Street, Medieval Towers of Ghent are only some of the sights worth visiting. 
If you want stunning, panoramic views of Ghent, definitely visit the Belfry of Ghent. Ghent is also full of all kinds of museums from the Design museum, Dr. Guislain Museum, the museum of fine arts, to Museum Arnold Vander Haeghen. Those in need for retail therapy will like The Korenmarkt – the largest pedestrian shopping area in Europe. Graslei and Korenlei are the two streets on either side of the canal in the old town. Ghent also has an amazing food market. The classic Ghent dish is waterzooi, a creamy stew traditionally made with fish but now often made with chicken, kroakemandels, a local dish of salted peas deep fried in oil, cuberdons, a traditional Ghent candy with a soft raspberry centre and klapke – a glass of white wine with an oyster.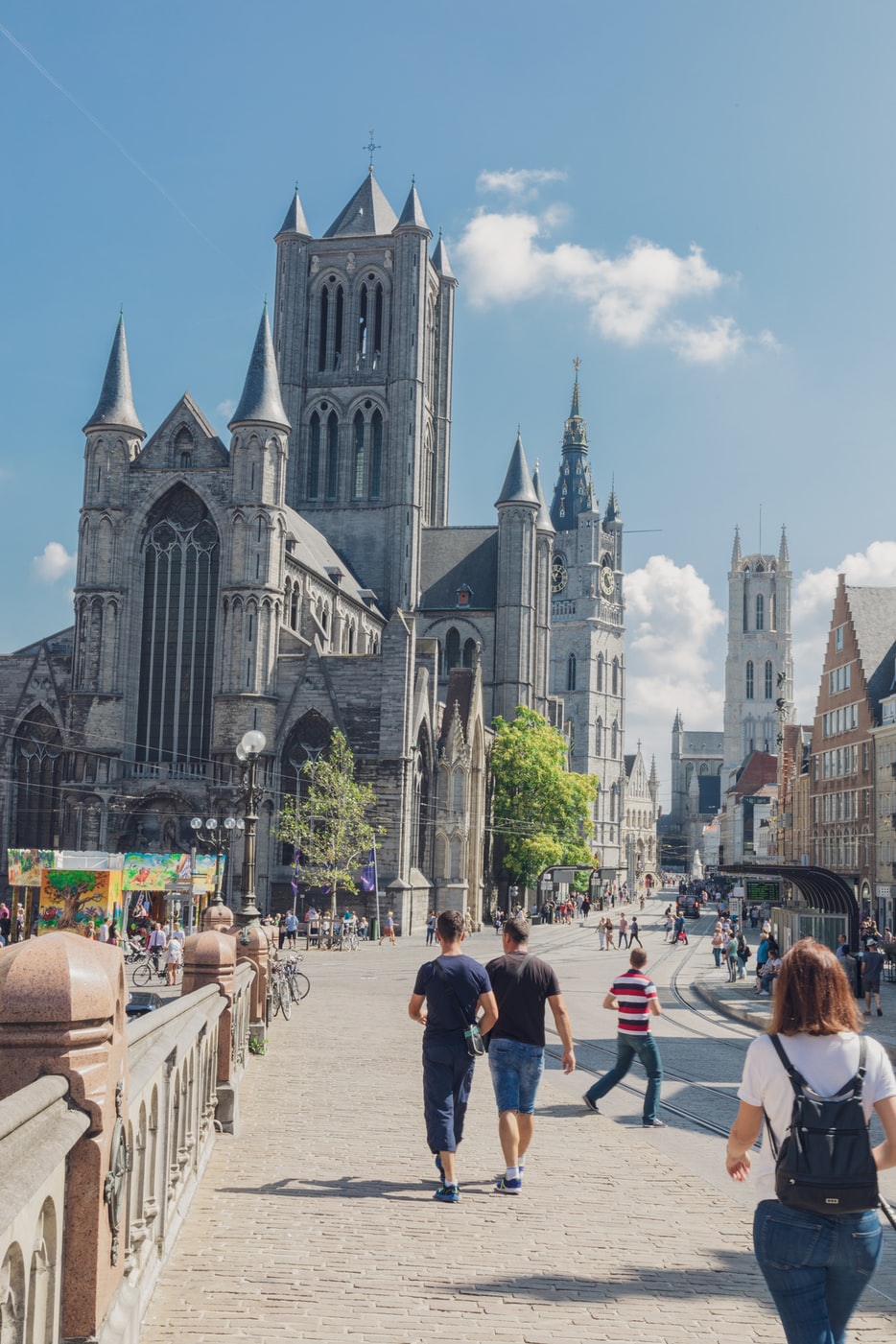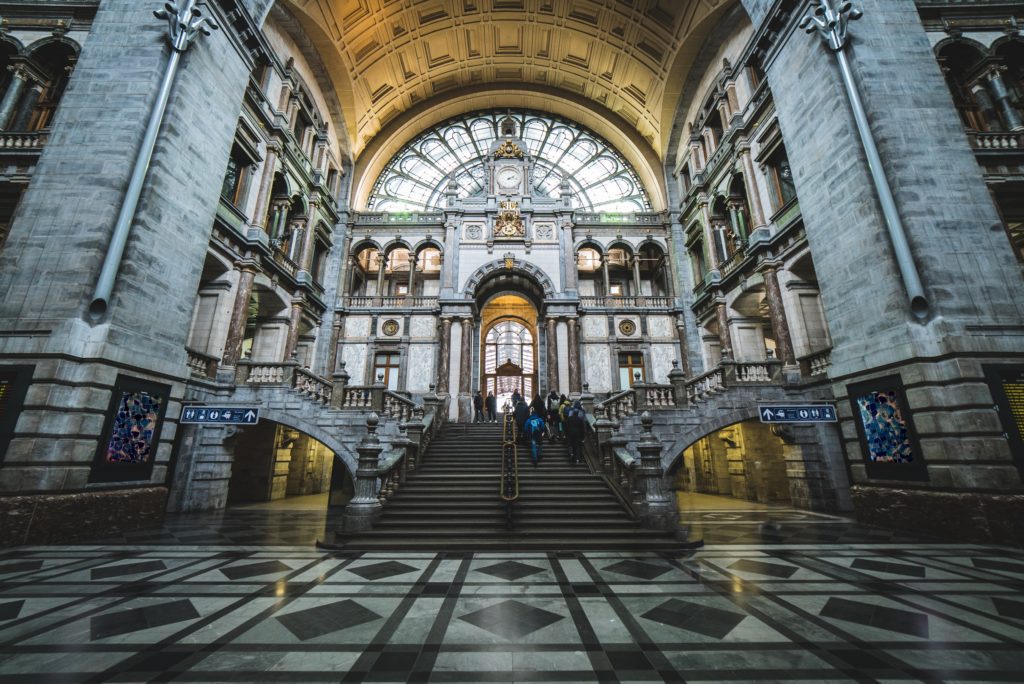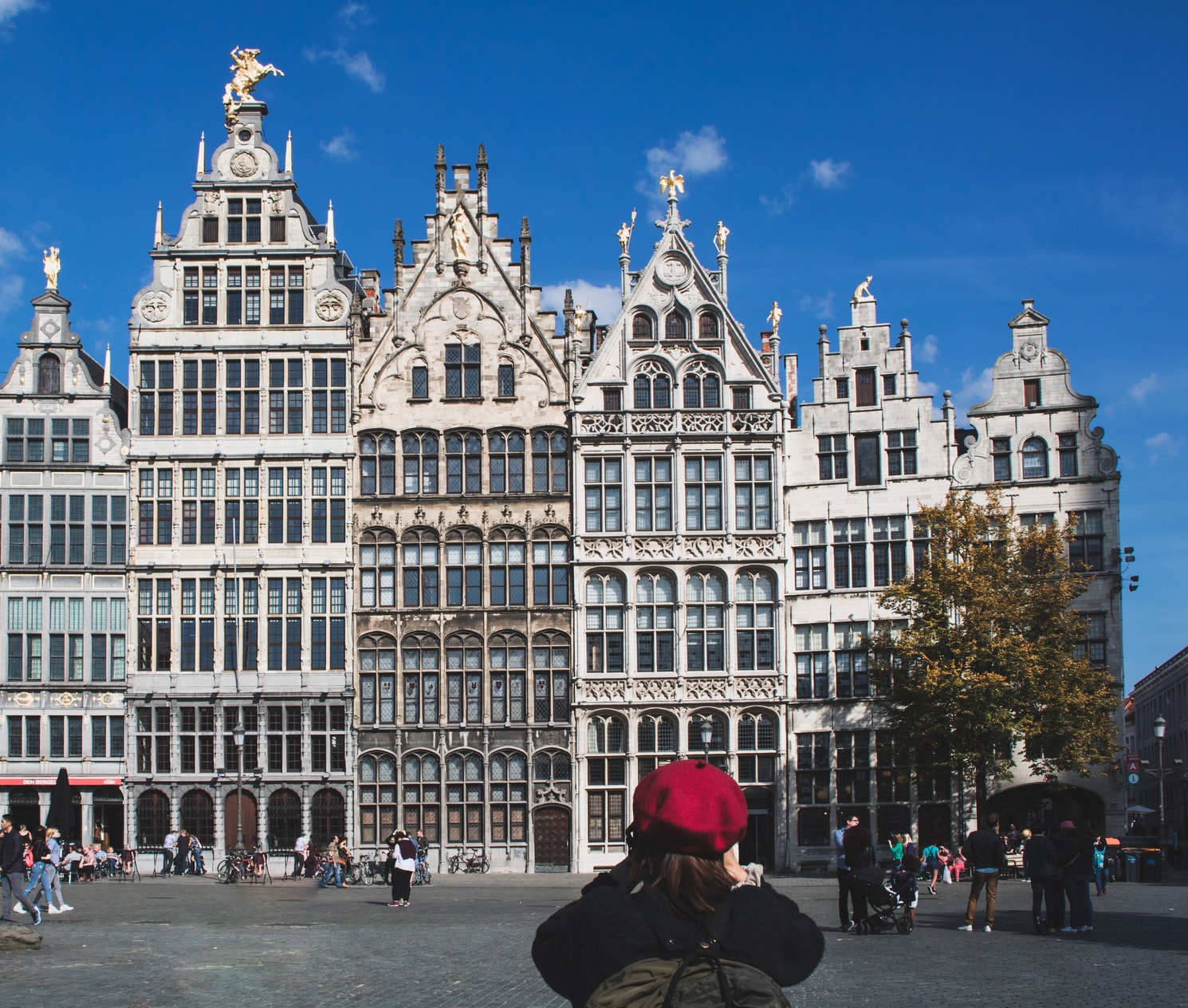 Belgium's historic diamond on the River Scheldt and art deco capital is – today – a cosmopolitan city of just under half a million, and a perfect destination for a cultural getaway.
The city is full of engaging museums and galleries – both contemporary and classic, e.g. the Museum of Photography, Museum of Contemporary Art, street art and sculptures, as well as the emerging international food scene.
Antwerp Centraal Station is breathtaking. It is not only a place to arrive and leave Antwerp, it is a place to explore. With its grand design, gilded and marbled with black diamond tiles, it feels like scenery from a 1920s Hollywood movie.
The weekends are when Antwerp really comes alive, as diverse and beautiful markets start setting up across the city. It's an opportunity to mingle with the locals, grab a bargain, or simply browse with an excellent cup of takeaway coffee in hand. The Friday Market located in the picturesque cobbled square in front of the Plantin-Moretus Museum dates back to the 16th century. It is unlike other city markets in Europe, as there is an auctioneer.
Due to its location between France and Germany, the Citadel of Dinant could be entered into the Guinness Book as the most often besieged fortress of Europe and in more recent history, Dinant was a place where French and German armies regularly moved through, back and forth.
The city's history dates back to the 7th century – Château de Vêves, a picturesque well-preserved medieval castle, Château de Walzin, Gaasbeek Castle are only some of the witnesses of Dinant's great history. The Notre-Dame of Orval, founded in 1132, is one of the most remarkable Cistercian abbeys in Belgium. The location is also home to stunning art collections and Trappist beer, famous in the Ardennes region.
When in Dinant, definitely taste Orval beer. Speaking of beer, Maison Leffe is where you can have the chance to take in the history of how Leffe, one of the most-known Belgian Trappist beer, is produced. Adolphe, or Antoine-Joseph Sax, the inventor of the saxophone, was born in Dinant, so there are saxophones all over the town, even on the Charles de Gaulle bridge dedicated to de Gaulle who was shot in the leg during the major battle in Dinant in August 1914. Walk or cruise down the River Meuse and soak in all of Dinant's stories.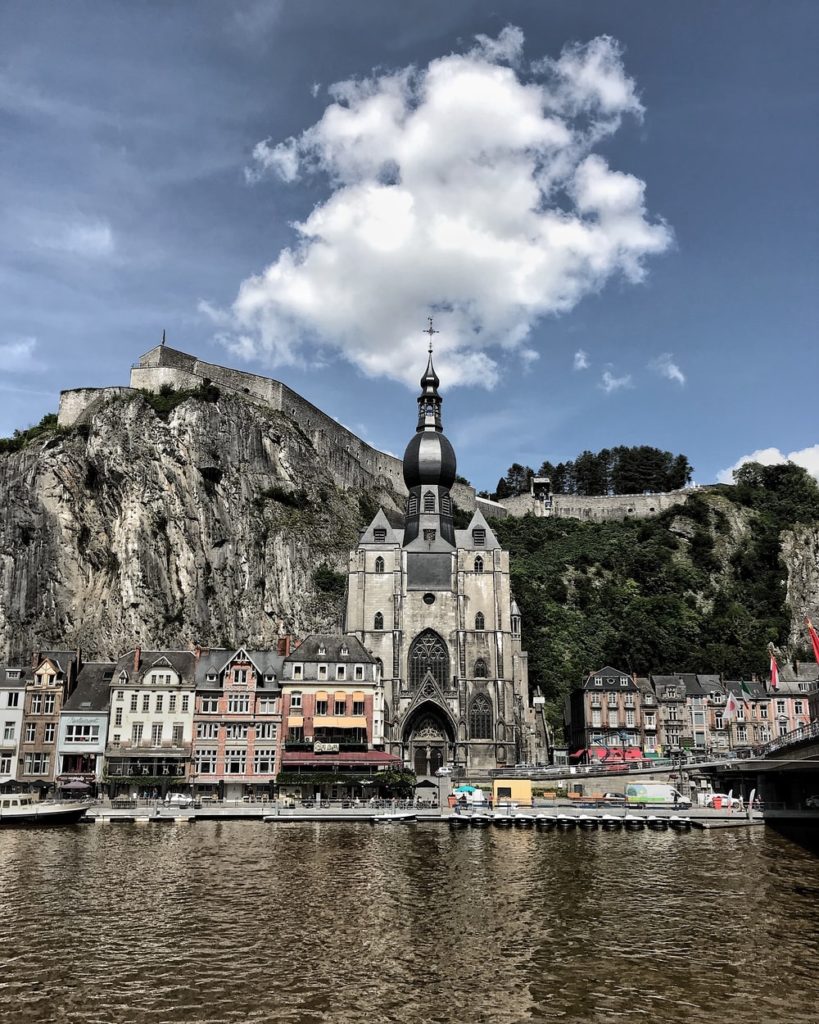 People who visit Belgium also visit...
Netherlands 🇳🇱
Brussels and Amsterdam are very well connected, with a high speed train taking under two hours between the two capital cities.
Germany 🇩🇪
Served by the high speed line, Frankfurt is easy to get to from Brussels. Cities like Cologne, Bonn and Düsseldorf are just over the border.
France 🇫🇷
Paris and Brussels are also very well connected, with regular high speed trains taking just 90 minutes. Places like Lille are just a hop over the border.
Great Britain
Get to London directly from Brussels with the Eurostar connection. Interrail passholders can benefit from a discount on Eurostar trains.
Which Interrail pass do I need to travel around Belgium?
Interrail Global Pass
The only travel pass that lets you ride on trains in 33 different countries and discover over 40,000 destinations. Available in 1st or 2nd class.
Interrail Benelux Pass
Explore Belgium, the Netherlands and Luxembourg with this regional pass. 3 day, 4 day, 5 day, 6 day, 8 day passes available.
Do I need to make train seat reservations in Belgium?
TGV and Thalys trains only have limited seats for people with an Interrail Pass. You should make reservations for these trains as soon as possible.
No reservations are required on InterCity or CityRail trains.
Meininger Hostel - Brussels
This hostel is a great budget option in a good location right on the edge of the city. Meininger is an easy ten-minute walk or five-minute tram ride to the city centre. Meininger has hotels all over Europe, and you get a discount after you have stayed at one.
Hostel 28 - Bruges
Located right in Bruges' historical centre, Hostel 28 offers budget accommodation with free wifi. The property has 15 recently renovated private double rooms, some with a private bathroom, an indoor terrace and a public area with a bar and coffee machine. A variety of cafés, bars and restaurants serving Belgian and international specialities are located in the immediate vicinity.
Boomerang Hostel - Antwerp
With only a 5-10 minutes walk from the city centre, this funky, relaxed and cosy place features wooden floors, high ceilings, a broad staircase, unique windows, for affordable prices.
Hostel Splendid Palace - Dinant
Located 300m from the station in the historic centre of Dinant, this hostel is a cheap option in an exceptional location. It also has free parking, wifi, TV room, free bike shelter and the guests can have coffee/tea and one wafel in the morning. The hostel's large terrace offers a stunning view of the Meuse, the Citadel and the Cathedral of Dinant.
Brussels International Fantastic Film Festival
One of the biggest fantasy film festivals in the world which hosts around 60,000 fantasy, horror, science-fiction, thriller and surrealism fans. More than 150 movies are shown in premiere in 3 comfortable theaters, plus numerous exhibitions, street theatre animation and magical creatures or the famous Vampire Ball. It takes place every year in March.
Bruges Beer Festival
With 300 Belgian beers and traditional Flemish cuisine, this is the best event in Bruges for beer lovers from all over the world.
Festival of Flanders - Ghent
From classical to world music to artistic performances, the festival hosts brilliant musicians, legendary composers and various artists who perform in magical locations around Ghent.
Jazz Middelheim
Set in the grounds of Park Den Brandt, this jazz festival began in the 1960s and has gone from strength to strength ever since. Great fun and a very relaxed atmosphere, it usually takes place in August.
Read more about Belgium on our blog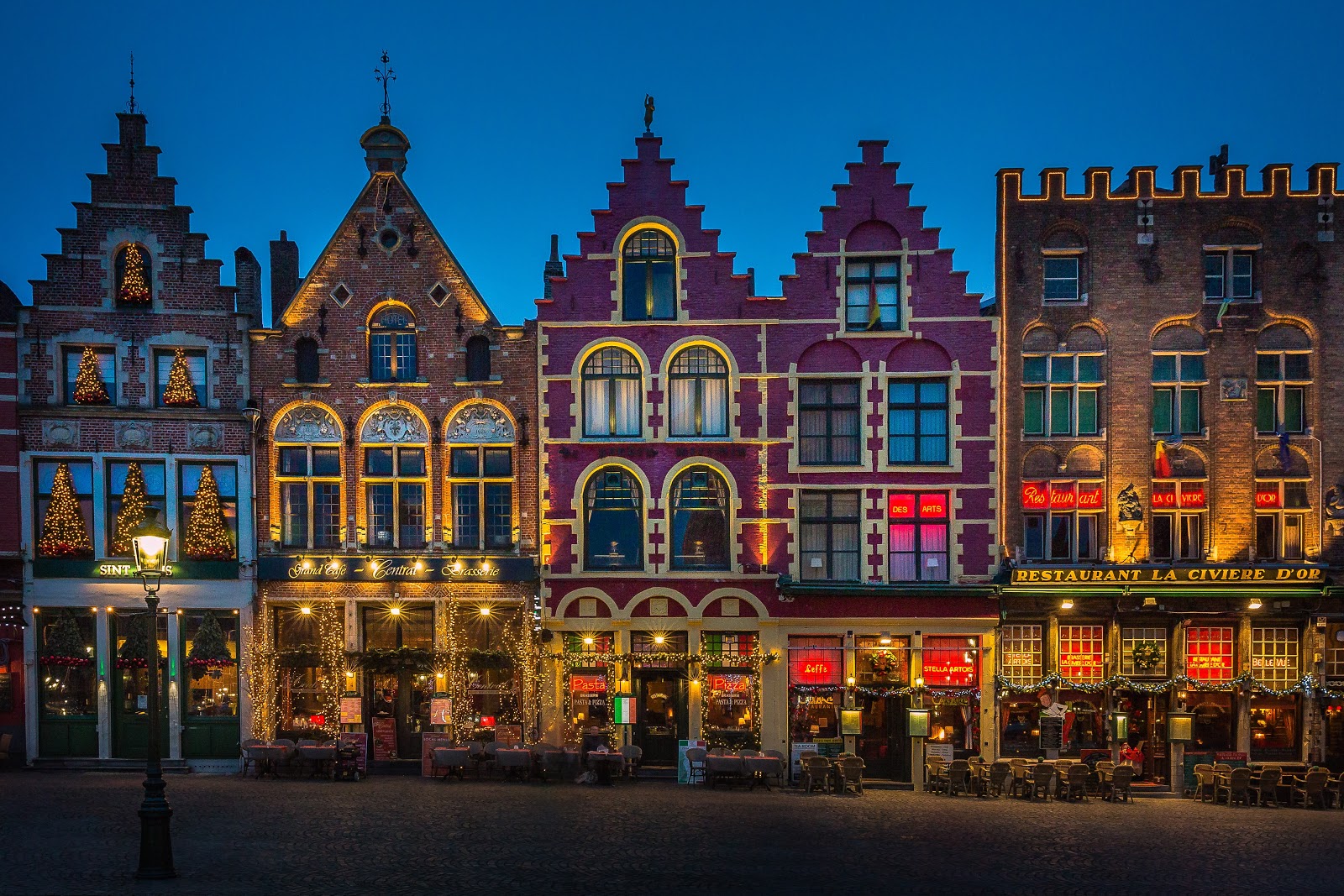 Country/Region Guides
Belgium is one of the most incredible countries in Europe – and yet people are still yet to discover its beauty. Just under 2 hours

Country/Region Guides
James Jackman takes us through the perks of the idiosyncratic Benelux pass. In case you weren't aware, Interrail offers passes for single countries, along with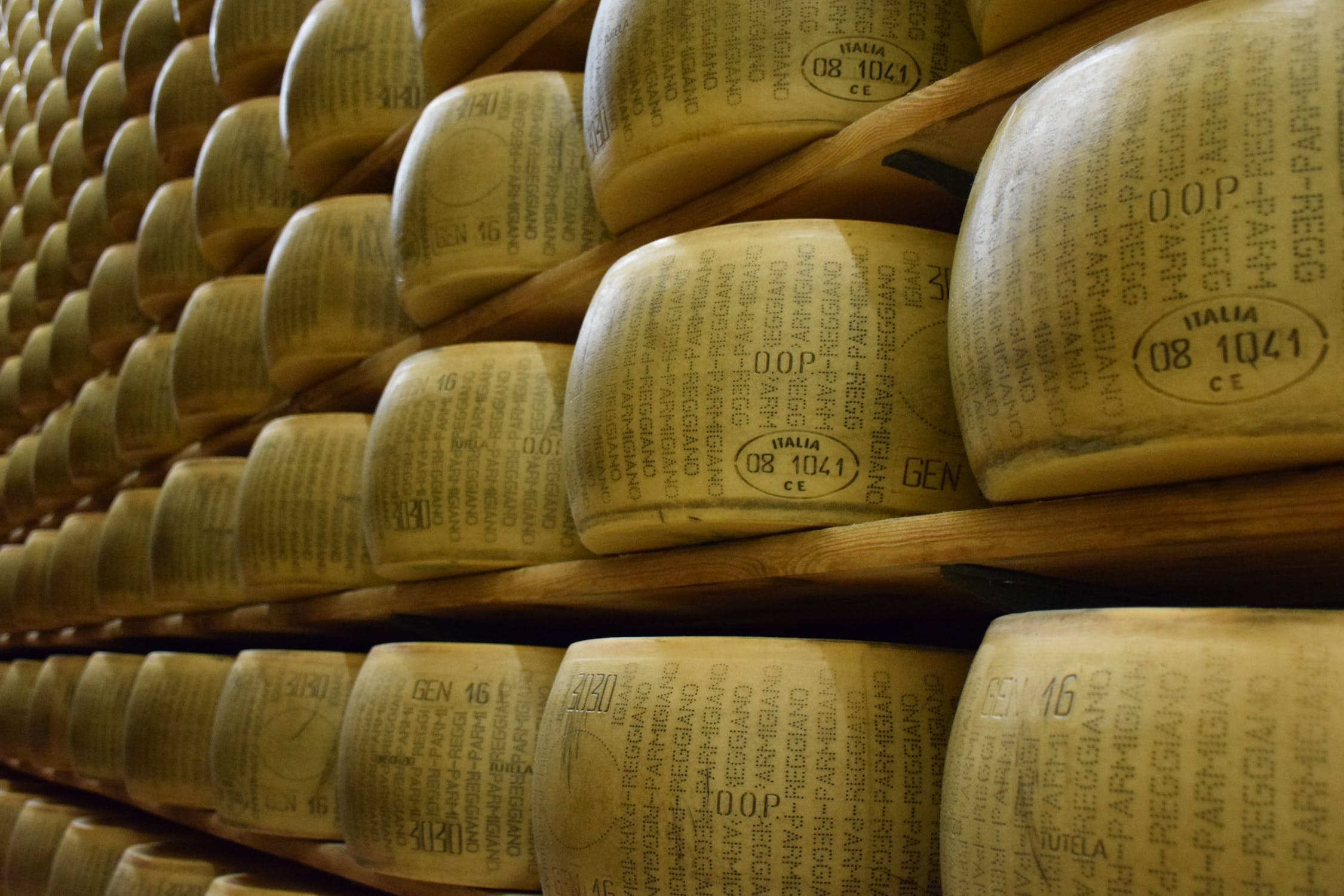 Best of Europe
You can go through decades wondering where your life is taking you, and then one day, it can dawn on you. The thing that's been