Interrail in Ireland: the ultimate country guide 🇮🇪
If you've never been to Ireland, then you're in for a treat. One of the world's most beautiful countries, it's located just off the coast of England and Wales. Renowned for its welcoming atmosphere, rich cultural history and the birthplace of Guinness, it makes for an unforgettable holiday.
Ireland is also the perfect destination for interrailerrs, as there is an Interrail Ireland Pass available that's budget-friendly and flexible. Giving you the opportunity to visit popular cities from Limerick to Dublin and Galway, you can take as many trains as you want each travel day within a month. Ireland is also fantastic for hiking, road trips, indulging in hearty food and discovering castles; there's a whopping 30,000 across the country for you to choose from!
Known as the Emerald Isle, its jaw-dropping natural beauty is unlike anything you've ever seen. From the high mountains of Wicklow, to the expansive woodlands of Connemara National Park, there are numerous natural wonders throughout this magical country. Alternatively, there are several lively cities that are bound to have you in awe due to the fascinating attractions within them. Want to explore the heart of Ireland? Head to the vibrant capital of Dublin. Or perhaps you want to discover the nautical history of Ireland? Then Galway is the perfect option. 
The best time of year to visit Ireland is usually between May – June and September – November when it's not as crowded and the temperature is quite mild. Although if you're looking for a more high-spirited atmosphere, then of course you have to visit Ireland in March for St. Patrick's Day. A five-day affair in Dublin, the celebration will be tiring, but well worth it for the memories you'll create.
So which cities should you prioritise visiting on your trip to Ireland? Here are our top 5.
The top 5 cities to visit in Ireland
When planning your trip to Ireland, you should plan a stopover in Dublin. The popular capital is situated on Ireland's east coast at the mouth of the beautiful River Liffey. Founded by the Vikings in 841, its incredible history and rich culture is represented throughout the city. For example, you can see the stunning 13th-century Dublin Castle and St Patrick's Cathedral (dating to 1191). It does, however, have its fair share of nature, including the huge Phoenix Parl and St Stephen's Green.
Those aren't the only attractions Dublin has to offer, however. One of the most popular and well-visited attractions is the Guinness Storehouse. Located within St James's Gate Brewery, it was opened in 2000 and has millions of visitors each year. Within the storehouse, you'll discover the history of Guinness over seven different floors, and even get the chance to pour your own.
Alternatively, if you're looking for something a little more unique, then a visit to Kilmainham Gaol will do just the trick. A former prison, it's now a museum that depicts what life would be like for the various prisoners that inhabited the jail throughout 100 years. Eerie but fascinating, the jail will take you on an interesting journey through Irish history. 
The Trinity College Dublin might not be the first attraction you consider visiting when you're in the capital. But a walk around its grounds is well worth adding to your list. Founded by Queen Elizabeth I in 1592, it's an iconic set of buildings that feel like something out of Harry Potter. 
When looking for a bite to eat, you won't be disappointed in Dublin. Two restaurants that are particularly popular in the centre, however, are The Winding Stair and Flanagan's Bar & Restaurant. The Winding Stair offers wholesome Irish food, from the likes of Dingle Bay crab to a local charcuterie board overlooking the River Liffey. Flanagan's Bar & Restaurant also offers Irish fare but is open at breakfast time if you're looking for a good old-fashioned fry-up. 
There are 3 main train stations in central Dublin – Connolly, Heuston and Pearse – where you can catch intercity trains to explore the rest of Ireland. You can also catch a ferry from the port to Holyhead in Wales; your Interrail pass entitles you to a 30% discount on Irish Ferries and won't count as a travel day.
Second up on the list is Galway. A harbour city, it's set on Ireland's picturesque west coast. With a love for traditional music and a warm, welcoming atmosphere, you'll feel like you're in true Ireland the moment you arrive here. Filled with bustling streets, traditional pubs and a renowned film scene (it's one of UNESCO's City of Films), there's something for everyone in Galway. 
There's also always something going on in Galway, whether it's the Galway Arts Festival or the Galway Oyster Festival that's held every year. But don't worry, the city also offers tranquillity to anyone who seeks it. Whether you wander down its historic alleys, stroll to one of the four bridges on the River Corrib or explore the nearby Connemara, you won't be lost on the natural wonders to see.
One of the attractions that you should definitely add to your list is the Kylemore Abbey & Victorian Walled Garden. A Benedictine monastery, it was founded in 1920 for the Benedictine Nuns that fled Belgium in World War I. Situated in the heart of Connemara, it's a haven of serenity and history that's waiting to be explored. 
Or if you want to stay closer to the centre of Galway, then a trip to the Galway Cathedral should be on your itinerary. A Roman Catholic cathedral that was previously a prison, it's one of the largest and most magnificent buildings in the city. 
Quay Street is also worth a visit. Located in the heart of Galway, is has a beautiful mix of old and new. From the decadent eateries to the cool shops, it's a popular place to visit by both tourists and locals. 
Located in Quay Street is the snug and stylish Martine's Restaurant and Winebar. Offering modern Irish dishes, from 21-day dry-aged sirloin to duck leg confit, this extraordinary restaurant is a fabulous choice every time. Alternatively, McSwiggans Steak & Seafood Restaurant offers a wide-ranging menu from Irish to eastern European dishes.
The second largest city in Ireland, Cork is located in the southwest of the country in the middle of the River Lee. However, despite its status as the second largest, it only has a population of just over 200,000, making it still feel cosy and not as overwhelming as some other European cities.
Boasting a feel-good buzz and a cosmopolitan vibe, this up-and-coming city has a fabulous selection of art galleries, chic coffee shops and museums for you to enjoy. However, it's very laid back and friendly, making you feel at home straight away.
When in Cork, there are dozens of attractions for you to add to your list. One of which is the Cork City Gaol. The moment you get to the jail, you'll feel as though you've gone back to the 19th and early 20th centuries. Like Kilmainheim Gaol, it will give you a flavour of what life was like inside the prison walls, showcasing Cork's rich historical heritage.
If you prefer something a little more relaxing, then a wander through Fitzgerald's Park is bound to please. A public park that spans 18 acres within Cork City, it's within easy reach of the city centre and is home to the Cork Public Museum.
Or maybe you love art? Crawford Art Gallery is just the ticket. Situated within a significant heritage building, there are 3,000 works within the gallery that range from the 19th century to the modern day.
Food-wise, you won't be stuck for places to eat. For example, Cornstrore Cork is an elegant and chic restaurant that offers locally sourced steaks, seafood and other tantalising dishes. White Rabbit Bar & BBQ, on the other hand, has a delicious selection of hearty bbq dishes to tuck into.
Situated on the shores of the enchanting Lough Leane in County Kerry, Killarney has a small-town feel and is surrounded by awe-inspiring nature. The start and finishing point of the Kerry Way Walking Trail, it has notorious attractions including the Killarney National Park, St Mary's Cathedral and the Victorian mansion Muckross House. Brim full of history, culture and friendly locals, you can enjoy a relaxing weekend on your interrail getaway or longer here exploring all that it has to offer. 
The aforementioned Killarney National Park is perhaps its most beloved attraction as not only is it the first national park in Ireland, but it has a diverse ecology that includes woodlands, mountain peaks and lakes. A great place to spot the native red deer herd, it was declared as a UNESCO Biosphere Reserve in 1981. 
If exploring nature is your thing, then Torc Waterfall is also a great option. This spectacular waterfall measures an incredible 20 metres high and 110 metres long. Less than 5 miles from the city, it's often visited by people that are travelling around the Ring of Kerry. 
Ross Castle is another breathtaking attraction that you should check out on your interrail trip. A 15th-century tower house, it's on the edge of the Lough Leane, within the Killarney National Park. Open throughout the year, this historic tower house offers the perfect photo opportunity.
Despite its size, Killarney has a handful of top-rated eateries to choose from; including the Tan Yard and Hilliards. The Tan Yard features delicious steaks, fresh fish and burgers and is open for dinner 7 days a week. Hilliard's Killarney dates back 148 years and offers fantastic drinks and a seasonal menu.
And finally, Limerick. A quaint town set in the Munster Province, Limerick is known for its medieval architecture and pretty surroundings. Straddling Ireland's longest river – the Shannon, it has a deep, fascinating past that's begging to be discovered. Visited by the Vikings in 922 AD, it has eleven centuries of history to uncover.
As well as wandering through the picturesque streets of Limerick, you can add several notable attractions to your to-do list. Firstly, there's King John's Castle. Located next to the river, it was built on the orders of the king in 1200 and is one of the best-preserved Norman castles in Ireland. Next is The Hunt Museum. Holding a collection that was donated by the renowned Hunt Family, it has several works by notable designers and artists from Sybil Connolly to Pablo Picasso.
And finally, the Limerick City Gallery of Art. Situated in Pery Square, it's housed within a Romanesque Revival building that dates to 1906. The expansive collection within the gallery includes Irish artworks from the 18th, 19th and 20th centuries.
There's also a great street art scene. Renowned street artists from all over the world come to Limerick to make their mark, leaving behind vibrant, evocative, uniting murals and messages.
In terms of restaurants, two, in particular, stand out and those are The SpitJack and Katie Daly's Heritage Pub And Kitchen. The former is a bistro-style restaurant, offering the likes of classic French onion soup, twice-baked goat's cheese souffle and rotisserie duck. The latter is a more traditional Irish gastropub that offers easy, fuss-free food from buffalo chicken wings to beef and stout pie.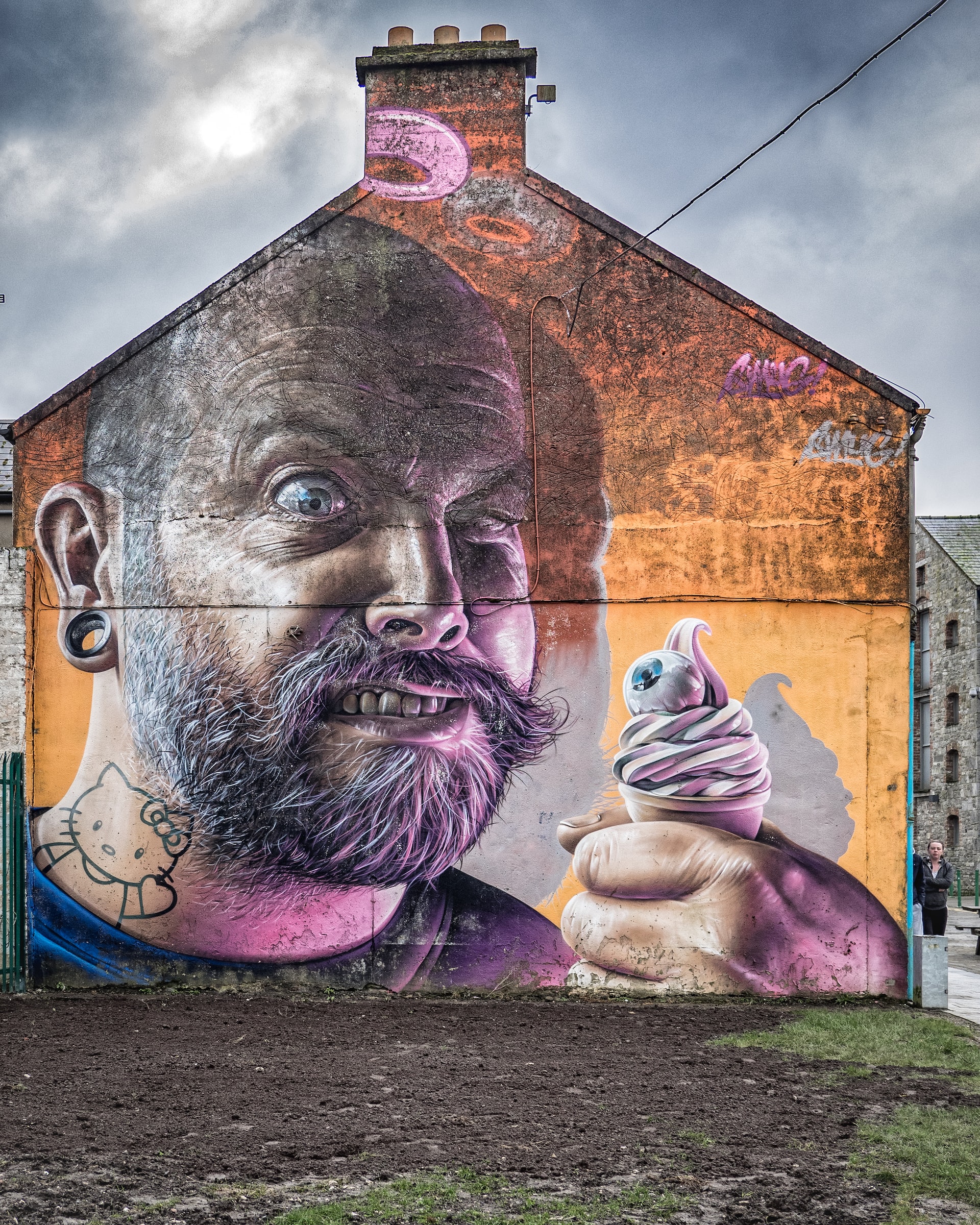 People who visit Ireland also visit...
Great Britain 🇬🇧
Travel between Ireland and Great Britain by getting on a ferry from Dublin to Holyhead or Rosslare to Pembroke.
France 🇫🇷
Travel between Ireland and France by getting on a ferry from Rosslare to Cherbourg or Rosslare to Roscoff.
Which Interrail pass do I need to travel around Ireland?
Interrail Global Pass
The only travel pass that lets you ride on trains in 33 different countries and discover over 40,000 destinations. Available in 1st or 2nd class.
Interrail Ireland Pass
The easiest way to travel by train in Ireland. Get a pass with 3, 4, 5, 6 or 8 travel days in 1 month and explore the length and breadth of Ireland and Northern Ireland.
Do I need to make train seat reservations in Ireland?
Reservations are not required for trains in Ireland or Northern Ireland. 
Reservations for InterCity (IC) trains are optional. They can be made locally or online at www.irishrail.ie.
Jacob's Inn - Dublin
Well located next to Connolly train station and the main bus station, making it easy to travel to and from other parts of Ireland. This hostel has hotel vibes, due to the quality fit-out. Great privacy offered by each bed having its own pod with a curtain, complete with cozy LED lighting/.
Galway City Hostel - Galway
Galway's most popular hostel for solo travellers! Located right next to the main train and bus station, this hostel is a great stop to meet people. Free breakfast, wifi, printing and luggage storage. The staff are very helpful and can help arrange tours to the Cliffs of Moher, Connemara, and the Aran Islands. Good privacy offered with each bed having a privacy curtain.
Bru Bar & Hostel - Cork
Located close to the train and bus stations, this hostel is above a bar. If you're looking for live music, you'll find it in the bar below. Free breakfast and wifi is included and guests rated the cleanliness of the hostel highly.
The Black Sheep Hostel - Killarney
This recently-renovated 19th century townhouse is run by a mixture of globetrotters and locals. Situated on a quiet street just one minute walk from Killarney National Park and one minute walk from Killarney town centre you don't have far to go for outdoor activities, live entertainment or a lovely pint.
The Old Quarter Townhouse - Limerick
The Old Quarter Townhouse is located in the heart of Limerick city centre, beside the pedestrian shopping area, close to pubs, restaurants, cafes and local attractions.
St. Patrick's Festival - Dublin
Across the 5 days of the festival, you can soak up the carnival atmosphere at music gigs, walking tours, food fairs, art exhibitions, and the massive dance party known as the Céilí Mór. The undoubted highlight is the parade on 17 March – an explosion of colour, creativity and thrilling street performances, including marching bands, dancers and more. Undoubtedly a once-in-a-lifetime experience!
Galway Oyster Festival - Galway
The world's longest running oyster festival! It takes place on the last weekend every September. The festival is one of Ireland's oldest festivals and celebrates the native Galway oyster or 'Galway flats'. There are 3 days of events in the festival marquee including the National Oyster Opening Championship, live bands, dancing, a feast of seafood delights, a masquerade 'Mardi Gras' style party on the streets and the World Oyster Olympics!
Guinness Jazz Festival - Cork
As Ireland's biggest jazz event, the annual Guinness Jazz Festival - which takes place each October - attracts thousands of people from across Ireland and the world. Hundreds of musicians descend on the city for one of the busiest weekends of the year. With live events happening across much of the city, this is a festival not to be missed.
Wander Wild Festival - Killarney
Wander Wild Festival is an action-packed, 3-day mountain and outdoor festival full of exciting activities, speakers, films, social and cultural events, as well as a great food trail. Whether you are an adrenaline junkie or like to slide into the weekend with some mindfulness there is something to suit everyone! Takes place each year in March.
Riverfest - Limerick
Limerick becomes a haven for families, foodies, fun runners and watersport enthusiasts each May Bank Holiday for the city's biggest summer festival, Riverfest! Zipline across the Shannon, or just jump in and get swimming - there is something for everyone to get involved in.
Read more about Ireland on our blog

Interrail Advice
Brexit is perhaps the most significant and complex political event facing Europe since the Second World War. With negotiations ongoing, it continues to drive the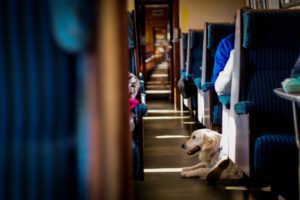 Interrail Advice
Without question, dogs are one of the most popular pets to have. There are an estimated 12.5 million pet dogs in the UK, reinforcing the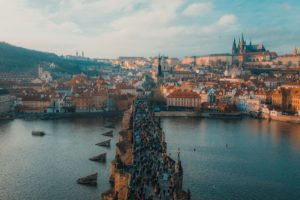 Best of Europe
Europe is home to a vast array of different tourist attractions. But when you're interrailing on a budget, it might feel difficult to find attractions